Sunak urged to 'do more than just turn up' at Cop28 climate talks
Rishi Sunak has been urged to do more than "just turn up" when he attends the Cop28 summit on climate change at the end of the year.
During the recent G20 summit, the Prime Minister confirmed he will attend Cop28 in Dubai, which begins on November 30.
His decision was welcomed by a cross-party group of environmentally-minded MPs, but they have warned Mr Sunak he must match his attendance with "concrete action".
Green Party MP Caroline Lucas said: "The Prime Minister is right to avoid a repeat of last year's excruciating U-turn on attending Cop. But he will need to do more than just turn up in Dubai if he is to restore the UK's abandoned climate leadership and help secure a positive outcome at the UN summit.
"Unless Rishi Sunak supports our allies by championing an urgent and fair global phase-out of fossil fuels, and rejecting disastrous climate-wrecking projects like the Rosebank oil field, then attending this summit amounts to nothing more than gesture politics.
"Attendance needs to be matched with concrete action if we are to avert further climate catastrophe."
Last year, Mr Sunak initially said he would not attend the Cop summit, held in Egypt, but was subsequently forced into a last-minute U-turn.
His decision to attend this year's event follows a period in which commitment to the UK's net-zero target has become a source of contention within the Conservative Party, with Lord Goldsmith resigning as environment minister and accusing Mr Sunak of being "uninterested" in climate action.
Chris Skidmore, a Conservative former energy minister who has become increasingly outspoken on net-zero, welcomed the Prime Minister's commitment to attend Cop28.
He added: "Now the UK must show it's a serious, trusted partner in these discussions by joining our international allies in calling for an end to the fossil fuel era and moving more quickly towards a clean energy world."
Former Labour frontbencher Barry Gardiner said: "It should not be 'news' that the Prime Minister is going to Cop28. The 'news' is that he intended not to go, and had to be persuaded to change his mind.
"When he is there, let's hope he comes to understand that Britain's future does not lie in its dwindling oil and gas reserves. He has been the chancellor of tax breaks of 91p in the pound for all oil and gas development, and the Prime Minister who has presided over record profits in the sector whilst allowing them the lowest tax rate anywhere in the world.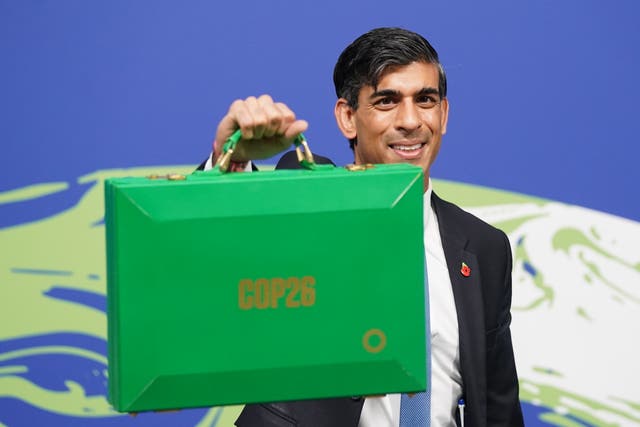 "Perhaps attending Cop28 will educate him that the consequences of the climate crisis are already here, damaging the global economy and global security too.
"Perhaps he will learn that true leadership is not about short-term profit, extracting the last drop of the fossil fuels that are killing life on our planet. It is about the long-term sustainable wellbeing of our children who will have to live with the consequences.
"As Prime Minister he has the opportunity to transform the UK economy, investing in the clean jobs and creating growth as well as delivering the lower energy bills people so desperately need."
The UK Government remains committed to eliminating net carbon emissions by 2050, but has recently been accused of sending "mixed signals" by saying it will approve around 100 new licences for oil and gas exploration in the North Sea.
Concerns that this would lead to the UK being excluded from key discussions on climate issues reportedly contributed to Mr Sunak's decision to skip this month's UN General Assembly meeting – the first Prime Minister to do so in a decade.
Deputy Prime Minister Oliver Dowden and Foreign Secretary James Cleverly are expected to attend in his place, with a No 10 spokesman saying Mr Sunak would meet with world leaders at the G20 and Cop28 summits and the Prime Minister saying himself that "pressures on my diary" were responsible for his decision to skip the UN meeting.
During his trip to the G20 in New Delhi, Mr Sunak told reporters that net-zero "done in the right way" could be beneficial, but that it should not be "a kind of hairshirt story of giving everything up".