MPs warn Sunak not to send 'mixed signals' on climate change
Rishi Sunak is facing renewed pressure to stick to previous promises on net zero after a cross-party group of MPs and peers warned him that Britain was sending "mixed signals" on the environment.
In a letter to the Prime Minister, parliamentarians including Conservative former environment minister Lord Goldsmith and former Labour environment secretary Hilary Benn called on Mr Sunak to demonstrate climate leadership by rejecting new fossil fuel projects such as the Rosebank oil field and focus on green policies.
They said: "The government should concentrate its efforts on making action on net zero easier, including by lifting the ban on onshore wind, embedding a net zero test across government and within the planning system, and accelerating the roll-out of energy efficiency measures which will bring bills down permanently."
The 23-strong group, organised by the All Party Parliamentary Group on Climate, also called for Mr Sunak to commit to attending the Cop28 summit in Dubai in November and join other countries such as Denmark, France and Germany in calling for an "urgent phase-out of fossil fuels".
The letter comes as the Government considers watering down some of its environmental policies after Conservative opposition to the expansion of London's ultra-low emissions zone (Ulez) was credited with securing the party a narrow victory in the Uxbridge and South Ruislip by-election.
Members of the Conservative right wing have seized on the result as an opportunity to push for a dilution of the Government's net zero commitments, with Sir Jacob Rees-Mogg claiming they were "unpopular" and "expensive".
Mr Sunak, who was previously criticised by Lord Goldsmith for being "uninterested" in climate change, said on Monday he did not want to "hassle" families with extra costs and would pursue net zero policies that were "proportionate and pragmatic".
Comments from Downing Street suggested that, while the Government was still committed to policies such as phasing out gas boilers and ending the sale of petrol-powered cars, it would keep those policies under review in light of costs and changing technology.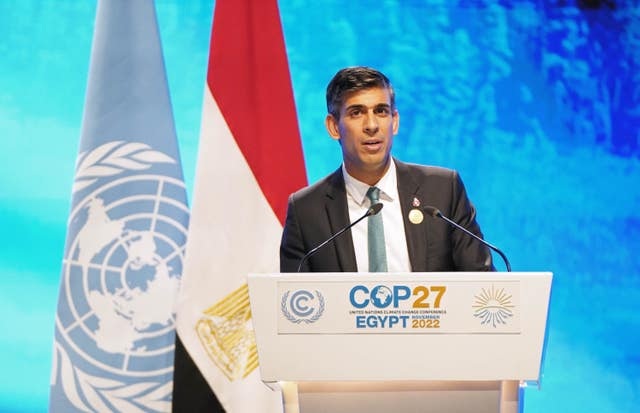 In their letter, the parliamentarians said: "The Climate Change Committee's recent 2023 Progress Report to Parliament is unequivocal that mixed signals on the UK's commitment to serious climate action is undermining this work, damaging our reputation, and risks us permanently surrendering our status as a world leader on climate action.
"Now is a crucial moment for you to demonstrate to the world that the UK is not demoting itself to become a passive observer in international action on climate change, that we remain a trusted partner and committed to delivering on our promises."
Caroline Lucas, the Green Party MP and chair of the Climate APPG, said: "The planet is burning, and Rishi Sunak is asleep at the wheel.
"He's been silent on global climate leadership and absent on domestic climate action for far too long. The bare minimum that the Prime Minister can do is agree to attend Cop28 – we can't have a repeat of last year's excruciating U-turn.
"He must work with international allies in securing a global agreement to phase out fossil fuels, deliver the climate finance that those on the front line of this crisis desperately need, and finally get serious about delivering abundant and affordable clean energy here at home."
Other signatories include Conservative MP Pauline Latham, Labour MPs Olivia Blake, Zarah Sultana and Barry Gardiner, Liberal Democrats Daisy Cooper and Wera Hobhouse and the SNP's Tommy Sheppard and Martyn Day.