Bob Geldof calls for new solutions to global food crisis at Belfast summit
Bob Geldof has said the "fight for food is the fight for life" at a global summit in Belfast.
Geldof also said sustainability in a finite world is a "myth" and called for new solutions to the global food crisis.
The singer and songwriter opened the plenary session on hunger at the One Young World Summit at the ICC centre.
The summit has brought thousands of young leaders from across the world to the city to discuss global problems.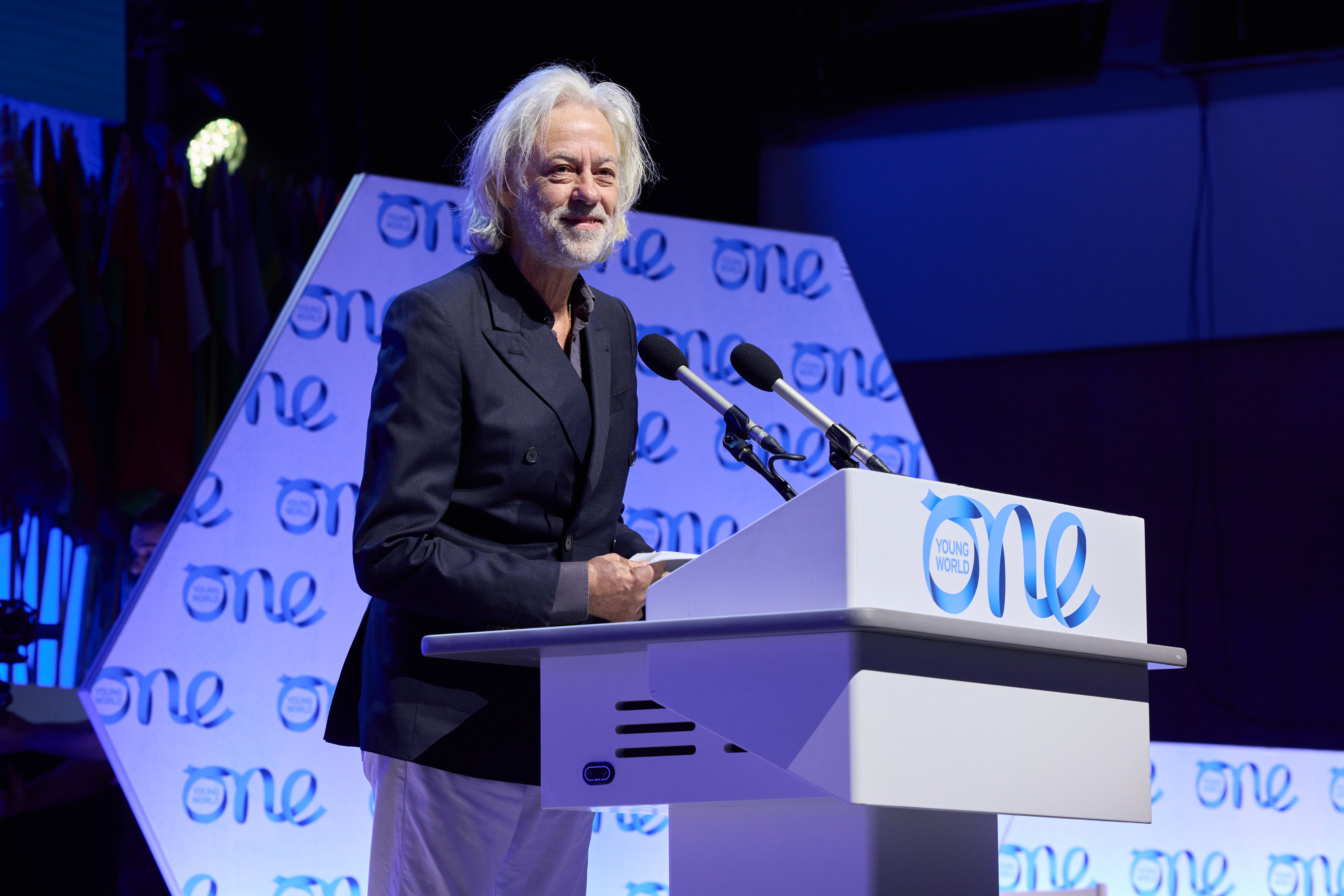 On Monday Geldof, who is known for co-writing the Band Aid hit Do They Know It's Christmas? to raise money for the famine in Ethiopia, said that hunger is an ongoing global issue.
"There are still millions, as we've heard all morning, who go to bed hungry at night," he said.
"That is sickening. It disgusts me. It is unnecessary, it is stupid. And it can stop. It is a very easy thing to feed the world."
Geldof said that our current understanding of sustainability would not be able to keep up with the pressure humanity can expect to face in the future.
"Over 820 million people as we keep hearing suffer from chronic undernourishment," he said.
"With the current population growth by 2050, as everyone knows, we will need to produce nearly 50% more food.
"We are asking of the planet more than it has to give. Sustainability in a finite world is an oxymoron. It's a myth.
"For decades, I've attended all the conferences and spoken at most. I've heard more or less the same thing everywhere all the time.
"I'd love today to be hearing something different."
He added: "Is it not the task of One Young World to lead these rooms, and think together, and devise new methods, new thought, just newer ways of doing things?
"Because it's not as simple as just producing more food. Our methods of production, distribution and consumption needs a renaissance of thought and innovation."
Geldof said hunger remained the biggest health issue in the world.
"Right now, the WHO tells us that malnutrition is the greatest single threat to global public health. One in three people suffer from some form of malnutrition," he said.
"At least one in three of us don't grow, to be able to activate their minds to its highest level. Well, that impacts everything. It's a pandemic in silence."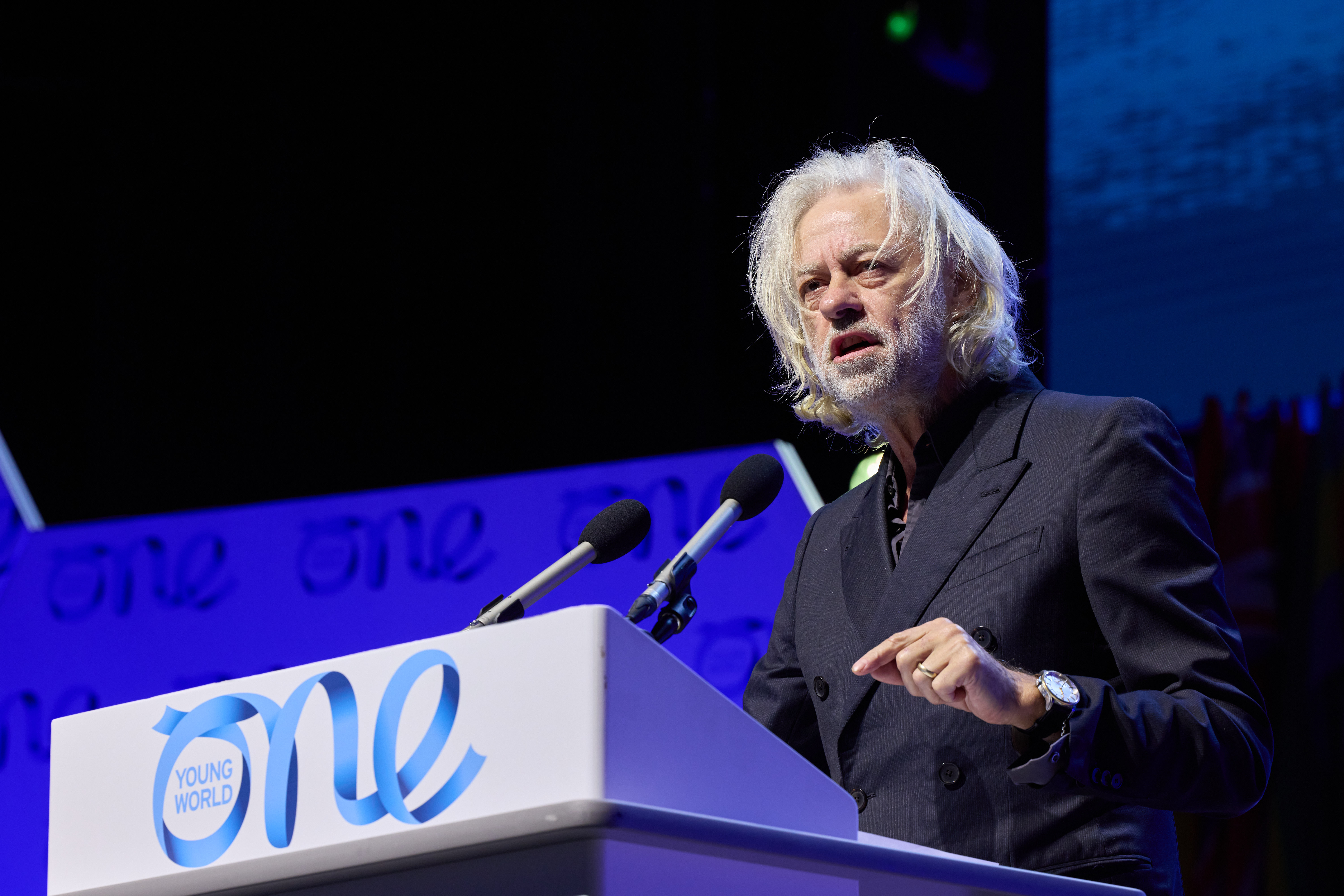 Geldof said he had seen the true impact of starvation and malnutrition in his years of fighting those problems.
"We are sentient, dignified human beings. We are at the beginning of a deeply serious food crisis and you people here are at the forefront of this battle and stopping it," he said.
"Mobilise, innovate, collaborate. The tools literally are at your fingertips.
"But it's the fire, it's a sense of just how awful, how wrong dying of hunger…
"I have held a two year old, who could be any age, who looked like some Martian, huge head, distended belly…
"I've held this child in my hands as they voided their life out of themselves, as they shit their lives through my fingers and died. No, that's not human.
"And I use these explosive words so that you maybe feel what I saw, what I experienced.
"I use those words as a corrective to the cliche of sustainability, which doesn't need to be a cliche but it's just something we say to believe we're involved in it."
He added: "It's your world. Your fight. The fight for food is literally the fight for life."
Geldof concluded his speech at One Young World by quoting poet Seamus Heaney.
"Heaney, the great Northern Irish poet, talked about the moment where hope and history rhymes," he said.
"Barack Obama used it a lot in his speech, so One Young World, can this be it? In this city where hope and history rhymed, can we do it?
"Can that be what we leave Belfast with? Can that be what these people help talk us through – the hope that in this moment in human history – can it rhyme?
"Can we also catch what he wrote about in that poem, the great longed for tidal wave of justice?
"It is not just that some of us eat and others don't – that's not just, it is wrong, it is stupid, it is self-defeating.
"At the end of that poem (The Cure at Troy) Heaney says: believe that the further shore is reachable from here.
"So, ladies and gentlemen this only works, the only reason Kofi (Annan), (Muhammad) Yunus and myself, Queen Rania and Mary (Robinson) pitch up, is because genuinely in our lives the further shore that we can imagine is reachable from here."
The One Young World Summit will continue in Belfast until Thursday.