Striker headache for Motherwell with Mika Biereth and Jon Obika ruled out
Motherwell manager Stuart Kettlewell admits he faces a major challenge to alleviate the lengthy absence of strikers Mika Biereth and Jon Obika.
Kettlewell has ruled Obika out until December with a hamstring injury and on-loan Arsenal striker Biereth will likely be missing until mid-November after suffering a knee injury against St Mirren.
Kettlewell – who has not changed his opinion on the tackle that injured Biereth – is limited in what he can do in the transfer market given the club's spending increases in previous seasons.
He said: "I have always spoken about trying to run with four strikers minimum so that is a huge blow with the news on Mika and Jon Obika, it puts us down to two senior strikers in Theo (Bair) and Conor (Wilkinson).
"Jon Obika, we are probably looking at December. It's a difficult one but it doesn't change the situation for me. For us to do any more business, we are in a situation where we are one in, one out.
"It's been a real tough week and a tough week without a blank canvas just to be able to pick up the reins and go and bring players in.
"But we will continue to work away and see if we can make the situation slightly better."
Kettlewell declared 17-year-old Mark Ferrie was now "striker number three" while wide player Joe Efford can also play up front but has only had about 15 minutes of action since returning from a long-term thigh injury.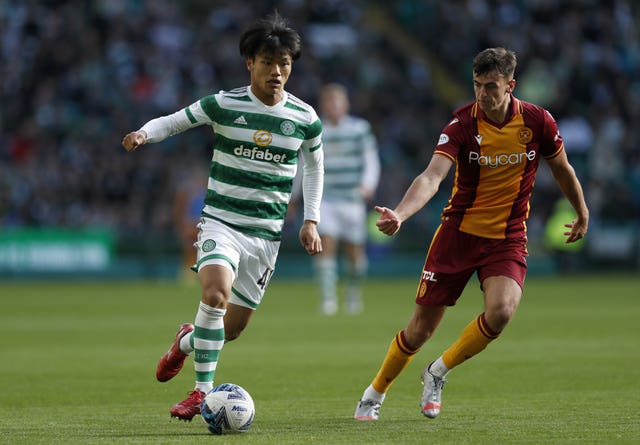 Barry Maguire's loan move to Kidderminster last week opened a door for a potential new arrival.
"It might help us try and get one across the line," Kettlewell said. "But the mindset wasn't that it was in the striker situation at the time. We had been working away on something else trying to get a balance to our squad.
"The fact that (midfielder) Harry Paton has been out and (left-back) Pape Souare is out, it's a little bit of spinning plates to make sure we have a balance to our squad. We feel Pape will miss several games.
"When I was looking at the start of the week, we had 14 fit senior players."
Immediately after Saturday's Viaplay Cup defeat, Kettlewell accused Charles Dunne of making an "absolutely horrendous tackle, two-footed and straight-legged" on Biereth.
In response, the former Motherwell defender claimed he won the ball but "unfortunately slipped" and caught the Denmark Under-21 international. Dunne has contacted Biereth to apologise.
When asked if he had a different opinion on studying the footage, Kettlewell said: "My opinion hasn't changed.
"One of the things I heard was that he won the ball. What everyone needs to understand – and I need to stress, these aren't my rules, anyone that watched me play football will realise I picked up more red cards than anybody else and was involved in more crazy challenges than anybody else – but the rules have changed.
"I have lost count of the times I have been told by officials that it doesn't matter if you win the ball. If you are off the ground, coming in at pace, putting an opponent at risk of injury, coming off the ground, all of those aspects, I was led to believe that was a red card.
"I hear some ridiculous arguments of 'ah, but he took the ball'… If you have to come through the player and both your legs are wrapped around the standing leg…
"I understand that Charles Dunne has reached out and apologised for the outcome of the challenge so I tip my cap to him and say fair play in that sense. But it doesn't change the situation that it leaves us short at the top end of the park."