World Cup will change my players' lives, says Ireland boss Vera Pauw
Boss Vera Pauw said her players were bowing out as "world stars" after the Republic of Ireland's debut Women's World Cup campaign concluded with them securing a historic point.
Having seen their last-16 hopes end following a 1-0 loss to co-hosts Australia and 2-1 defeat to Canada in their opening two matches, Ireland's final match at their maiden major tournament ended in a 0-0 draw against Nigeria in Brisbane.
Asked how it felt for the Girls in Green to have claimed their first ever World Cup point, Pauw told RTE Sport: "It's a fantastic feeling.
Read more: Ireland earn first Women's World Cup point by holding Nigeria to goalless draw
"They are 11-time African champions and I think we really had the better play. They always looked dangerous, but we were in control and we were getting to their goal, we've created chances.
"We need to get there to score, and we've done that so much better than in the earlier games.
"If you've see what they did against Australia (Nigeria beat them 3-2 last Thursday), how they put them under pressure and how they used their pace, not one time they could do that to us. The game plan worked again and I'm so proud."
Pauw added: "I think we can be really, really proud because three top-10 nations – I've said before (40th-ranked) Nigeria for me are a top-10 nation – and we've played equal games against them.
"We lost by a penalty (against Australia), an own goal (against Canada) and now a draw. It is amazing.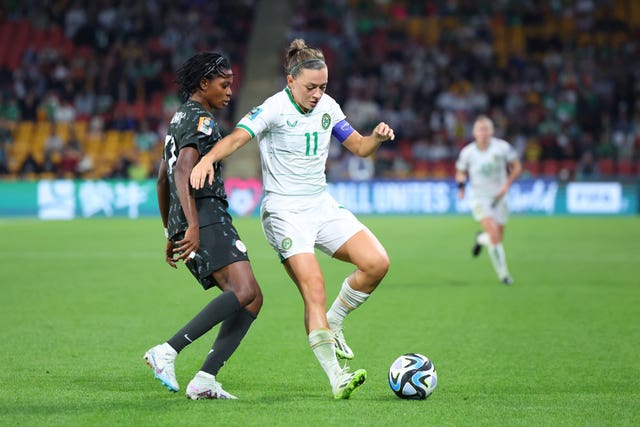 "Those players came into the tournament as very good players, they go out of the tournament as world stars. It will change their lives, not only in the experience that they have, but they will get other contracts, they will get more opportunities and the next generation can step in."
The match against Canada saw skipper Katie McCabe score the team's first ever goal at this level with a fourth-minute effort direct from a corner, and she made an early attempt in this game, drilling wide from the edge of the box five minutes in.
Nigeria subsequently went closest to scoring when they were thwarted by a fantastic Courtney Brosnan save in the 52nd minute, the goalkeeper diving to push Unchenna Kanu's header against the bar.
McCabe, who described Brosnan's save as "world class", told RTE: "It's been a crazy few weeks, so enjoyable as well.
"I'm dead proud of the girls to get our first point on the board."
Randy Waldrum's Nigeria advance as Group B runners-up to a last-16 showdown next Monday at the same stadium against the winner of Group D – currently led by England.