The Premier League season that rewrote the goalscoring record books
The 1,084 goals scored in this season's Premier League were a record for a 20-team season.
Abdoulaye Doucoure's crucial goal for Everton against Bournemouth on Sunday, which clinched the Toffees' survival, also meant the league surpassed the previous high of 1,072 in 2018-19.
Here, the PA news agency looks at how it happened.
2022-23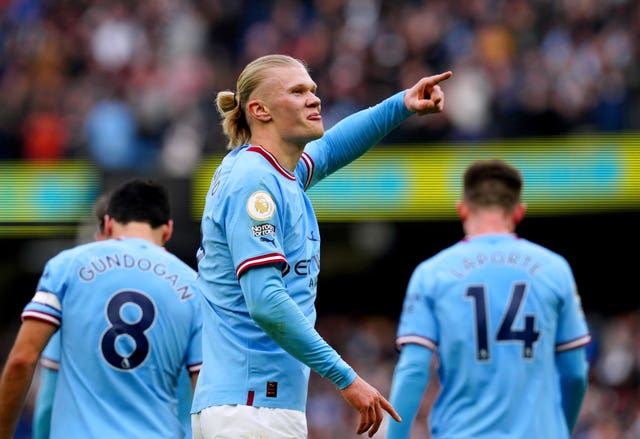 Erling Haaland has rewritten the individual record books and his exploits for Manchester City have now helped create a new league record as well.
The Norwegian's 36 goals led the way, with Harry Kane a distant second in the Golden Boot race despite scoring 30 for Tottenham.
Ivan Toney netted 20 for Brentford before starting his eight-month betting suspension, with Mohamed Salah (19) and Callum Wilson (18) completing the top five.
Champions City were the league's top scorers with 94 goals while long-time leaders Arsenal racked up 88.
Liverpool and Brighton cracked 70, as did Tottenham who scored and conceded more than 60 – their 2007-08 season was the only previous instance of a team doing so in the Premier League.
Every team contributed at least 30 to the tally, the first time that has happened since the 2012-13 campaign.
2018-19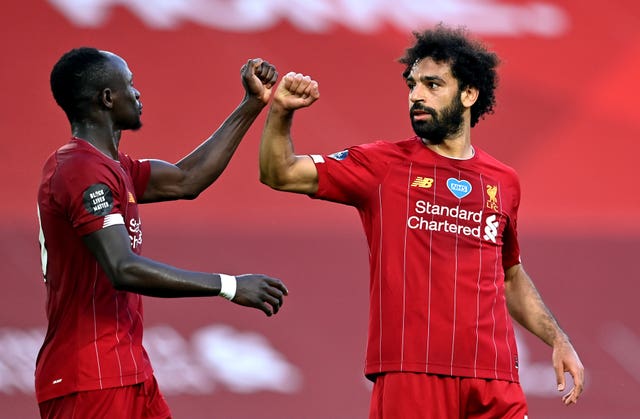 City were again champions in the previous record season and contributed 95 themselves, a similar impact to this season.
The tally could have been even higher but for Ederson and his defence, with City conceding only 23 to finish with a goal difference of plus-72 – that ranks third in Premier League history, with City and Chelsea the only clubs ever to top 70.
Liverpool, who finished just a point behind City in the title race, scored 89 while Arsenal contributed 73. Three more teams topped 60 and a further six reached a half-century while only Huddersfield (22) came in under 30.
There was no Haaland equivalent driving the total but a host of players contributed at a high level – Liverpool pair Mohamed Salah and Sadio Mane and Arsenal striker Pierre-Emerick Aubameyang all shared the Golden Boot on 22, with Sergio Aguero just one behind for City, while a record 32 players reached double figures.
Best of the rest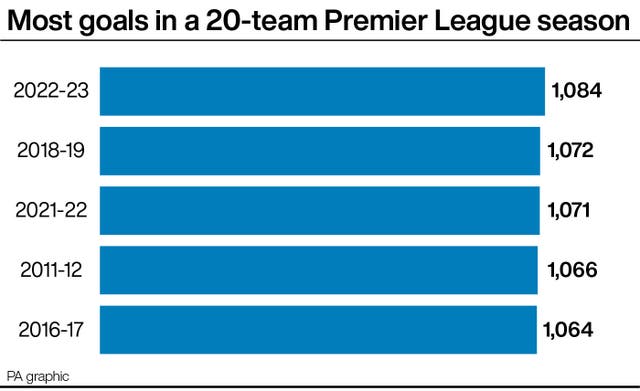 Last season came up just one short of the previous record as seven teams broke the 60-goal barrier, with City and Liverpool on 99 and 94 respectively.
There were 1,066 in 2011-12, 1,064 in 2016-17 and only one fewer in 2010-11 and 2012-13.
Surprisingly 2017-18, when City scored 106 goals and Salah and Kane both hit the magical 30 mark individually, had only 1,018 goals in total as Huddersfield stayed up with 28, the same total as relegated Swansea, and Burnley finished seventh with only 36.
Indeed, none of the four seasons in which a team has hit a century figures particularly highly in the chart. City scored 102 of the league's 1,034 in 2019-20 and Chelsea 103 of 1,053 in 2009-10. Even 2013-14, when City scored 102 and Liverpool 101, only saw 1,052 goals in total.
The league's early 42-game seasons unsurprisingly featured higher overall tallies, with 1,222 in the inaugural 1992-93 campaign followed by back-to-back seasons with 1,195, but the average of 2.85 per game this term is the outright highest in the Premier League era.