Putin plans to visit China in October, says Kremlin
Russian President Vladimir Putin plans to visit China in October, a top Kremlin official has announced.
Russian news agencies quoted Mr Putin's foreign policy adviser, Yuri Ushakov, as saying the trip will be timed to coincide with a "One Belt, One Road" forum in China.
Beijing's Belt and Road Initiative involves infrastructure projects to connect Asia with European and African countries.
Mr Ushakov said Mr Putin also plans to travel to Turkey at some point to fulfil a promise to Turkish President Recep Tayyip Erdogan, although the dates for that visit have not been decided yet.
In addition, the the Kremlin received an invitation for Mr Putin to participate in a Group of 20 summit in India in September, he said. The Russian leader's in-person attendance has not been ruled out, although the format of Mr Putin's participation is still "unclear", Mr Ushakov said.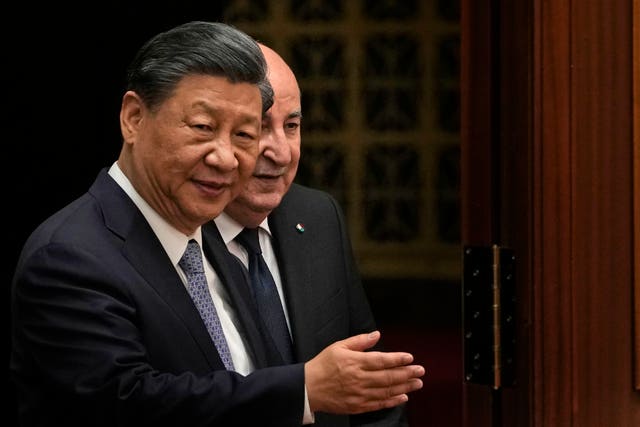 The announcement of Mr Putin's travel plans came days after South African officials said he had agreed to miss an economic summit in their country next month because of an arrest warrant the International Criminal Court issued against him.
The ICC has accused Mr Putin of personal responsibility for the abductions of children from Ukraine.
As a signatory to the treaty that established the international court, South Africa would either be obligated to arrest the Russian leader if he set foot there or put in a position of flouting its responsibility.
Staying away from the summit could be viewed as embarrassing for Mr Putin, who is now expected to be the only leader of a country in the BRICS bloc of developing economies not to attend. Moscow has dismissed the warrant and said it does not recognise the ICC's jurisdiction.
China, Turkey and India are not signatories to the Rome Statute, so Mr Putin can travel to those countries more easily.
An October visit would take Mr Putin to China seven months after Chinese President Xi Jinping went to Moscow on a three-day visit.
The two also met in person in September 2022 on the sidelines of a regional summit in Uzbekistan. Before that, Mr Putin met Mr Xi while attending the opening of the 2022 Beijing Winter Games, weeks before he sent troops into Ukraine.
China has sought to project itself as neutral in the Ukraine conflict, even while it has refused to condemn Moscow's actions and declared last year that it had a "no-limits" friendship with Russia.
Beijing has denounced Western sanctions against Moscow, and accused Nato and the US of provoking Putin's military action.
China has also proposed a peace plan that was largely dismissed by Ukraine's allies, who insisted that Moscow must withdraw its forces from the neighbouring country as a condition for peace.