Oxford 'should have done more' to support trans community, vice-chancellor says
The University of Oxford "should have done more" to support its trans community who faced threatening and abusive language, its leader has said.
Professor Irene Tracey, vice-chancellor of the university, said she was disturbed by an "amplification of discourteous, intolerant and hateful rhetoric" on social media "under the guise of free speech".
The university is creating a series of discussions on challenging topics "to showcase what engaging with different views and beliefs, in a courteous manner, can look like", Prof Tracey has said.
Her comments came after protests were staged outside an Oxford Union talk by Professor Kathleen Stock in May over her views on gender identity.
The row saw a group of Oxford University academics and staff sign a letter supporting the right of transgender students to speak out against Prof Stock days before the event.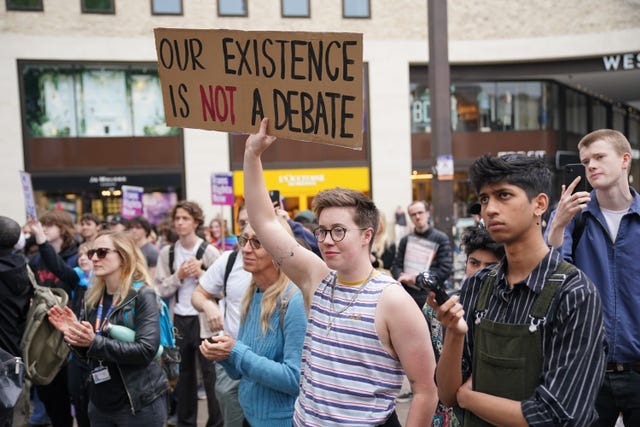 In her first oration, or formal speech, to the university as vice-chancellor, Prof Tracey said: "I was deeply saddened to learn of the abusive and threatening language and behaviours that our trans community suffered this year.
"We should have done more to support them; rest assured, lessons were learned.
"In this university, I expect more and we will continue to strive to create a culture of tolerance and respectful disagreement on key issues of the day."
Prof Tracey previously defended the right for Prof Stock to speak as a matter of "freedom of speech".
In May, Amiad Haran Diman, president of the university's LGBTQ+ Society, said they had received "threatening, homophobic and transphobic" messages online after speaking out against Prof Stock.
In her speech on Tuesday, Prof Tracey said: "Free speech has been centre stage this year.
"I have been clear about our role in the university sector to protect free speech: it is core to how we teach subjects and expose students to different views and it also goes hand in hand with our commitment to equality, diversity and inclusion.
"I have publicly acknowledged that this means some legal free speech will be hard for some individuals to hear.
"However, I am also disturbed by what I witness as an amplification of discourteous, intolerant and hateful rhetoric on social media platforms under the guise of free speech."