400,000 wait more than a day in A&E – figures
Twenty-four hours in A&E is "no longer just a documentary", leading medics have warned as figures show that almost 400,000 patients spent 24 hours or more in an emergency department in England last year.
The Royal College of Emergency Medicine (RCEM) said the very long waits are a "matter of national shame".
Shocking figures uncovered by the college, shared exclusively with the PA news agency, show that 399,908 people waited 24 hours or more in an emergency department in England in 2022/23.
And the college warned that there could be a similar situation this year.
Speaking to the PA news agency ahead of the RCEM's annual scientific congress, Dr Adrian Boyle, president of the college, warned that patients are coming to avoidable harm as a result of long waits.
"We know that long stays in emergency departments are harmful," Dr Boyle said.
"There is good scientific data that shows that once people spend more than about six hours, and they need to be admitted into hospital, actually their mortality starts to get worse.
"I think it should be a matter of national shame that we have the these very long waits for admitted patients."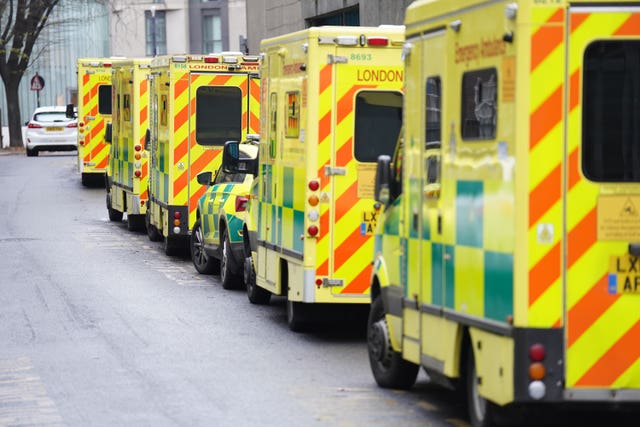 He added: "We must not normalise very abnormal situation. 24 hours in A&E is not just a documentary, it's a way of life for lots of people, and it's a way of life for far too many people.
"This is a fixable problem but requires political will and commitment to sort this out."
Dr Boyle said the college wants "an emergency care system that people feel they can be looked after safely".
He said that "end to end" the whole process of receiving emergency care should take no more than six hours, including a person being collected by an ambulance, taken to A&E, handed over to emergency department staff who organise tests and either discharge or admit the patient to the hospital.
"That is not what is happening at the moment," he said.
"The figures we've got from the freedom of information request shows show us that nearly 400,000 people in England waited over 24 hours in an emergency department.
"And this is because we just don't have enough beds in hospitals."
He said that people caught up in the long waits are "often elderly and vulnerable".
Dr Boyle also raised concerns about "trolleys stacked up in corridors", saying that this is seen in emergency departments "all the time".
He added: "It feels actually sometimes a little bit embarrassing the level of care that we're able to offer people when they really need us, and that's very demoralising."
Asked whether there could be a repeat of the 400,000 figure this year, Dr Boyle said: "Yes, we have seen 12 hour stays continue this year with little change, so it is perfectly possible that the 24 hour stays will continue."
The RCEM has released its general election manifesto which makes a number of calls to political parties including:
– To end overcrowding in emergency departments, including by ensuring there are enough hospital beds to prevent people being stuck in emergency departments when they need a bed on a ward.
– More funding for social care to prevent a system where people who no longer need hospital care can be discharged when ready.
– For more emergency medicine staff to deliver "safe and sustainable care" and for more work to retain current staff.
– A call to "resource the NHS to ensure the emergency system can provide equitable care to all".
– And for more data to be published on hospital performance.
A record number of people attended A&Es in England in 2022/23.
Last year there were 25.3 million attendances in English A&Es, up 4% from the previous year, according to figures released last week.
The data also show that 71% of people spent four hours or less in A&E in 2022/23.
The NHS recovery plan sets a target of March 2024 for 76% of patients attending A&E to be admitted, transferred or discharged within four hours, with further improvements expected the following year.
An NHS England spokesperson said: "This data relates to last year and winter, when services were facing record demand, industrial action and a twindemic of Covid and flu, but since we published our urgent and emergency care recovery plan in January we have seen significant improvements.
"Thanks to the hard work of NHS staff Category 2 ambulance response times are now an hour faster than in December, A&E four-hour performance is up from 69% to 73%, and the proportion of patients waiting 12 hours in A&E is down a sixth.
"We know there is more to do, which is why we set out our winter plans earlier than ever before this year, expanding care 'traffic control' centres, delivering additional ambulance hours and extra beds to boost capacity and reduce long waits for patients, and other initiatives like same day emergency care units and virtual wards which can mean patients are able to get the care they need without an unnecessary trip to an emergency department – this is better for them, and means A&E staff can continue to prioritise those with the most urgent clinical need."
The health service in England published data on a number of different A&E outcomes including how many people are seen within four hours and data on the number of people waiting more than 12 hours in A&E departments in England from a decision to admit to actually being admitted.
But data is not routinely published on 24-hour waits.
As a result, the RCEM sent a freedom of information to NHS England asking for: "A count of attendances at Type 1 Emergency departments in England taking place between January 2022 and February 2023, showing those attendances that lasted 24 or more hours in the department".
The data published from April 2022 onwards is counted as 'provisional'.
Dr Tim Cooksley, president of the Society for Acute Medicine, said: "This data is a further illustration of the appalling experiences and harm for patients that occurred last year in urgent and emergency care. This particularly impacts older and acute medical patients.
"Whilst this data is from last year, it is highly likely to be replicated this year. There is a perfect storm of events which may make this winter even worse – a terrifying thought for staff and patients alike."
Commenting on the figures, Liberal Democrat health spokesperson Daisy Cooper MP said: "These shocking figures reveal the scale of the damage this Conservative government has done to the NHS.
"Long waits at A&E are leading to agonising waits for patients and unnecessary harm.
"It's vital that the Health Secretary comes up with a proper winter plan including ensuring hospitals have enough beds and staff, and finally coming up with a proper plan to tackle the social care crisis."
Wes Streeting, Labour's shadow health secretary, said: "24 hours in A&E was a TV programme, now it's the reality for hundreds of thousands of patients. Delays reaching patients in an emergency is costing lives.
"The longer we give the Conservatives, the longer patients will wait.
"Labour will get patients seen on time in an emergency, just as the last Labour government did. We will train thousands more staff, reform the health service and fix the social care workforce crisis."
A Department of Health and Social Care spokesperson said: "No patients should be waiting longer than necessary.
"That's we have set out the widely-endorsed urgent and emergency care recovery plan since this study was carried out, which aims to deliver one of the fastest and longest sustained improvements in waiting times in the NHS's history, including creating 5,000 permanent staffed hospital beds, with recent improvements made in A&E performance compared to last year."