Cleaning up vehicle emissions the biggest challenge to net zero, says Harper
Decarbonising cars and vans is one of the "biggest challenges" to meeting the net zero 2050 deadline, according to the Transport Secretary.
Mark Harper's comments will be seen as the latest hint that the UK Government will keep in place its ban on the sale of petrol and diesel cars by 2030 as part of efforts to meet its commitment to establishing a zero carbon economy.
There has been pressure from some right-wing Conservatives, including former prime minister Liz Truss, to delay the green pledge as the party looks to claw back ground against Labour ahead of a likely election next year.
Car makers, however, are keen for the commitment to be kept in order to provide stability, with manufacturers already starting to design vehicles that will be on sale in 2030.
Addressing the Society of Motor Manufacturers and Traders' (SMMT) Electrified 2023 conference in Westminster, Mr Harper said: "Getting the transition to EVs (electric vehicles) right really matters.
"It matters because our climate goals now depend on decarbonising transport.
"We have made a lot of progress in this country with decarbonising our electricity generation system, whereas transport is now the source of 20% of our total greenhouse gas emissions."
The Cabinet minister said it would not be possible to meet the UK's climate goals "without making extensive progress" on environmental reforms in road transport.
He added: "Cleaning up cars and vans represents the biggest challenge and greatest opportunity to reach net zero by 2050.
"And with more countries following the UK's lead, we cannot miss out on the automotive jobs, investment and technology that we really want to make sure comes to the United Kingdom."
Prime Minister Rishi Sunak has said that he does not support "hairshirt" policies to achieve net zero, with Downing Street reviewing green pledges following a shock Tory by-election victory in Boris Johnson's former seat of Uxbridge and South Ruislip.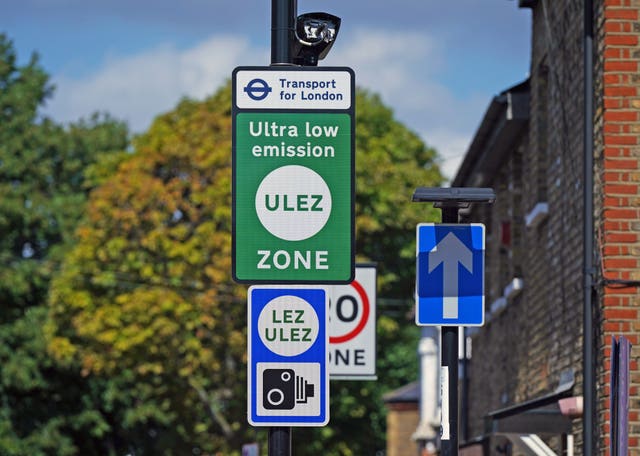 The Tories cited Labour London mayor Sadiq Khan's widening of the ultra low emission zone (Ulez) as the deciding factor in their win.
The Ulez scheme, which since August covers all London boroughs, means vehicles that do not meet emissions standards incur a daily charge of £12.50.
Since the July by-election result, Mr Sunak has argued he is on the side of motorists and used a visit to Scotland this summer to announce plans to grant more than 100 new licences for oil and gas extraction in the North Sea.
But he has so far stood firm on the 2030 petrol and diesel cars ban despite pressure from his backbenchers.
The Tory leader, who is significantly behind Sir Keir Starmer's Labour Party in opinion polling, has said the net zero target must be achieved on the back of a jobs boom and growth drive, without punishing drivers or bill payers.
Mr Harper reiterated the Prime Minister's position, telling the SMMT's conference that the Government would back motorists while encouraging the automotive sector to produce greener cars ahead of the 2030 deadline.
"It is not about forcing people out of their cars, which is what some people engaged in this debate on the other side of politics want to achieve," he said.
"This Government wants to back motorists to travel how they want, where they want and when they want to, and our job is to make sure they can do all of those things in a way that is consistent with our environmental goals – and that is what we are about."