Timeline of the Channel migrant crisis
More than 100,000 migrants appear to have crossed the Channel in the last five-and-a-half years since current records began, according to analysis by the PA news agency
This is how events have unfolded since the start of the Channel migrant crisis:
– 2018
December 28: Home Secretary Sajid Javid breaks off his holiday and declares a "major incident" in the Channel following an upsurge in small boat crossings, with at least 221 migrants attempting the voyage since the start of November.
December 31: Mr Javid bows to pressure from Tory MPs and announces two more Border Force cutters are to be stationed in the Channel, having previously warned they would act as a "magnet" for migrants.
– 2019
January 24: Mr Javid and his French counterpart, Christophe Castaner, announce a joint action plan aimed at halving the number of successful crossings over the summer and reducing it to an "infrequent phenomenon" by spring 2020.
It includes more than £6 million for new security equipment such as CCTV and night goggles, increased beach patrols and intelligence sharing, and a commitment to conduct return operations as quickly as possible.
August 9: A 31-year-old Iranian woman, Mitra Mehrad, becomes the first migrant known to have drowned while attempting the crossing after falling from a dinghy.
August 23: Prime Minister Boris Johnson warns migrants "we will send you back" after almost 100 attempt the crossing in the space of 24 hours.
December 31: 1,892 migrants are reported to have successfully crossed the Channel in the course of 2019, while 1,235 were intercepted by the French authorities.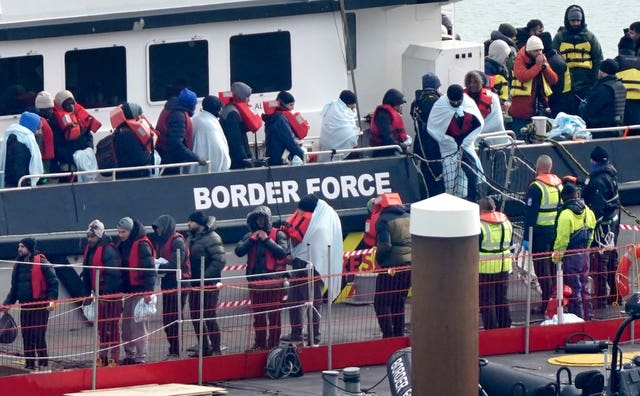 – 2020
July 12: Home Secretary Priti Patel and French interior minister Gerald Darmanin announce a new joint intelligence cell to counter the people smuggling gangs as 180 migrants make the crossing – the highest number to date on a single day.
September 26: The Home Office announces plans to acquire two jet skis to try to stop the migrant boats after a new record 416 migrants make the crossing in one day.
October 27: A family of five, including three young children, drown after their boat capsizes in the Channel.
November 28: Ms Patel and Mr Darmanin announce a new joint operational plan with more French police patrols and the deployment of cutting-edge surveillance and detection technology.
December 31: At least 8,417 people arrived in small boats in the course of 2020, quadruple the number of the previous year.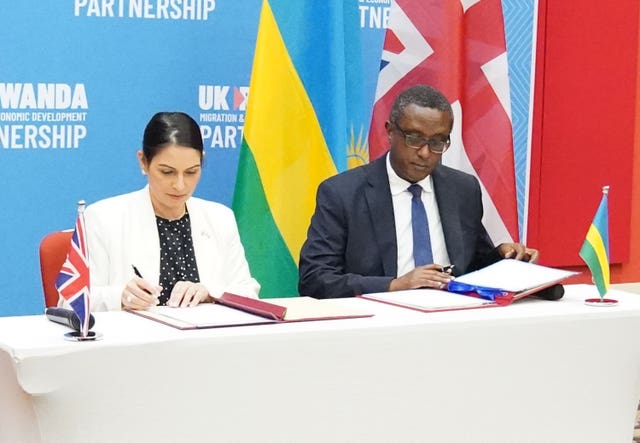 – 2021
March 24: Ms Patel says she will "consider all options" to offshore processing of asylum claims to third countries as she sets out plans to overhaul the immigration system.
November 11: 1,185 migrants take advantage of the unseasonably mild weather to make the Channel crossing – a new record for a single day.
November 15: Ms Patel and Mr Darmanin issue a joint statement vowing to prevent "100% of crossings", making the Channel route "unviable" for migrants.
November 24: 27 people, including a pregnant woman and three children, are drowned after their dinghy capsizes in the deadliest incident in the Channel since Mr Javid first declared a major emergency.
Ms Patel is disinvited from a meeting of European interior ministers following a diplomatic row between Mr Johnson and President Emmanuel Macron over the response to the tragedy.
December 31: The total number of arrivals for the year is 28,526.
– 2022
April 14: Mr Johnson announces plan to deport migrants arriving in small boats to Rwanda for their claims to be processed, saying it would act as a "very considerable deterrent".
June 15: The first deportation flight to Rwanda is cancelled just minutes before take-off following a ruling by a judge at the European Court of Human Rights in Strasbourg.
August 23: The Ministry of Defence said 1,295 migrants made the crossing in 27 boats, another new record which remains the highest figure for a single day.
August 25: Ms Patel announces an agreement with the Albanian government to curb the numbers of migrants from that country amid concerns they account for 60% of all those arriving in the UK.
October 31: New Home Secretary Suella Braverman prompts uproar in the Commons when she describes the numbers of migrants arriving in the UK after crossing the Channel as an "invasion on our southern coast".
November 14: Ms Braverman signs a new agreement with Mr Darmanin allowing British officers to join French beach patrols.
November 23: Admitting the Government has "failed to control our borders", Ms Braverman tells MPs they are determined to "fix" the problem, following criticism of overcrowding at the Manston processing centre in Kent.
December 14: Four people die while 39 others are rescued after their dinghy capsized in the Channel.
December 19: The High Court rules the Government's Rwanda policy is legal but orders the cases of the first eight deportees to be reconsidered.
Campaigners later take the case to the Court of Appeal.
December 31: 45,755 migrants made the Channel crossing over the course of the year, according to Government figures.
– 2023
January 4: Prime Minister Rishi Sunak announces legislation to tackle the migrant crisis is one of five key priorities for his premiership.
March 7: Ms Braverman tells MPs the Illegal Migration Bill will impose a legal duty to remove those arriving in the country illegally, barring them from claiming asylum in the UK.
March 18: Visiting the country for the first time as Home Secretary, Ms Braverman doubles down on plans to send migrants to Rwanda despite the ongoing legal battle.
March 29: The Government unveils plans to house asylum seekers on disused military bases, ferries and barges in a bid to cut spending on hotels.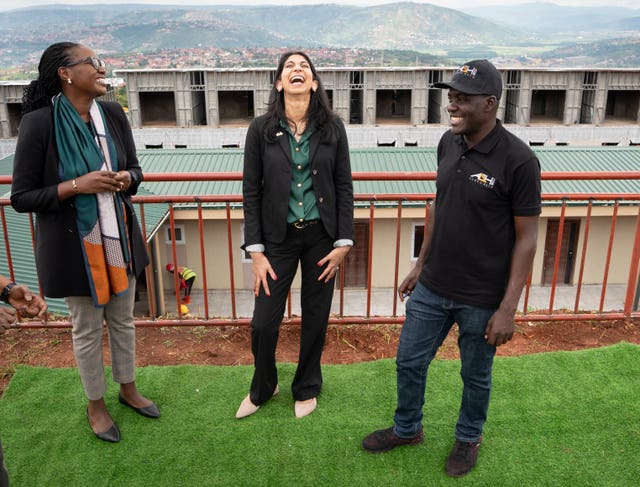 April 26: The Home Secretary says migrants crossing the Channel have values "at odds" with British norms and are linked to "heightened levels of criminality" – comments which are condemned by Labour.
May 25: Figures show the asylum backlog has hit a new record high with more than three quarters of claims made by people who crossed the Channel since 2018 still awaiting a decision.
June 5: Mr Sunak insists his plan to stop Channel crossings is "starting to work" but plays down suggestions that fewer arrivals were a result of poor weather conditions at the time of year rather than policy decisions.
June 18: The number of Channel crossings for the year so far tops 10,000.
June 26: Estimates in a Home Office assessment reveal £169,000 could be spent on every asylum seeker forcibly removed to a third country such as Rwanda.
June 29: The Home Secretary lashes out at "phoney humanitarianism" hindering efforts to stop Channel crossings as the Government loses the latest legal battle over its plans to send migrants to Rwanda after a Court of Appeal ruling.
July 3: A new record is set for migrant crossings, with 3,824 arrivals in June – the highest total for that month since records began in 2018.
July 10: MPs learn the Home Office is paying for thousands of empty hotel beds reserved for migrants to avoid overcrowding at processing centres.
Meanwhile, immigration minister Robert Jenrick is lambasted from his own backbenches in Parliament after defending the painting over of cartoon murals at a unit for lone child asylum seekers.
July 12: The first asylum seekers arrive at former RAF airbase Wethersfield Airfield in Essex as it is brought into use as accommodation. Legal action is brought against the plans.
July 13: The Government is given the go-ahead to take the legal battle over its Rwanda deportation policy to the Supreme Court.
July 20: Despite condemnation from campaigners, sweeping asylum reforms under the Illegal Migration Bill become law after being given Royal Assent and being made an Act of Parliament. But it is unclear when the new rules will come into force.
The number of migrants crossing the Channel tops 14,000 for the year so far.
July 21: Officials insist the Bibby Stockholm barge, due to house migrants in Portland off the Dorset coast, is not a "floating prison" as they give reporters a tour of the facilities.
July 27: Ms Braverman buys marquees to sleep 2,000 asylum seekers on disused military sites in a bid to avoid using hotels ahead of an expected surge in Channel crossings.
July 28: It emerges plans to move 2,000 migrants into RAF Scampton in Lincolnshire – which is subject to a legal challenge – have been delayed until October.
August 1: Figures show the average number of migrants crossing the Channel per boat in July (52) was the highest on record for any month since records began in 2018.
August 2: The Fire Brigades Union (FBU) calls for an urgent meeting with the Home Secretary over safety concerns raised about the Bibby barge.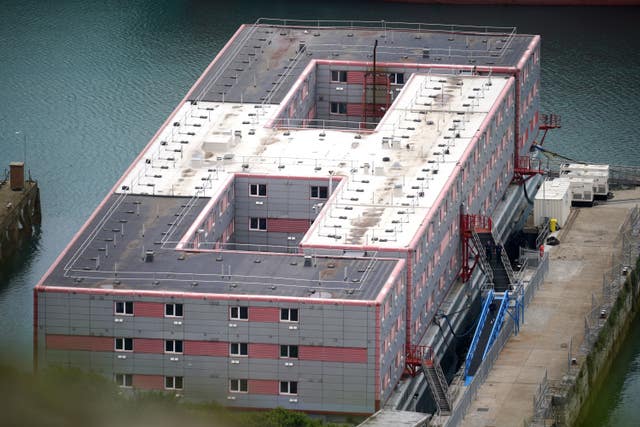 August 5: Mr Sunak announces a plan for social media firms including Facebook, TikTok and Twitter to team up with the National Crime Agency to crack down on people smugglers' posts encouraging asylum seekers to cross the Channel.
August 7: The first group of asylum seekers finally boards the Bibby Stockholm after weeks of setbacks and delays.
Meanwhile, official figures confirm more than 50,000 migrants are living in hotels.
At the same time, the Government announces fines will rise for employers and landlords who give unauthorised migrants jobs or tenancies.
August 8: Justice Secretary Alex Chalk defends the Government's announcement of a "task force" targeting corrupt immigration lawyers as critics brand it a "red herring" to distract from the asylum backlog.
August 9: The Home Office announces that the UK and Turkey have struck a new deal to "disrupt and dismantle" people smuggling gangs in a bid to tackle the surge in illegal migration.
August 10: Fresh arrivals of people on lifeboats on Thursday appeared to take the number of Channel crossings since 2018 past the 100,000 mark, analysis of Government figures by the PA news agency showed.
Reports the same day suggested senior ministers were split over whether the UK should ditch its commitment to the European Convention on Human Rights (ECHR), which underpins the country's duty to help migrants.