Four arrested after 'chaining themselves to old washing machine' at oil refinery
Four activists have been arrested and charged with public order and breach of the peace offences after they allegedly blocked the entrance to an oil refinery with an old washing machine.
Protesters from This Is Rigged allegedly locked themselves onto an old washing machine, halting traffic in both directions at the entrance of the Grangemouth oil refinery from 7pm on Friday.
The group claimed their alleged action halted petrol distribution from the oil terminal and they remained at the scene into the early hours of Saturday morning, police say.
It is part of a sustained series of actions in which the campaign group has vowed to "shut down the Scottish oil industry" which saw blockades by the group at terminals in Clydebank and Grangemouth on Wednesday and Thursday.
More than 30 arrests have been made of climate activists this week across various actions.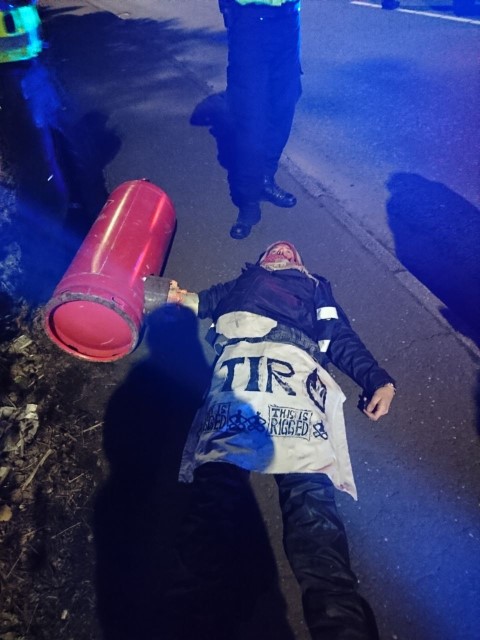 Hannah Bright, 21, a community worker and This Is Rigged co-founder said: "These blockades are about hope over fear.
"I'm here to stand up for my own – for ordinary people in Scotland and all over the world who have been screwed over for far too long by the people in power.
"I'm not going anywhere, even if that means I have to cement myself to a road.
"We won't be cowed by well-polished corporate BS, or police bullying. We're here to stay. The only way to stop us is to meet our demands."
Assistant Chief Constable Wendy Middleton from Police Scotland said: "A further four people have been arrested and charged with offences under section 68 of the Public Order Act and breach of the peace at the INEOS site in Grangemouth.
"They gathered in the area in the early hours of Saturday July 22 2023.
"Decisions about how to police protests require us to balance complex and often competing rights and issues. We have a legal duty to protect the rights of people who wish to peacefully protest or counter-protest.
"The guiding principles of policing protests are the safety of protesters, the public and police officers involved, preventing criminal behaviour or disorder, and de-escalating tensions."