Three further arrests made in connection to €157 million cocaine haul
Police in Ireland have made three further arrests in connection with a €157 million haul of cocaine seized when an elite army unit stormed a cargo ship off the Irish coast.
Six men have now been detained for questioning about the largest drugs haul in the history of the Irish state.
A total of 2,253kg of cocaine was found on the Panamanian-registered vessel in a major joint agency operation off the south-east coast of Ireland on Tuesday.
On Wednesday evening, a further three men were arrested for alleged organised crime offences.
They are detained at Garda stations in the Southern Region.
PSNI warn of 'worrying demand' for drugs flooding Northern Ireland after nearly 9,000 seizures in past year
Members of the highly trained Army Ranger Wing descended by fast-rope from a helicopter on to the MV Matthew as it tried to sail out of Irish waters and evade capture.
The elite unit boarded the ship after the Irish Naval Service's patrol vessel, the LE William Butler Yeats, fired warning shots in its direction after it failed to obey orders.
The vessel had been under surveillance since Friday when a multi-agency operation responded to intelligence of a major international drug smuggling operation.
Speaking at a media briefing in Dublin on Wednesday, a senior member of the Irish police described the operation as "hugely significant".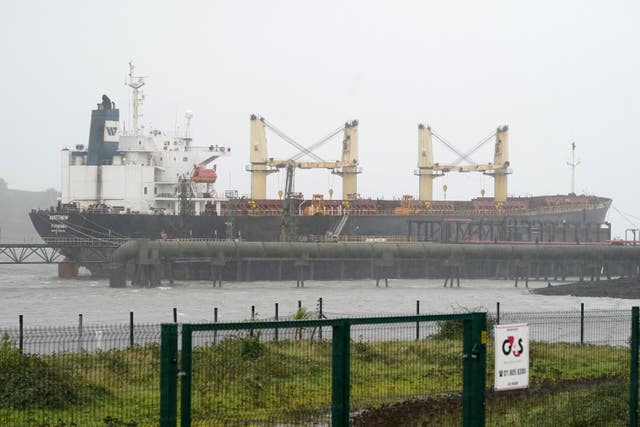 The MV Matthew is now moored at Marino Point in Cork (Niall Carson/PA)
Assistant Commissioner with An Garda Siochana Justin Kelly said: "I think it's really important to note, this is the largest drug seizure in the history of the state.
"This is a hugely significant operation and it shows our unrelenting determination to disrupt and dismantle networks which are determined to bring drugs into our country.
"These groups are transnational groups. They are working all across the world and, because of that, we need to work with our international partners."
He added: "This is a huge hit for the people involved in this."
Given the scale of the haul, Irish authorities do not believe the cocaine was solely destined for Ireland.
They suspect the drugs were being transported from South America for distribution across Europe.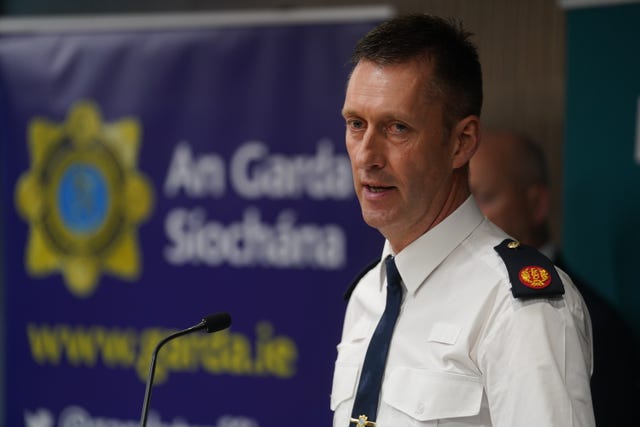 Assistant Commissioner Justin Kelly said it was a hugely significant operation (Brian Lawless/PA)
The MV Matthew was escorted to Cork harbour on Tuesday.
A fishing trawler that grounded off the coast of Co Wicklow late on Sunday was also being monitored as part of the operation, amid suspicions it was en route to rendezvous with the cargo ship.
The vessel remains stuck on a sandbank out at sea with poor conditions preventing the authorities from boarding and searching it.
It will be treated as a crime scene when it is accessed, police said.
Three people, aged 60, 50 and 31, previously arrested during the course of the operation, remain in custody in police stations in Co Wexford on Wednesday.
It has emerged that one of those arrested was medically evacuated off the MV Matthew before the military operation to seize it.
The operation involved the Defence Forces, customs officers and the Irish police's national drugs and organised crime unit.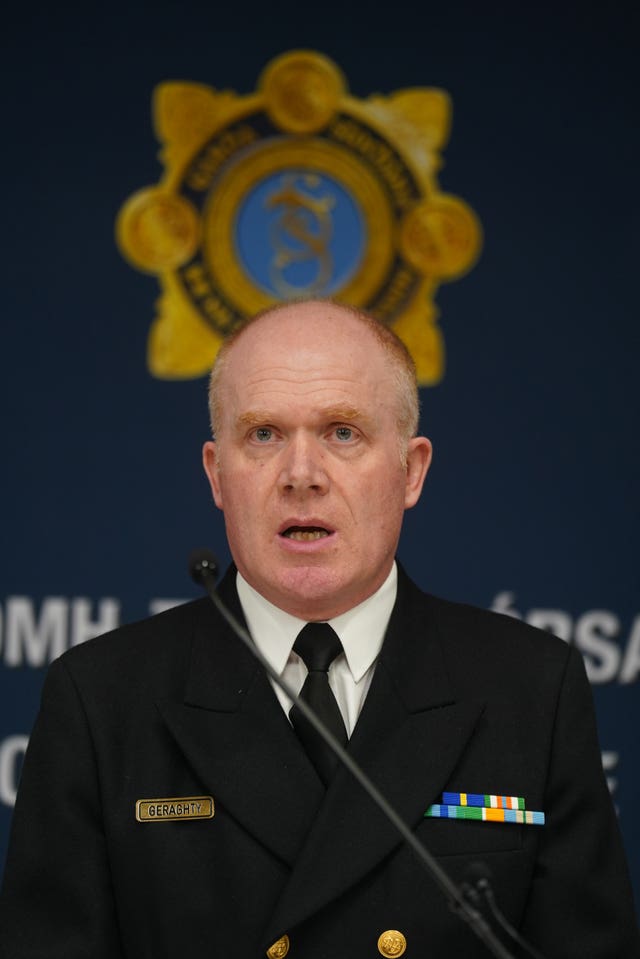 Commander Tony Geraghty said there was an escalated use of force (Brian Lawless/PA)
Mr Kelly said the cocaine on the ship originated in South America.
"This product was supplied by a South American cartel, one of the murderous cartels that are behind cocaine shipments into Europe," he said.
"A shipment like this into Europe is partly destined for the Irish market.
"Obviously, with the size and intelligence we have, we know the organised crime group behind this comprises of a number of different elements across Europe."
Asked if those on the cargo ship had tried to dispose of the cocaine by burning it or throwing it overboard, Mr Kelly said more information on this would be provided in the coming days.
He said such a large shipment would not have entered the state's waters without the involvement of an Irish gang.
He said there are a number of gangs in Ireland with "direct links to South America".
"There is no large ship like this coming into our waters or our ports or transiting across our country, without an Irish organised criminal group involved in it.
Gerry Harrahill, director general Operation, Revenue and Customs (left), Assistant Commissioner Justin Kelly, Garda Serious and Organised Crime (centre) and Tony Geraghty, Fleet Operations Commander Irish Naval Service (Brian Lawless/PA)
"There is an increase in the amount of cocaine available for a number of geopolitical reasons in South America. There is basically a glut of cocaine on the market," he said.
"And when you combine that with the increased consumption across Europe, Europe is now the biggest market for cocaine in the world.
"So when you combine those two things together, absolutely, it's inevitable that we're going to see organised criminal groups trying to leverage on that, make more money from it, as they always do in situations like this.
"It's inevitable that we'll see more large shipments."
He said increased large shipments had also been seen in Antwerp and Rotterdam.
Commander Tony Geraghty, fleet operations officer of the Irish Naval Service, explained why warning shots were fired at the cargo vessel before the boarding operation.
"The merchant ship refused to follow the instructions of our own ship," he said.
"So this was prior to the insertion of the Army Ranger Wing.
The ship was escorted into Cobh in Cork by the Irish Navy (Irish Defence Forces/PA)
"There was an escalated use of force used to compel the vessel to follow the instructions of the ship's captain."
Cdr Geraghty said it had been an extremely complex joint operation involving the Naval Service, the Air Corps, the Army Ranger Wing and Defence Forces headquarters.
He said the poor weather made the fast rope aerial boarding more complex.
He said there was no evidence of the crew being armed when the Army Rangers boarded and took control of the vessel.
"This ship is very large, she's 190 metres long, with an exceptionally high freeboard. So very difficult to get on," he added.
He said a "great deal of skill" was demonstrated by the Army Ranger Wing and helicopter pilot during high winds.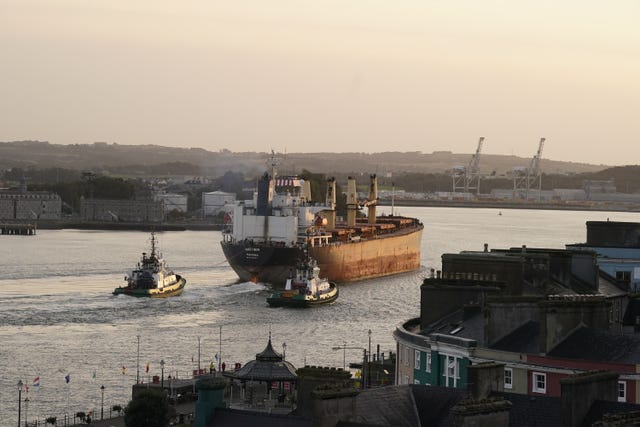 Three people have been arrested on suspicion of organised crime offences (Niall Carson/PA)
Cdr Geraghty said the ship also altered course when the Army Rangers were initially trying to descend.
"The Naval Service, the Air Corps and the Army Ranger Wing rehearse for these type of operations. The Air Corps pilots are really top notch guys, they're highly trained," he said.
"Whilst the environment is always dangerous – the weather yesterday was very bad – the operation was carried out in a successful manner."
Gerry Harrahill, director general of customs in Ireland, hailed the professionalism and the resilience of those involved in seizing the ship.
"I had a personal opportunity last night down in Cork to meet with some of the teams involved," he said.
"While they were tired and exhausted, I think there was a real sense of having done a really good job and delivered a really good outcome."