Sinn Fein promises 'Irish NHS' within two terms of government
Sinn Fein have pledged to deliver an "Irish NHS" system within two terms of government, promising to "recast" the existing cross-party plan for universal healthcare.
The main opposition party is also promising to make digital transformation of Ireland's health service a priority if they get into government after the next general election, stating that a lack of political will to fund the change has stalled plans to date.
Ireland's health system has for years been beset by long waiting lists, hundreds of people waiting on trolleys in emergency departments during the winter months, as well as a series of health controversies.
Overruns in the health budget has also been raised as a concern with Public Expenditure Minister Paschal Donohoe working with the Health Minister Stephen Donnelly on this year's overspend.
Sinn Fein health spokesperson David Cullinane said that there had been a lack of a "coherent plan and timeframes" in relation to implementing the universal healthcare plan, Slaintecare.
Mr Cullinane said an alternative health document, published on Friday, laid out his party's plan for what the first year of implementing universal healthcare would entail.
This includes widening out the medical card and reducing charges for attending local injury units from 80 euro to 50 euro.
"So if you look at reducing the cost this year, it's very substantial: from the medical card, reducing the drug payment threshold… abolishing prescription charges.
"If you had that level of commitment year on year, you would get there very, very quickly," he told reporters on Friday.
He added that the cost of implementing a fully universal healthcare system would be at least 2 billion euro, which means that it couldn't be done over a short space of time.
When asked when universal healthcare would be introduced in its entirety, he said it would have to be done in phases.
He said a "Slaintecard" system of entitlements would be introduced as universal healthcare is introduced, which would be developed within a term of Government.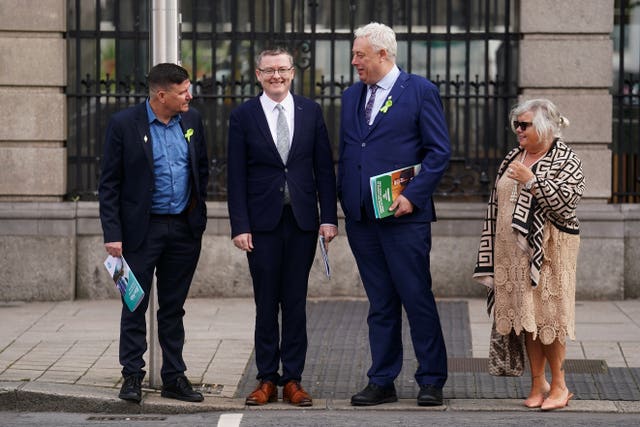 Mr Cullinane said: "What we're saying is that we will do our best to deliver as much of it as possible. So I'm not sure that everything will be delivered in one term of government simply because of the cost of it.
"Yes, it will take two terms of government to get to the final destination. But what we're proposing here, or we will propose through our keystone agreement is to do as much as possibly can be locked in one term of government, so it won't be down to a lack of political will and a won't be down to a lack of resources or commitment."
An initial cap and then a 20% reduction on hospital car parking charges has also been proposed, but Mr Cullinane said he had heard concerns that people who were not in need of care could use the car park if it was available for free.
The plan also promises to deliver 1,800 hospital inpatient beds over the next three years, and 600 community step-down beds over three years.
He also pledged to create a role for GPs who are directly paid by the State, as well as Oifig an Chomhliosta, which would be an integrated waiting list management system that Mr Cullinane said could see patients treated quicker.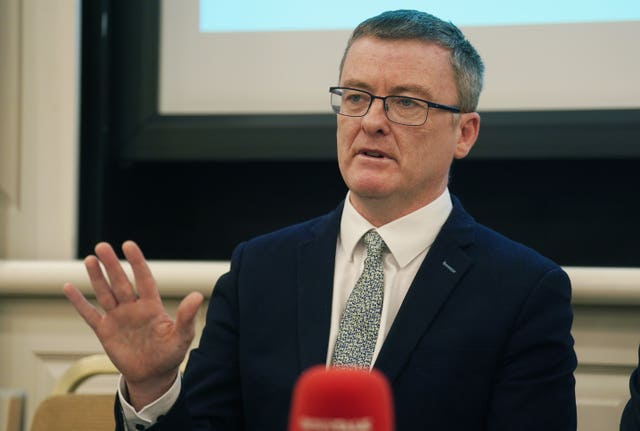 The Waterford TD added that this new body would publish all waiting lists, including the community and diagnostic waiting lists, which would deliver "much more transparency".
A 20 million euro first-year investment in the digital transformation of the healthcare service, which heavily relies on paperwork to store patients' information, has also been pledged by the party.
Mr Cullinane said that plans to do so are "ready to go" and senior staff in the HSE have been "really frustrated" that they have not been given the funding to implement them to date.
"There were plans in place before that were essentially blocked, as far as I know, by the Department of Public Expenditure and Reform. And they know that there are previous heads of the HSE that are deeply frustrated… Essentially the plans were just stopped, the funding didn't come.
"So our job is to make sure if we were in government, there is no blockages. This has to be done."
He added: "It's ready to go in the sense that they have plans but but a lot of it I would say would take a term in government to really deliver it, because a lot of it will be to make the systems into operable as opposed to having one single system.
"For us to be able to deliver the Slaintecard and the integrated management system, we need serious investment in digital transformation."
Asked if he was confident he could get the funding needed to deliver on these proposals when housing was a political priority, Mr Cullinane said "I'd be very confident that we can".
"We work pretty closely with (Sinn Fein finance spokesperson) Pearse (Doherty) and his team, and I always make the claim to him that I'm not going to look for funding that can't be delivered or put in place measures I feel can't be delivered."
He called the cost overrun in the Health department for this year "very chaotic" and said it was ultimately the role of the health minister to manage.