US delegation wants to be 'active partners' in solving Stormont stalemate
The co-chair of a large group of US politicians visiting Northern Ireland has said his country wants to be active partners in finding solutions to the Stormont stalemate.
Robin Vos, Republican speaker of the Wisconsin State Assembly, said the relationship between Ireland and the US is "unbreakable" and added there is an opportunity to bring more economic investment to the island.
More than 200 delegates from the American Irish State Legislators Caucus are visiting Stormont where they will take part in a number of events.
The group includes current and former Democrat and Republican senators and members of Congress from across 44 states.
They are holding a panel discussion with representatives of Northern Ireland's five largest parties and are also expected to meet business leaders during their visit.
Stormont speaker Alex Maskey said the size of the US visit was a vote of confidence in the devolved institutions.
However, the visit is occurring while the powersharing institutions remain collapsed due to a DUP protest at post-Brexit trading arrangements.
Mr Vos said: "We are here now to remind everybody that the strong relationship between Ireland and the United States is unbreakable.
"We are here today also to listen. As Americans we need to learn more, to understand all of what has happened in Ireland's history.
"We are steady, reliable partners going forward."
Asked about the significance of the visit occurring while Stormont was not operating, Mr Vos said: "I think the most important thing that American state legislators can do is understand what has happened in the past and to make sure we are active partners in trying to find long-term solutions.
"We have got a great opportunity to bring more business here.
"Ireland is one of the United States' largest trading partners and that is incredibly important to continue to establish stronger economic ties."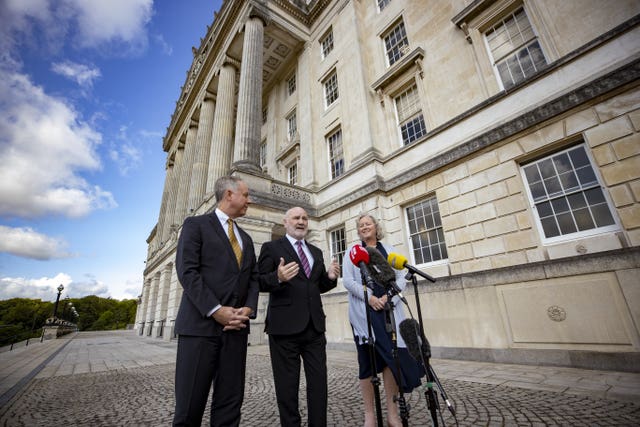 He added: "We are here to listen and learn. One of the things that I am excited about is we are going to get to hear from all of the people inside and learn about some of the things that are occurring.
"But also to continue to emphasise the strong relationship that we have and the strong bond that our two nations will always have."
Montana Democratic Senator Shannon O'Brien said: "We are very much looking forward to listening and to learning, to find out more about the Good Friday Agreement and how to keep peace.
"We have lots of lessons to learn."