No 10 defends ministers using China-linked TikTok on non-Government phones
Downing Street has defended ministers including the Defence Secretary using TikTok on personal phones despite the China-linked platform being banned on Government devices.
Prime Minister Rishi Sunak's official spokesman said Grant Shapps and Technology Secretary Michelle Donelan, who has also said she occasionally uses the app, are "making sure" they engage with it "in the correct way".
The video-sharing app, which is owned by Chinese firm ByteDance, has been banned from Government phones on security grounds.
It is among the social media platforms to be made subject to new safeguarding rules in the UK's Online Safety Bill, which requires networks to provide strict age verification processes.
Asked whether the ministers' use of the app sends mixed messages, the No 10 official said: "I think they've both provided a bit more detail about how they're doing it and making sure it's done in the correct way…
"I think there is clear guidance for young people and, indeed, for adults about how to approach these things.
"And I think it's the Online Safety Bill which will further help keep the public safe online."
Ms Donelan insisted that use of the app on non-work phones is a matter of "personal choice and responsibility".
She told the PA news agency: "The Government advice is not that ministers can't use TikTok.
"The Government advice is really clear. It is that you can't do it on a Government device because obviously there will be sensitive information on that device, whereas that is not true of somebody's personal phone and it is their personal choice.
"We all have personal choice and responsibility, and I think that is the right approach."
She added: "On your own personal device, that is something you need to consider for yourself in the full knowledge of what else is on your phone – just like you would, or anybody else."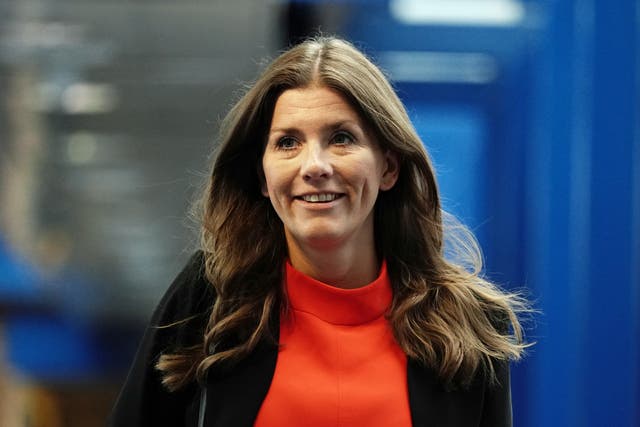 She said she believes Mr Shapps accesses the platform via the phone of one of his staffers, rather than his own personal device.
Mr Shapps, who was appointed Defence Secretary in a mini-reshuffle last month, raised eyebrows earlier this year when he made clear that he would continue to use TikTok on his personal phone.
The then-energy secretary posted a clip to the app from the film The Wolf Of Wall Street in which Leonardo DiCaprio, portraying a New York stockbroker, declares he is "not f****** leaving" and the "show goes on".
Ms Donelan revealed that she too uses the app on a "sporadic" basis, telling Times Radio: "I have it as well… I'm not that regular in my usage."
TikTok has long argued that it does not share data with China, but Beijing's intelligence legislation requires firms to help the Communist Party when requested.
The service has previously described bans as "misguided and based on fundamental misconceptions about our company".