Barbie becomes highest grossing film of 2023 so far in UK and Ireland
Barbie has become the highest grossing film of the year so far at the UK and Ireland box office, new figures show.
The blockbuster comedy, which stars Margot Robbie as the world-famous Mattel fashion doll, has taken £67.5 million in its first three weeks on release – enough to push the previous chart-topper, The Super Mario Bros. Movie, into second place on £54.6 million.
Barbie's commanding success at the box office could see it go on to beat last year's biggest earning film, Top Gun: Maverick, which took £83.7 million.
It is already outpacing the Top Gun sequel, which had made £50.1 million after three weeks on release – around three-quarters of Barbie's current total.
Oppenheimer, the other big-screen hit of this summer, is also continuing to pull in audiences.
The film has now made £39.2 million in the UK and Ireland, enough to move it up to third place in the year's box office chart, outranking the likes of Guardians Of The Galaxy Vol. 3 (£36.7 million) and Spider-Man: Across The Spider-Verse (£30.4 million).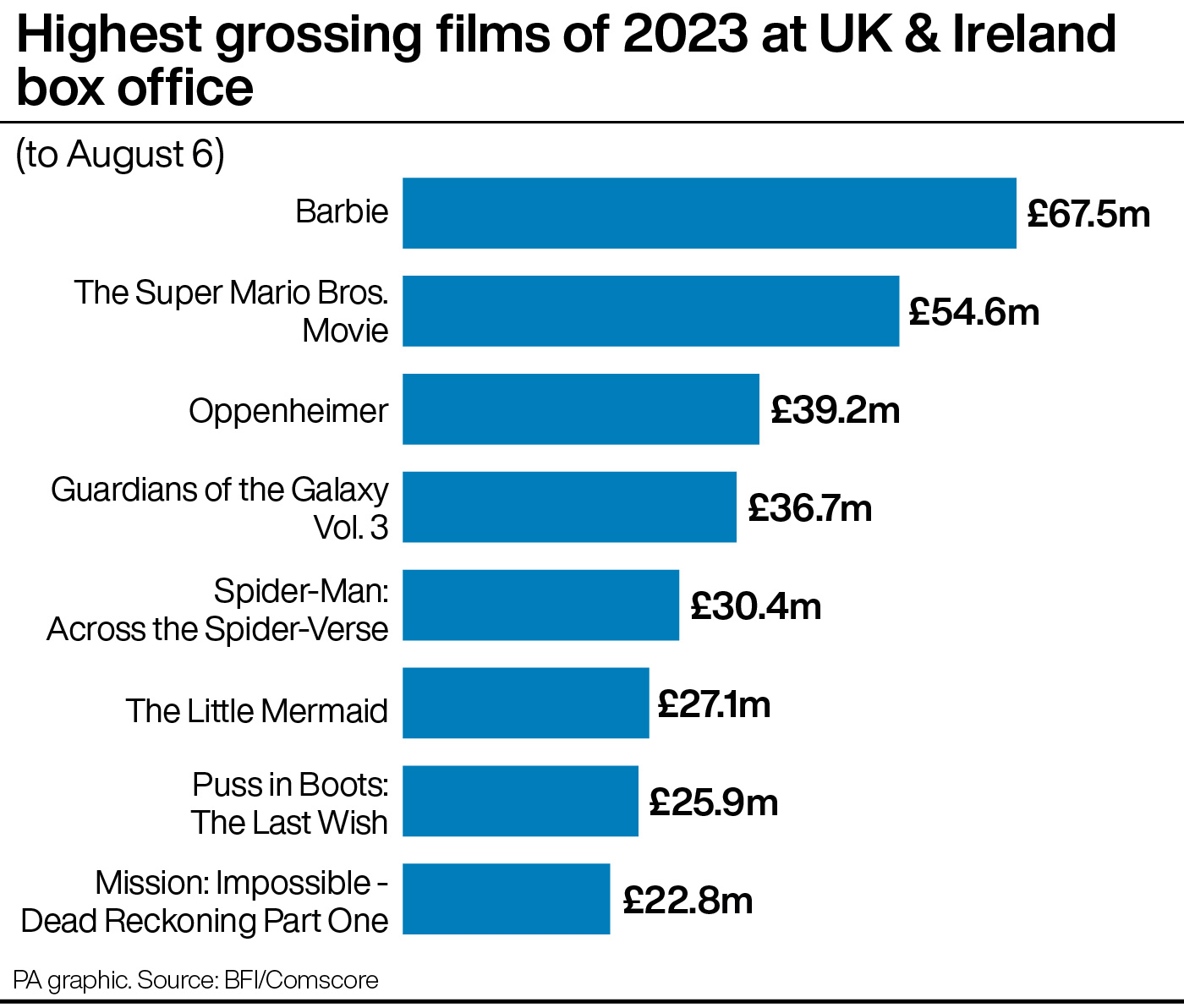 Oppenheimer's subject matter – the life of the eponymous American physicist, who played a key role in developing the atomic bomb – is a far cry from the comic book adventures of Marvel's superheroes, let alone the fantasy world of live-action fashion dolls.
Read More :
But the latest box office figures – which run to August 6 – suggest Oppenheimer and Barbie have both found a mass audience, with some fans choosing to see the two films back to back as a "Barbenheimer" double bill.
Part of their appeal may also be due to their status as stand-alone releases, rather than spin-offs or parts of long-running franchises.
Box office data is published by the British Film Institute and Comscore, with figures for the UK and Ireland counted together for the purposes of reporting.
Barbie's takings fell by 40% between its second and third weekends on release, but the film has already shown enough momentum at the box office to guarantee its overall earnings will climb higher in future weeks.
And if it manages to match or even overtake last year's chart-topper, Top Gun: Maverick, it could become one of the UK and Ireland's top 10 highest-grossing films of all time.