Museum of Empire and Slavery urged to recognise Glasgow's imperialist past
Calls have been made for a Museum of Empire and Slavery to recognise Glasgow's major role in British imperialism.
Known as "the second city of the Empire", Glasgow and was a major trade route for sugar, cotton, and tobacco, as well as a shipbuilding hub.
The city's links to slavery are commemorated with place names including Merchant City and Jamaica Street, and it also has a statue of Sir Robert Peel, a Prime Minister who delayed the abolition of slavery.
Peel opposed the Foreign Slave Trade Abolition Bill in 1806 on behalf of Manchester merchants and his own cotton-spinning firm, Peel, Yateses, Halliwell & Co, was added as a signatory, but the law passed.
Scottish Liberal Democrat MSP Willie Rennie has called for greater recognition of the role Scotland played in the British Empire, and said it was a "nationalist myth" to deny Glasgow's role.
He claimed cyber-nationalists attempted to frame the British Empire as a "uniquely English project", and that Glasgow and Scotland needed to take "its share of the blame".
Cities such as Edinburgh and Bristol have committed to formally acknowledging their roles in slavery.
Mr Rennie, MSP for North East Fife, said a Museum of Empire and Slavery should "inform and educate about the role of Scots in the slave trade and the colonial era".
The Scottish Government is considering responses to recommendations from a steering group on "attitudes to Scotland's museums and racism", including a suggestion for a dedicated space to address the legacy of colonialism in Scotland.
Mr Rennie said: "The time is ripe for an honest reappraisal of the role of Scots and Scotland in the colonial projects.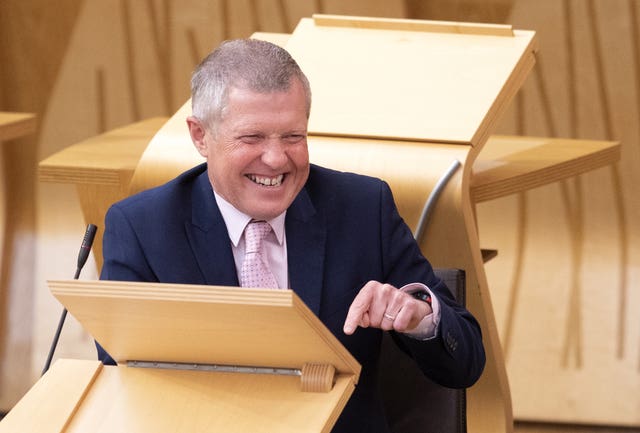 "Across the country many of the streets and buildings that we pass by every day honour men who behaved, by modern standards, appallingly.
"A Museum of Empire and Slavery would allow us to reckon with the legacy of these figures. That doesn't mean tearing down our history and heritage, but understanding it in the proper context, with all the facts.
"I am urging the Scottish Government to move forward with this project because it's also a chance to bust the nationalist myth that Scotland didn't have anything to do with the British Empire.
"While I am sure SNP ministers are keen for us to learn from our history so that it is not allowed to repeat itself, there is a certain strain of online nationalist mythologist desperate to pretend that colonialism was a uniquely English project which did not extend north of the border.
"That historically inaccurate attitude needs to be stamped out. A city like Glasgow did not become the self-proclaimed 'second city of Empire' without accruing its fair share of blame.
"This can be a valuable resource for schoolchildren and others for years to come and I hope ministers will move forward with greater speed."
The Scottish Government has been contacted for comment.