The ultimate drunken purchase? Man buys 6ft Pokemon that's too big to deliver
Anyone who has drunkenly bought something on the internet will relate to Callum Underwood's dilemma… how to get a giant Pokemon cushion from the US to the UK without paying 1,000 dollars in shipping?
"You've gotta catch 'em all", as the saying goes, so the 31-year-old bought the huge Snorlax plush for about £150 and then had it sent to his boss in San Francisco because the seller would not ship to Britain.
But Mr Underwood was then horrified to hear the parcel would cost a futher 1,000 dollars (£780) to send to the UK as freight because of its size, and taking it as hand luggage on a plane would have required booking an extra two seats to accommodate its 6ft size.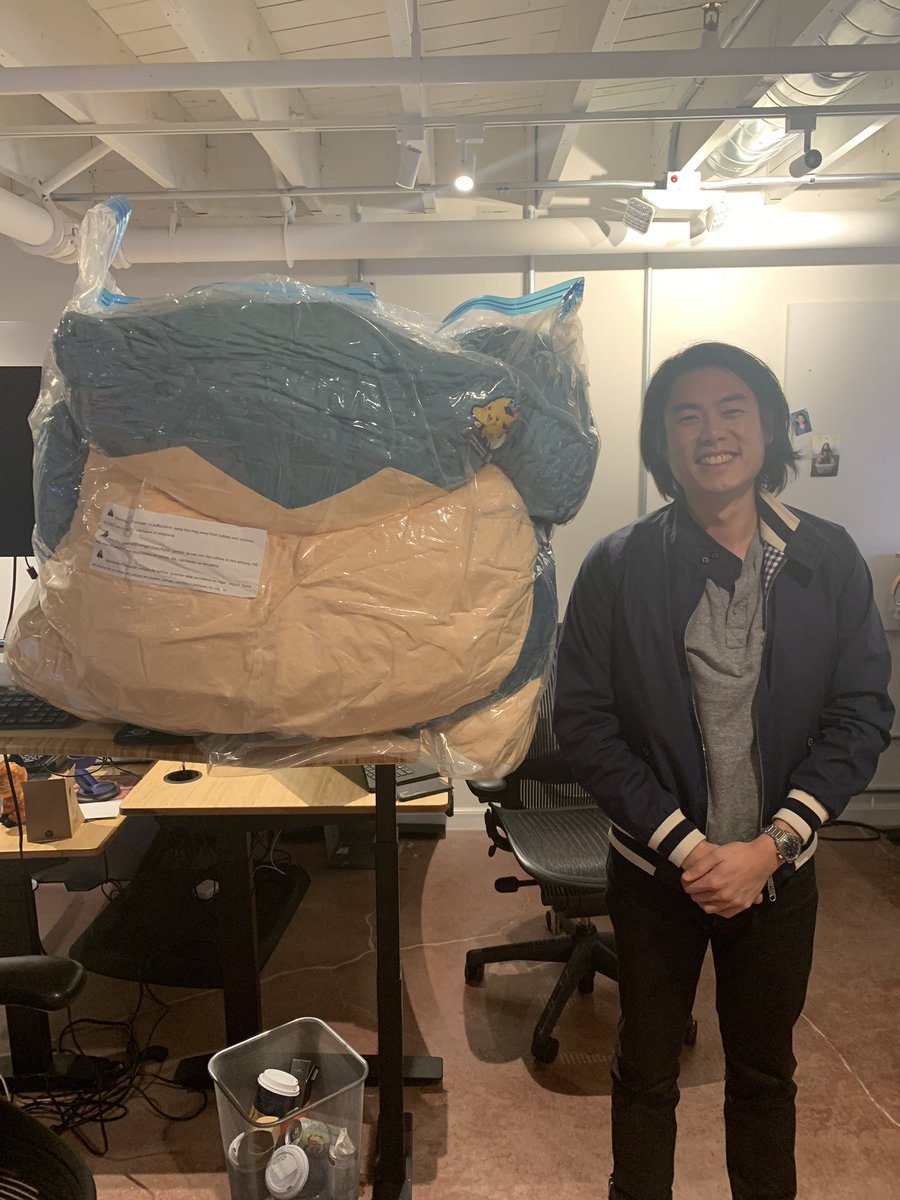 He said: "I was on a work night out when one of my colleagues sent me the link and I thought it would be a good idea to order it.
"They don't deliver to the UK so I texted my boss and asked if I could have it shipped to her animal sanctuary."
Mr Underwood, a business developer in the games industry, even thought about cutting the Snorlax open and removing its stuffing before having it refilled back home – but said he found the thought of that too traumatic.
In the end, the married father managed to get the monster plush home to the UK while on a business trip to the West Coast, via a stop-off at an e-sports conference in Atlanta, and then a flight on to Heathrow and finally home to Newcastle.
He managed it by cramming the toy into a large box and putting it in the hold as baggage – although the Snorlax did get lost at Dallas airport and was swabbed for drugs by suspicious security officials.
Mr Underwood shared the saga of his long journey with his new friend on Twitter, taking pictures of the oversized cushion's various brushes with airport authorities.
"I thought it might cost 100 dollars max to get it sent on to the UK as it doesn't weigh very much, but because of the dimensions it was going to be 1,000 dollars.
"I went on Twitter and people suggested booking it a seat on the plane but it was wider than a person so that wasn't feasible.
"I left it for two months and then I flew out for work as I had some meetings in San Francisco and I thought I'd figure it out when I was there."
After ruling out removing the Snorlax's stuffing, Mr Underwood squeezed him as tightly as possible into a box and put him in the hold of the plane to Atlanta, and finally got him home to Newcastle.
He said: "At every point in the journey, everyone has been asking 'What's in the box'?"
People burst out laughing when he explained it was a Pokemon, he said.
American airport officials cut the box open and swabbed it – presumably concerned it might contain drugs.
Mr Underwood added: "I managed to arrive back in Newcastle in one piece and now it's in the house and my son has semi-adopted it.
"I had been drinking when I bought it, but I was not black-out drunk. I just thought it would be funny.
"I have always liked Pokemon. I'm a 31-year-old married man with kids – I don't even have the excuse of being a student!
"I just thought it would be nice to have it in the office."