The surprising Indian city where a craft beer scene has taken off
There's a strong aroma of toasted cereals in the small room where magic happens, as beer-lovers quench their thirst right outside the window.
Using a long paddle, I stir 300 litres of 65C water – harder than it looks – as another bag of malted barley is poured into the large silver tank at Candles Brewhouse in Bangalore.
The capital city in the south Indian state of Karnataka is full of buzz and vibrancy when we arrive for a few days of beer, food and exploration.
Perhaps lesser known than the tourist hotspots of Mumbai and Delhi in the north, Bangalore – or Bengaluru in the local language – is described as India's technology capital. An influx of big tech firms with well-travelled employees is seen as one of the drivers behind the growing popularity of the craft beer scene here.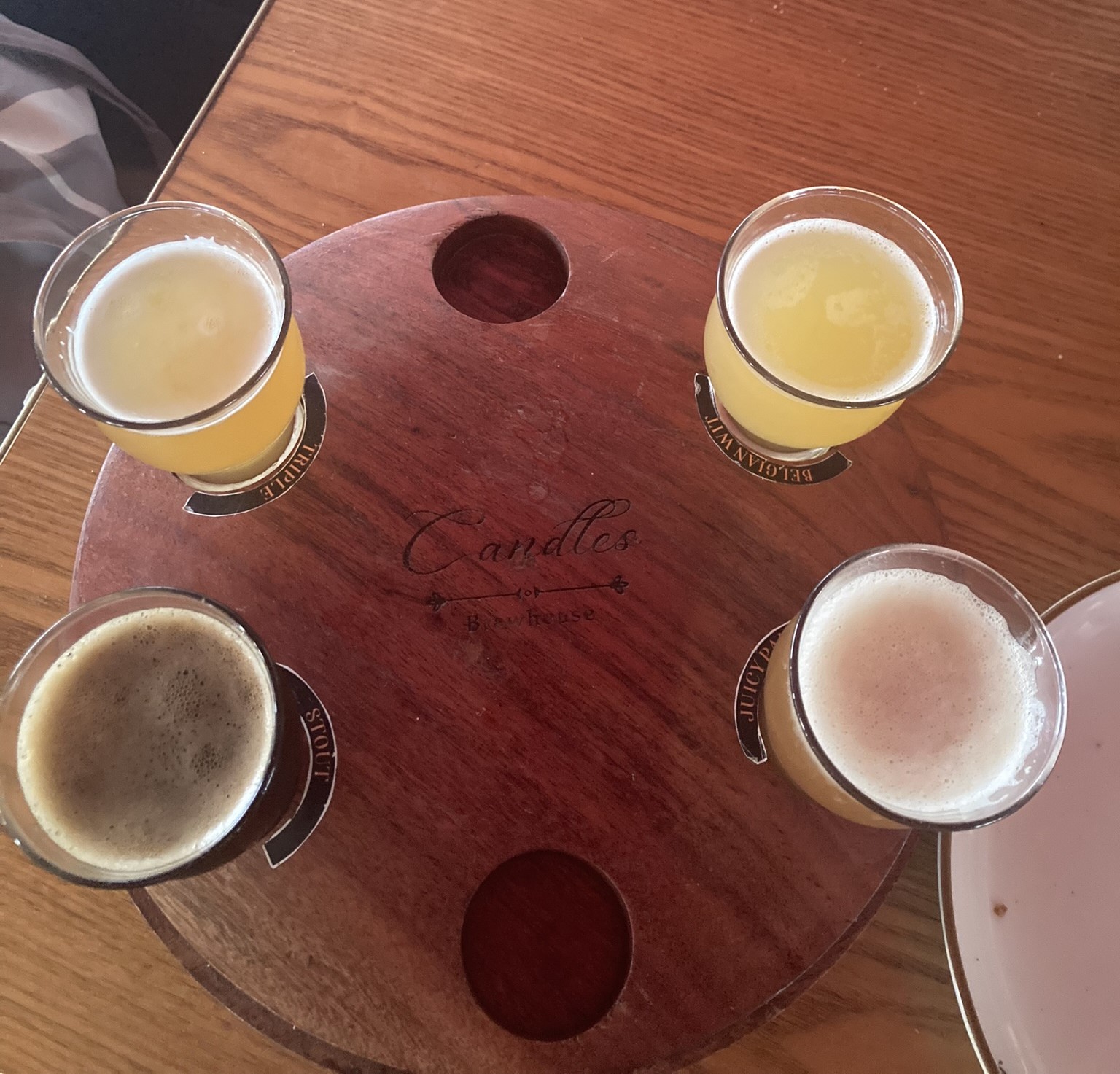 There are believed to be more than 70 microbreweries in the city, and its thirst for more does not seem to be letting up, with one of the staff telling me: "Bangalore could have 15 more breweries, easily."
Candles, located on the 12th floor of the Azure office building on Bellary Road, offers fantastic views and professes to be the highest microbrewery in the city.
The beer I am helping to brew will eventually have raspberries added to it, producing a pink-tinted drink (one of the brewery's most popular thirst-quenchers). Each week one tank – around 1,000 litres – of this specific flavour is sold. But it will be about 15 days before the mixture I am stirring is ready to serve up to eager customers.
The venue, which can seat around 450 people, offers Ibiza-style beats, cricket on a big screen and a very Instagram-worthy backdrop. There is also the opportunity for more curious drinkers – like me – to request a free tour of the small one-room brewing section with its 14 tanks quietly preparing the next batches.
It's a tight squeeze for our group but we get an insight into how the beer is made as we stand among the tanks.
"The raspberry ale is our flagship beer. We aim to deliver food, beer and happiness," says brew master Martin Bernard, adding that Bangalore is the "beer capital of India".
Asked what sets this place apart from the many others, he and the other staff tell me it's an unrivalled view.
"People come here for the quality of the beer and the view of the city," he says.
Punters can enjoy a beer while surveying brewers at work inside the glass-walled room beside the main bar, or take a stroll out onto the terrace to get a bird's eye view of the city high above the rush of traffic below.
A six-beer taster set including raspberry ale, Belgian Wit, juicy pale ale, triple, stout and American Pilsner costs around 350 rupees (£3.50).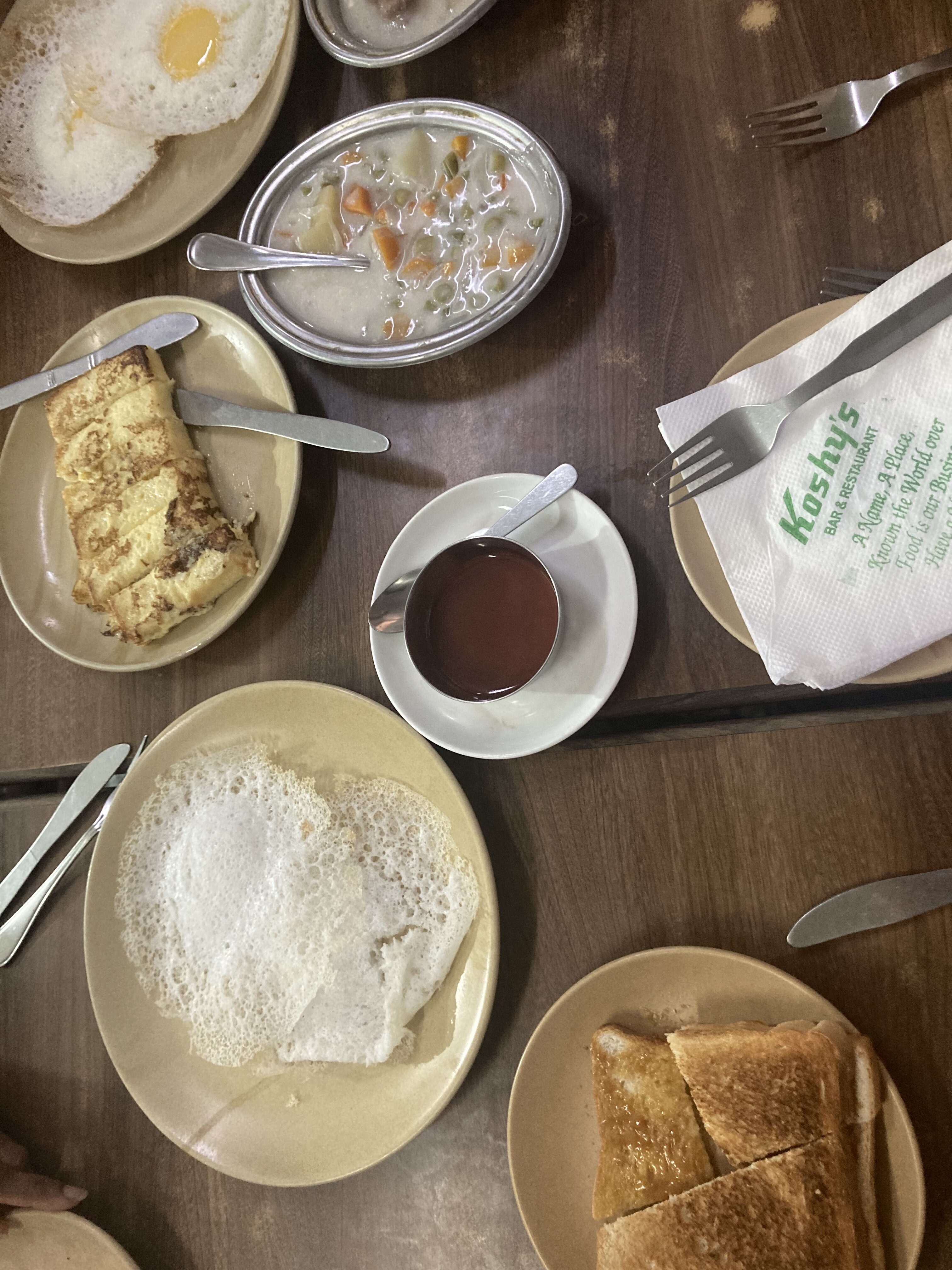 Beyond the beer
Aside from great brews, Bangalore has much more to offer as I find out on my short but jam-packed trip.
Food is high on my list of priorities and I'm told there's no better place to enjoy breakfast than the city's renowned Koshy's Parade Cafe on St Marks Road. Its dark wood tables and chairs and old-style payment exude no-frills comfort.
The family-run eatery opened in 1952, and is said to have hosted famous names over the years including the late Queen Elizabeth and former Indian prime minister Jawaharlal Nehru.
Around us, groups of friends, couples and single diners tuck into traditional Sunday breakfasts of appam (thin pancakes of rice batter and coconut milk) dipped in lamb stew, and kaya toast which is deliciously sweet with lashings of specially-made coconut jam. Sunday specials of appam with mutton stew cost 290 rupees (around £2.90), while kaya toast is 140 rupees (£1.40) and a pot of tea is 75 rupees (75p).
From following in the footsteps of the Queen at Koshy's, I embark on a right royal feast as I sit down to dinner at Ssaffron restaurant in the Shangri-La hotel.
India doesn't really do light snacks, my guide tells me with a smile, as I'm served up a five-course meal. Relieved I took it easy with breakfast, I devour a feast of delectable dishes from across the country.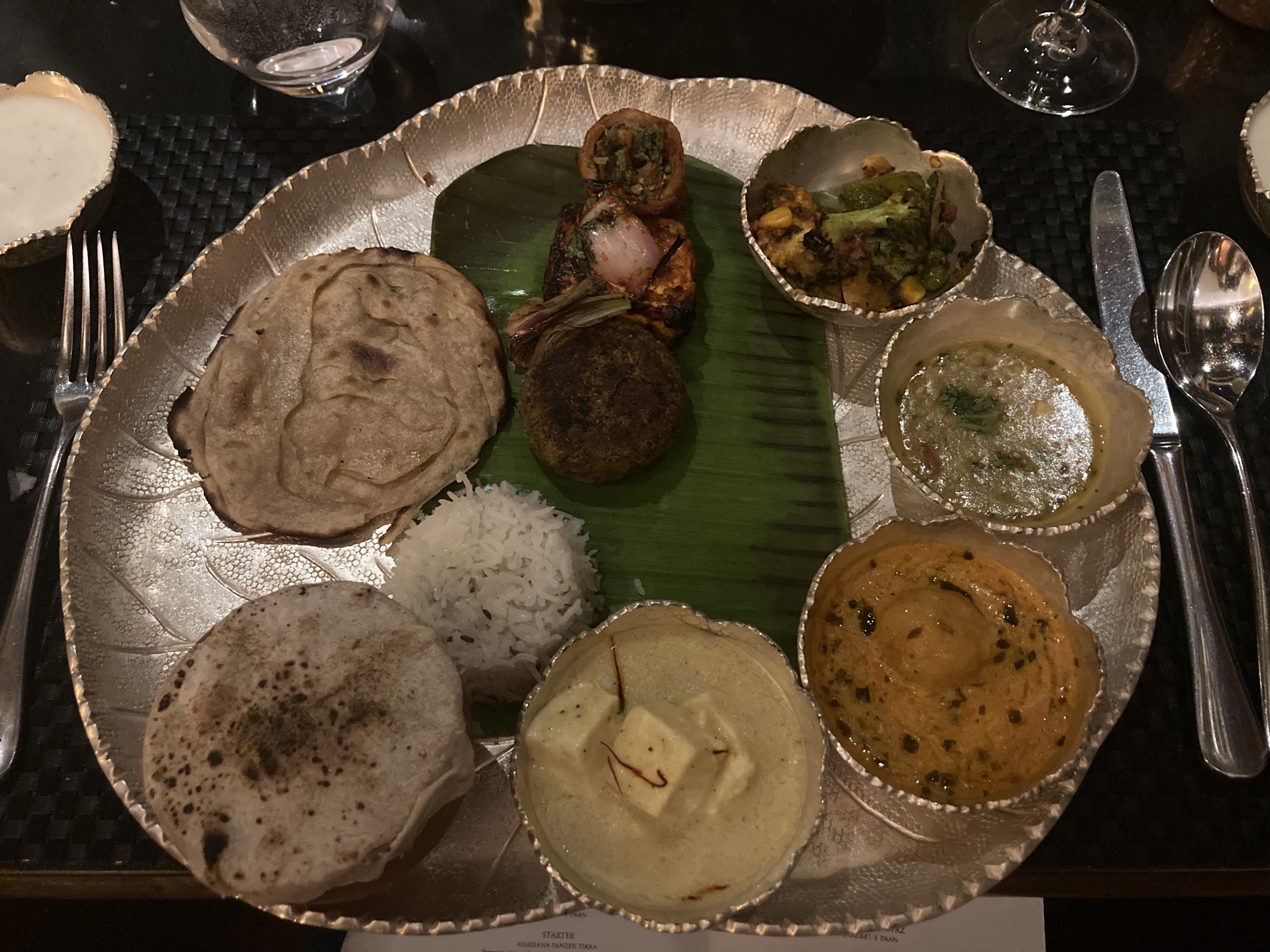 The main course takes the form of a large silver platter featuring a range of dishes from across the country (Aine Fox/PA)

The golden interior of Ssaffron helps set a regal vibe, with the ambience intended to replicate what royal dining would have been like in the past.

Two musicians, seated on the floor, play an Indian flute and drums while starters of marinated chicken leg and chilli salmon cubes are served.

The main course takes the form of a large silver platter featuring a range of dishes, including lamb biryani served in a clay pot, dahl, and chicken with cashew nuts and chilli.

The dessert delivery is perhaps the most impressive part, as Indian bread pudding with condensed milk, nuts, saffron and silver leaves is carried in a beautifully-carved wooden box known as a Palki Doli, from which dry ice pours out, keeping the sweet treat cool until it arrives at the table. Dinner starts from 3,500 rupees (£35) per person.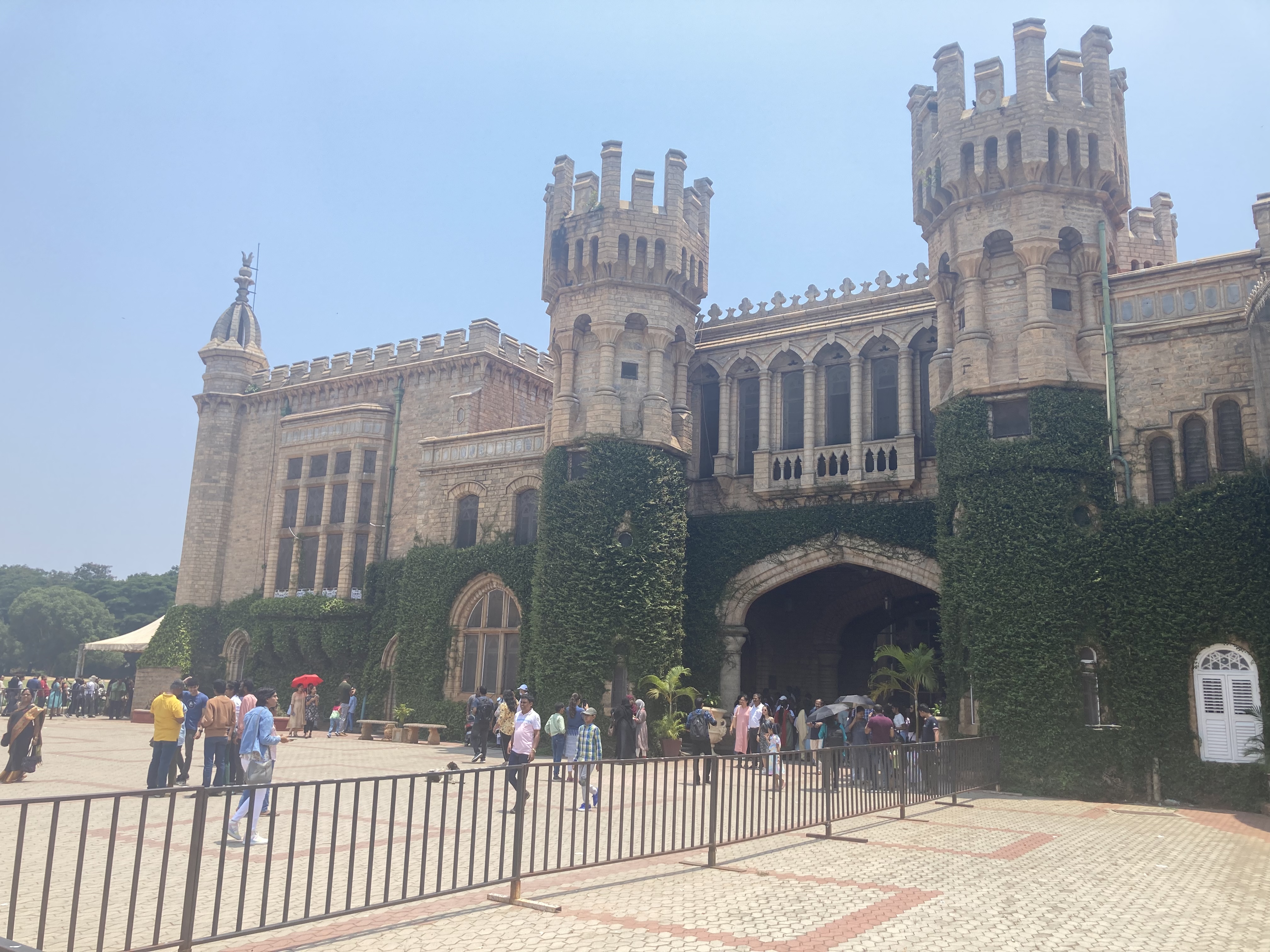 Full of roti, naan, rice and sumptuous sauces, I brave the heat to walk off at least some of those (delicious) calories I've consumed on our stay.
It's easy to see why Bangalore is known as the Garden City of India. The greenery makes the place feel less crowded than I had expected – but the roads are almost always busy, as mopeds weave through the car traffic, with horns blaring fairly regularly as drivers gently (and not-so-gently) urge other vehicles out of their way.
Yellow and green rickshaws can be flagged down and a journey of around 2.5 miles in one should cost you around 160 rupees, which is less than £2.
A 15-minute walk from the Shangri-La hotel, Bengaluru Palace offers an insight into old-time India, with the grand building and its gardens said to be modelled on Windsor Castle. Paintings and old photographs on the walls of a palace which has 34 bedrooms and a swimming pool, show viceroys and maharajas (Indian princes).
Turrets and battlements on the outside lead to yellow, orange and gold painted walls, white arches and brightly coloured chandeliers inside, with the palace spread over an acre of land. Entry to the palace costs 460 rupees (£4.50).
To escape the heat and enjoy some quiet time, I also enjoy a stroll around the independently-owned Blossom Book House, a deceptively large space on Church Street described as a "booklover's paradise" where "whatever your heart desires, you shall find".
It has masses of publications to leaf through, from bestsellers to classics and of course many by Indian authors.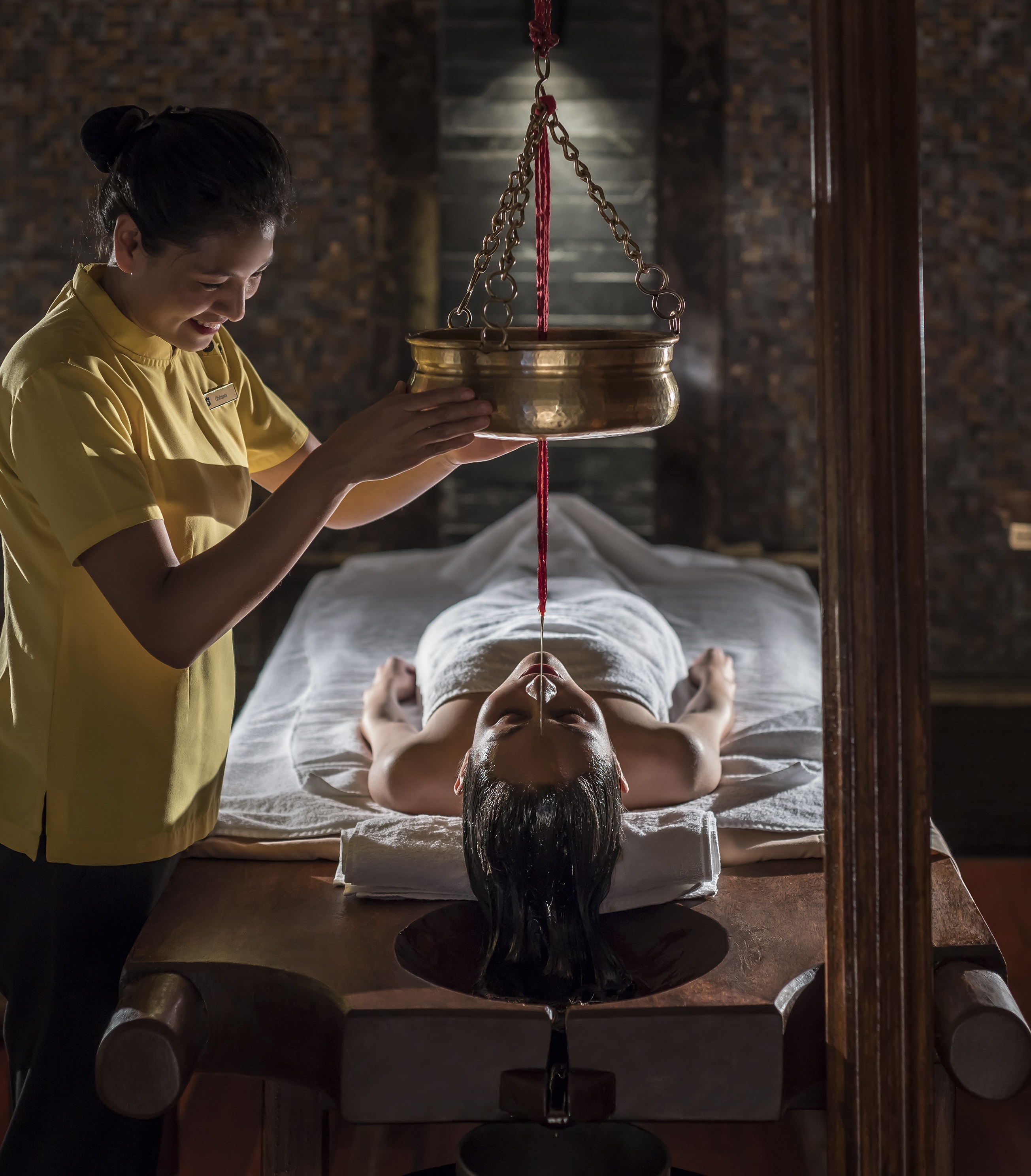 Having indulged in delicious food, and somewhat exhausted from the heat – it's around 33C during our May trip – it seems a sensible option to enjoy a traditional massage.
My spa experience at Chi in the Shangri-La hotel begins with a full body massage using aromatic ayurveda oils as the masseuse used long strokes which she told me would help to regulate my circulatory and nervous system.
As part of the shirodhara technique ayurveda oils are slowly dripped onto my head from a golden pot hanging above me. I'm told the focus on the forehead ensures emotional relaxation, rather than just physical. It boasts rejuvenating anti-ageing effects, said to improve memory, normalise sleep patterns and alleviate stress-induced conditions.
Sure enough, I enjoy an unbroken night's sleep and awake feeling completely relaxed. Perhaps it was down to the treatment, maybe the sheer number of naans I've consumed and probably a lot to do with those pints of irresistible craft beer.
How to plan your trip
Doubles at the Shangri-La Bengaluru start from at 14,000 rupees (around £137) including breakfast. Visit shangri-la.com/en/bengaluru/shangrila/
A 120-minute Shirodhara treatment starts at 10,800 rupees (£105).
Return flights with Oman Air (omanair.com/gbl/en) from Heathrow to Bangalore (via Muscat) start from £602 return for economy and £2,796 for business class.