History paints bleak picture for promoted trio after dismal starts to season
Sheffield United, Burnley and Luton remain without a win since their promotion to the Premier League after the weekend's games.
It is only the second time a trio of promoted teams have all been winless having all played at least five games and, with those teams making up the current relegation zone, the PA news agency looks at the history of slow starts for Premier League newcomers and what it means for their survival prospects.
Wait goes on after Blades battered
Newcastle set a Premier League record as eight of their players scored in a stunning 8-0 rout of Sheffield United on Sunday, sending the Blades bottom on goal difference, with all three promoted sides on one point each.
Luton opened their account the previous day, albeit with the help of a controversial penalty against 10-man Wolves, while Burnley's only point came from last Monday's 1-1 draw with Nottingham Forest. The Blades held Everton 2-2 on September 2.
While the Newcastle hammering was the South Yorkshire side's sixth game of the season, Luton and Burnley have played only five after their season opener was postponed due to reconstruction work at Kenilworth Road.
Only once before, in 2004-05, have all three promoted teams been winless after five games – and even then, Norwich and West Brom each had three draws on the board, with Crystal Palace trailing on one point.
Palace and Norwich were duly relegated that season, but West Brom survived with victory over Portsmouth on the final day – Pompey's bitter rivals Southampton were the other team relegated.
Indeed, of 17 promoted teams to go five games without a win before this season, the Baggies are the only one to avoid relegation. Bryan Robson's side also became the first in Premier League history to stay up having been bottom at Christmas, the position they still occupied going into that final game.
More pain in store?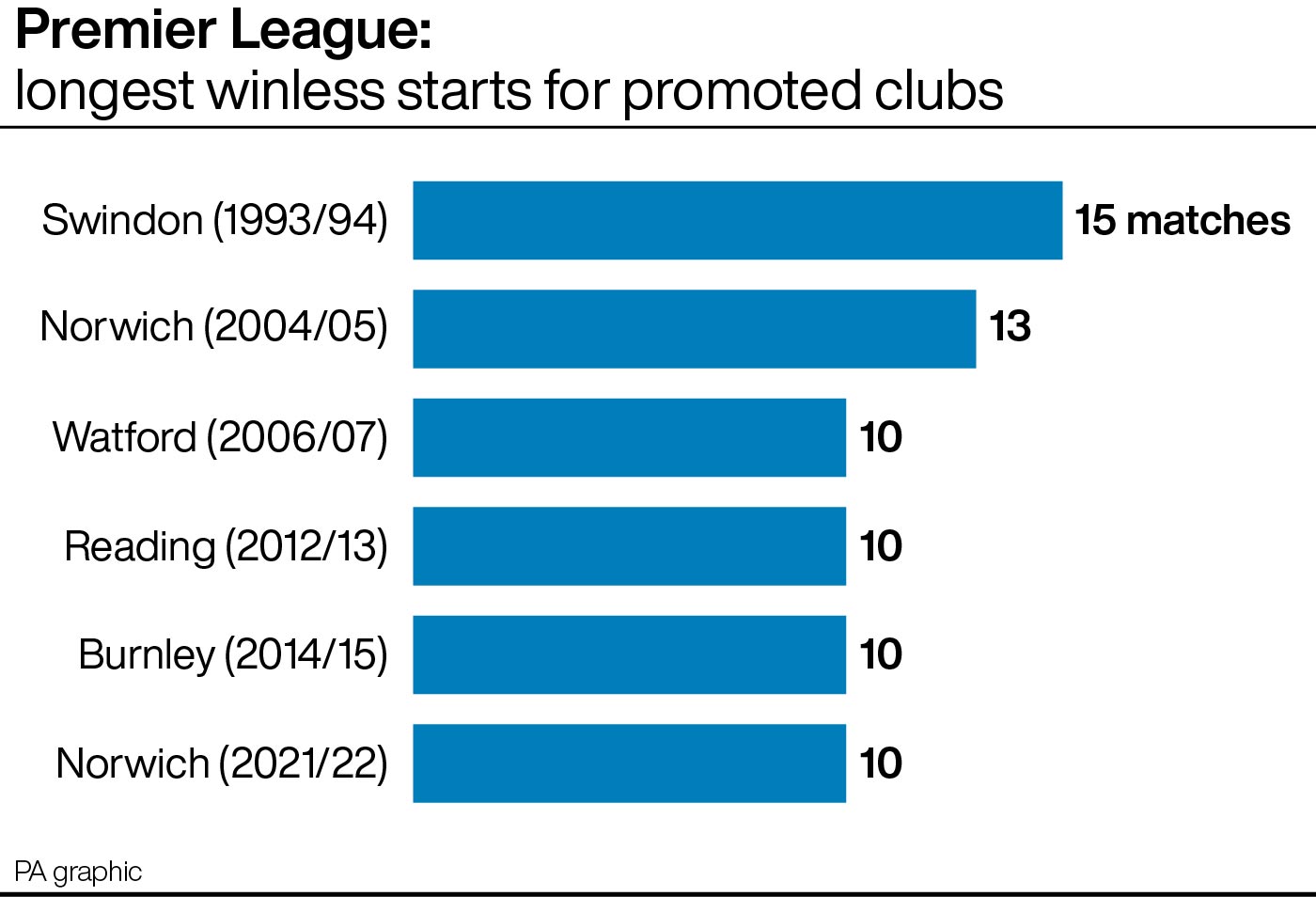 All three teams are still some way from the record winless start for a promoted team, with Swindon taking until their 16th game to get in the win column in 1993-94.
Town finished that season bottom of the 22-team table with five wins and 30 points from 42 games in what remains their only top-flight campaign.
Norwich took 14 games in the aforementioned 2004-05 season to break their duck, albeit with eight draws along the way, and 11 on their way to another relegation in 2021-22.
Three other teams – Watford in 2006-07, Reading in 2012-13 and Burnley in 2014-15 – went 10 games without a win following promotion.
The early-season form of this season's bottom three is prompting talk of Derby's record low Premier League points total of 11 in 2007-08 – indeed, Luton were identified in some quarters as a candidate for the unwanted record before the season even began.
But even the Rams won their sixth game of that cursed season, 1-0 against Newcastle, before failing to win the rest of the way – that ongoing 32-game run remains a Premier League record over 15 years later.
The Blades have already gone longer without a win, while their counterparts may be looking to October 3's rescheduled meeting to keep their names out of unwanted company.