Criticism has not affected Harry Maguire, says England team-mate Aaron Ramsdale
Aaron Ramsdale praised Harry Maguire for his continued "outstanding" England displays as the under-fire defender blocks out unrelenting criticism and scrutiny.
The world's most expensive defender was named in the Euros team of the tournament in 2021, but game time and form at Manchester United have dropped off since then.
Gareth Southgate has stuck by Maguire and brought him on at half-time in Tuesday's 3-1 friendly win over Scotland, during which he was mocked mercilessly by the Hampden Park crowd before scoring an own goal.
Furious Southgate believes the reaction was as a result of wider "ridiculous" criticism of the defender, which he called "a joke" and said was "beyond anything I've ever seen".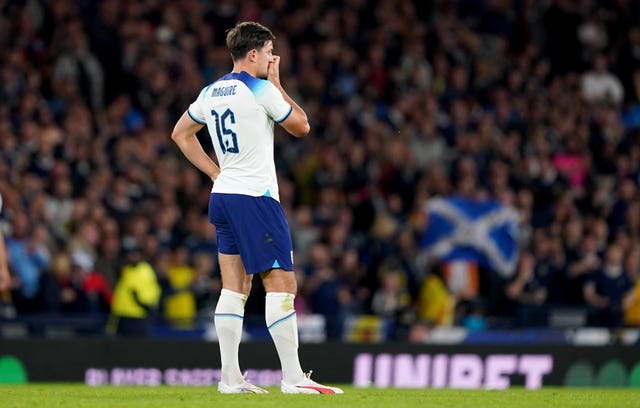 England fans backed Maguire and chanted his name in Glasgow, with team-mates like goalkeeper Ramsdale also offering support to the oft-criticised centre-back.
"Harry Maguire has had criticism for the past 18 months, two years," he said. "It hasn't affected him.
"His performances for England have been nigh on outstanding, that's why he keeps getting picked and played. Simple as that.
"I don't think a few whistles and groans from the fans are going to change his mindset.
"He had 45 minutes in a game where I thought he played well, kept the ball for us and one unfortunate own goal, if you want to call it that, and people are going to start talking about him and I don't think it's needed."
Ramsdale said Maguire was "superb when he came on" and had no issues with his "really unfortunate" own goal.
"People will say he's come on and scored an own goal, but if he has any doubt in his mind, I want my defender to try to clear it," the Arsenal goalkeeper said.
"It's a cross-shot, he's tried to deal with it and eight times out of 10 it goes behind for a corner or he clears it.
"Every time he touched the ball the crowd got up and made noises and he dealt with it extremely well, played some lovely passes.
"I thought he accompanied Lewis (Dunk) and rest of the back four really well. Yeah, I'd want him to do that again 10 times over."
Ramsdale won just his fourth England cap on Tuesday evening and was grateful for Maguire then, just as he has been since making his debut behind him in November 2021.
"He talks you through the game," he said. "I remember that from my first cap.
"It was San Marino and obviously we won 10-0, but he talked me through the whole game, calmed me down at times and he did the same (against Scotland).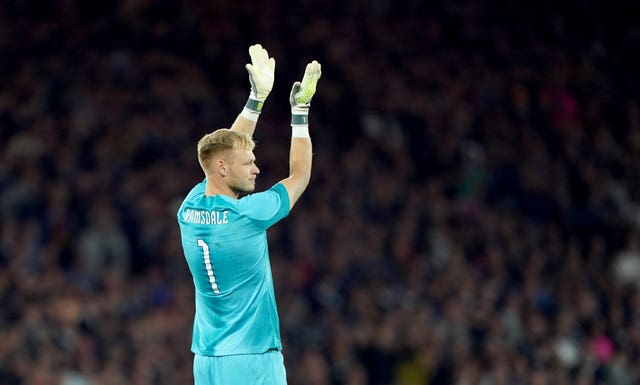 "So, it's a real dream to play with him and, as I said, it's just an unfortunate goal that people are going to highlight and it doesn't need to be that way."
But Ramsdale knows that everything is pored over in minute detail with England, whether it is Maguire's selection, Phil Foden's role or Southgate's approach.
The team may also be under the microscope, but Ramsdale says that has helped to cultivate a special mentality within the group.
"You're playing for England," he said. "It's the most scrutinised team in the world, I personally think.
"We've got so many good players, a pool of players, and everyone will have a different opinion on who should be playing and who shouldn't be playing.
"I think that's what makes us so strong as a group, the fact that we can brush things off and use the noise as outside noise and listen to ourselves."
Put to Ramsdale that is easier said than done, he said: "Exactly, but two years ago we were playing in a European final and then we went to the World Cup and could have done a bit better in different circumstances and played against a good team in France.
"We're so close to qualifying again and this group has been together so long and we've got such a great connection.
"Like you said, it's easier said than done, but it's one of the top qualities this group has, that it sticks together and block out any noise that we don't want to hear."
Former England striker Michael Owen also defended the under-fire United centre-back, questioning the reasons for any criticism.
"I've long wondered why Harry Maguire gets so much abuse and I'm pleased Gareth Southgate has said what he's said," he wrote on Twitter.
"I don't know him that well personally but he's a very good player and he appears to be a decent person. He's never let England down yet he seems to be ridiculed constantly. Very sad."
Lewis Dunk impressed against Scotland on his second England appearance, just under five years on from the Brighton defender's debut.
That Wembley friendly against the United States contrasted markedly in terms of backdrop to Hampden Park, where his second-half defensive partner copped almighty flak.
"He copes with it excellently," Dunk said of Maguire. "It is incredible what he does.
"I have seen him in training this week and today, he is an outstanding footballer.
"What he gets is unfair but credit to him, he stands with his chest tall and takes it on the chin and puts in performances out there so credit to him.
"It is very harsh. That's the way unfortunately football, and sometimes fans, media take a story and they run with it.
"This one has built up massively and it is an ongoing thing that is going on, but I think he can hold his head high and take massive credit from the way he has handled it."