Jurgen Klopp: Liverpool's stance on keeping hold of Mohamed Salah will not waver
Liverpool manager Jurgen Klopp insisted the club's stance would not waver on Mohamed Salah, despite speculation of a potential world-record bid for the forward arriving this week.
The club rejected a £150million deal for the 31-year-old from Saudi Arabia's Al-Ittihad on Friday and said at the time, they considered the matter closed.
That has not prevented suggestions the Pro League champions are prepared to return with a bid of around £200m but Klopp said even though the Saudi transfer window remained open until Thursday, the position of owners Fenway Sports Group would not change.
"I didn't realise a little bit of a distraction in the whole week, besides answering questions about it – not from people inside (the club) but people outside," said Klopp after his side's 3-0 victory over Aston Villa in which Salah scored the third after Dominik Szoboszlai's first goal for the club was followed by Matty Cash putting through his own net.
"I have no clue, nobody came to me and told me something could happen or whatever. I'm pretty sure I would have got a call but I didn't.
"And Mo didn't look for a second like he thought about anything else other than about Aston Villa, being involved in all the goals.
"He has unbelievable numbers but it's not a surprise that he has the numbers. And he had chances on top of that and (is) involved in creating and setting up and all these kind of things.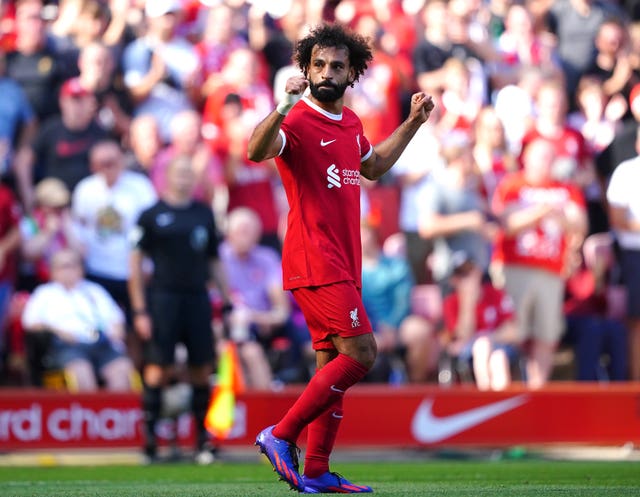 "He's a world-class player, no doubt about that and I'm really pleased he is in my team."
Szoboszlai said in a post-match television interview to that Salah wanted to stay.
"You know it is football, everyone is talking. We are really happy that he has stayed," said the Hungary captain.
"We are of course speaking between each other but he wants to stay, he wants to be here and be with us. We are really happy – we need people in the team like him."
Klopp was asked whether Salah had conveyed that message to him.
"No. He didn't tell me, but he didn't have to. He speaks with his training and performances and behaviour," he added, after admitting the only downside to the afternoon was a hamstring injury to Trent Alexander-Arnold which was likely to rule him out of England duty in the coming international break.
"We had meetings this week and the meetings were not about what we did in the past, it was about what we will do in the future.
"Mo was with the players' (leadership) committee and had his moments where he was talking and it was nothing like 'By the way, this is only until next week' or whatever.
"He is completely here and if Dom said that, fine. Mo doesn't have to come into my office and tell me 'By the way, boss… (I'm not going)'.
"For me it wasn't a subject for one second, to be honest, besides the questions (from the media)."
Villa were never really in the game after Cash's 22nd-minute own goal, and head coach Unai Emery admitted – after conceding three in the last half-hour at Newcastle on the opening weekend – he was conscious of getting torn apart at Anfield.
"It is difficult to win here and first half was the key. We had chances, we were not clinical and 2-0 was not really the result we deserved for the first half," he said.
"Second half we stuck to our gameplan and they scored the third goal and it was match finished.
"We tried to be focused because here, like in Newcastle, we lost the last 30 minutes and we didn't want it today. I can't accept to let them have more goals."