Arsenal boss Mikel Arteta: Conceding early is not playing on our minds
Mikel Arteta insisted it has not become a psychological issue for Arsenal after they conceded in the first minutes of a home game for the third time this year against Fulham.
Bukayo Saka's blind pass let in Andreas Pereira to score for the visitors after just 57 seconds in front of a stunned Emirates, after the team made similarly poor starts against Southampton and Bournemouth last season.
The hosts had looked to have done enough to seal a fine comeback victory when substitute Eddie Nketiah slotted past Bernd Leno from Fabio Vieira's cross 18 minutes from the end.
That was two minutes after Saka made amends for his early error and equalised from the penalty spot, with defender Kenny Tete penalised for tripping Vieira as he charged into the box from Gabriel Martinelli's pass.
And when Calvin Bassey was shown a second yellow card for bringing down Nketiah near the halfway line, Fulham's hopes seemed to have gone until Joao Palhinha found space inside the box to hook Harrison Reed's corner beyond Aaron Ramsdale in the 87th minute.
Arteta lamented that his side had gifted Fulham a point by gifting two poor goals, but praised the way the players regathered their composure and went at their opponents after yet another bad start.
"When in the first minute you make a mistake that we made and you give a goal to the opponent, the game becomes much more difficult," said Arteta.
"The reaction after that, even the first half, the number of situations and chances we generated, we didn't give anything away. We controlled the game for full periods, but we didn't score the goal.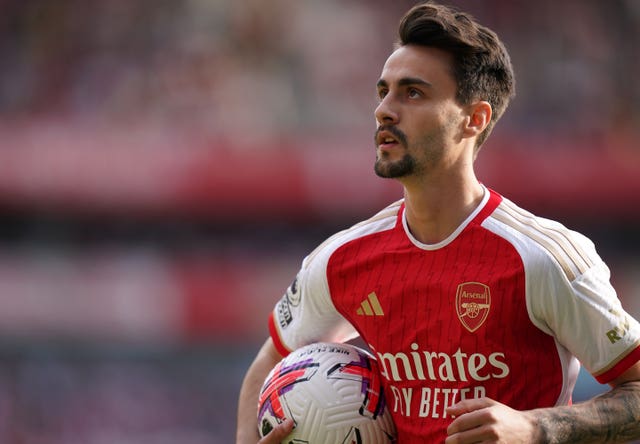 "In the second half we made some changes. The dynamic changed, we had better relationships. I think the subs (Nketiah and Vieira) made a huge difference and impact. I loved the determination and confidence they brought to the team.
"We go 2-1 up and then you have to defend the box with your life. You cannot concede a goal after everything we've done, because we should have scored five, six, seven.
"We had a big (error) here last year against Fulham where we gave a goal to (Aleksandar) Mitrovic. It's part of football.
"I haven't seen it (playing on the players' minds). I don't see that afterwards, the way the team played. In any other sport you would win by a hundred points difference, but this is football.
"We drew, we conceded two very, very poor goals. In the Premier League, when you give something (away), you're going to get punished, and we were today.
"If I compare the game we played against Fulham this season and last season, we were at least 10 times better today than last season. We were much better than last season. Last season we won 2-1 in the last minute, today we drew 2-2."
Arsenal had struggled to find a way back into the game despite putting Fulham under near constant pressure after going behind.
It was not until the introduction of Nketiah and Vieira midway through the second half that their fortunes turned.
Vieira showed ready instincts to anticipate Martinelli's clever ball in behind to win the penalty, then his pinpoint cross was expertly timed for Nketiah to crash home their second to send the Emirates into raptures.
Gabriel Jesus, who returned to training this week after surgery, was kept in reserve until being brought on in added time, a decision Arteta defended.
"The way we generated chance after chance I didn't think it was necessary (to bring on Jesus earlier)," he said. "In the last minute we decided to bring him in, he's only had a few days of training sessions after the surgery. But I'm very happy with the subs, the way they came in.
"Fabio, I'm delighted with him because he hasn't played any minutes this season. To see a player that comes with a determination and positiveness to the team and has the impact he had, it's difficult. I'm really pleased and I'm happy for him as well."
Fulham boss Marco Silva reflected on a point hard earned as his side recovered from the disappointment of their 3-0 home loss to Brentford last time out.
"Really tough and emotional," he said. "After the last defeat against Brentford – a harsh result for us – we wanted to react.
"People said that (the Emirates) was not the best place to show a reaction. Our idea was completely different, that it was the best place for us to show a reaction.
"In my opinion Arsenal are going to be even stronger than last season. The quality that they have is impressive. I have to say they are going to be contenders again."