5 talking points ahead of the Women's World Cup
The ninth FIFA Women's World Cup kicks off with New Zealand taking on Norway on July 20 followed by the Republic of Ireland's tournament debut against Australia, the Kiwis' co-hosts, at Sydney's sold-out Stadium Australia later on the opening day.
Here, the PA news agency looks at some of the talking points.
Who will watch?

Organisers are targeting a record two billion viewers for the 2023 edition, a figure that would double the audience who watched the 2019 World Cup in France. They believe the unique geographic position of the host countries has paved the way for strategic match scheduling that will allow fans, no matter where they live, to catch their side in action.
Yet one of the big issues ahead of the tournament was the lack of confirmed broadcast deals in a number of major markets – including the UK, Spain, France, Italy and Germany – just months out from the opening match, with FIFA president Gianni Infantino on several occasions accusing bidding broadcasters of lowballing offers and even threatening that his organisation could be "forced not to broadcast" the tournament if they did not step up.
Some in women's football hit back, arguing the timings still would still prove challenging in engaging non-diehard audiences. England's three group-stage kick-offs all begin between 9:30am and 12pm in the UK, with ITV and the BBC splitting broadcast duties across the tournament.
England's injury woes
The Lionesses' Euro 2022 triumph placed them squarely in conversations predicting World Cup favourites. Sarina Wiegman's squad and unchanged starting XI benefited from generally excellent health throughout that unbeaten run, but this time the England manager is not so fortunate.
Beth Mead, who won the Golden Boot last summer, is still recovering from the anterior cruciate ligament (ACL) rupture she sustained in November, while her Arsenal team-mate and England captain Leah Williamson was ruled out when she suffered the same injury in April.
And while defenders Lucy Bronze and acting skipper Millie Bright have both recovered from their own respective issues in time to board the plane, Chelsea midfielder Fran Kirby announced she would not be joining them after doctors determined she would require knee surgery, leading to questions about how Wiegman will cope without three of her top talents alongside the absence of the retired Ellen White and Jill Scott.
Denying the 'three-peat'
For anyone not sporting the stars and stripes, it feels the world has grown weary of American dominance and would welcome a new world champion with open arms, particularly after USA's back-to-back victories in 2019 and 2015 and competition-leading four titles since claiming the inaugural trophy in 1991.
While USA remain the bookmakers' favourites to lift the trophy, more than half of head coach Vlatko Andonovski's 23-player roster will be competing in their first World Cup, with just nine returnees from their victory four years ago – potentially opening the door for other hopefuls including England, Germany, France and Spain to deny the United States a "three-peat".
The great armband debate
The rainbow 'One Love' armband ban was a hot topic during the 2022 men's World Cup in Qatar and sparked questions about what would be permitted in Australia and New Zealand, particularly as the women's game has historically featured many out members of the LGBTQ+ community, including a record number bound for the World Cup.
While the One Love armband itself will not feature, FIFA announced late last month that they had reached an agreement to give players a selection of approved options highlighting issues from gender equality to indigenous people, peace and ending hunger, while another celebrates the sport of football itself. None, however, explicitly advocates for LGBTQ+ inclusion.
Antipodean legacy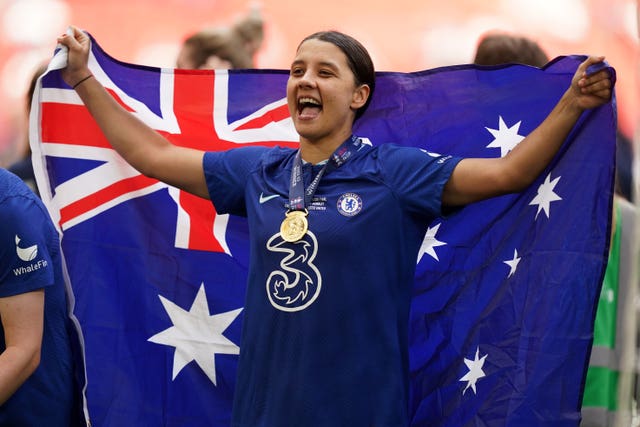 Australia's World Cup opener will take place with Test four of the Ashes already under way. The National Rugby League (NRL) season is also in full swing as is Aussie Rules' AFL, so there is plenty on to entertain sports fans in a country where other games dominate the headlines.
Still, the 2023 Australian Sports Commission's official AusPlay revealed football was once again the country's most popular sport to play.
So while World Cup posters featuring Australia and Chelsea striker Sam Kerr seem ubiquitous Down Under and local governments are pointing to figures in the tens of millions for their visitor economies, the true test of this tournament lies in how much headway the sport can make in the two host countries – and what women's football will look like here a generation down the line.