David Brooks accepts people will start to doubt Wales following Armenia defeat
David Brooks accepts that "people will be starting to doubt us" following Wales' humiliating 4-2 Euro 2024 qualifying defeat against Armenia.
Wales would have gone top of Pool D had they beaten a team 71 places below them in the world rankings.
And life will not get any easier in terms of the battle for automatic qualification as Wales face an appointment with group leaders Turkey in Samsun on Monday.
"If we win that, we go back into a position of power," Brooks said. "We all know that, and that is what we are going to be trying to do.
"We all know what we want to achieve – we want to get to the major tournaments. We have two days to kind of get over it and get back to work.
"I think people will be starting to doubt us, but we have got to go and try and put in a performance to prove all those people wrong.
"We all want to get to a major tournament, so nothing has changed."
Wales' first European Championship qualifying defeat at home since 2011 dropped them to third in the group as Turkey won 3-2 in Latvia.
Lucas Zelarayan and Grant-Leon Ranos both scored twice as Armenia secured one of the greatest victories in their football history.
And Welsh misery was completed by the dismissal of Kieffer Moore, who was adjudged to have committed foul play by Bulgarian referee Georgi Kabakov after tangling with goalkeeper Ognjen Chancharevich. He will miss the Turkey clash.
Brooks added: "Four goals at home isn't good enough, I think we all know that, and we will be getting together and trying to figure out how to put that right in two days' time.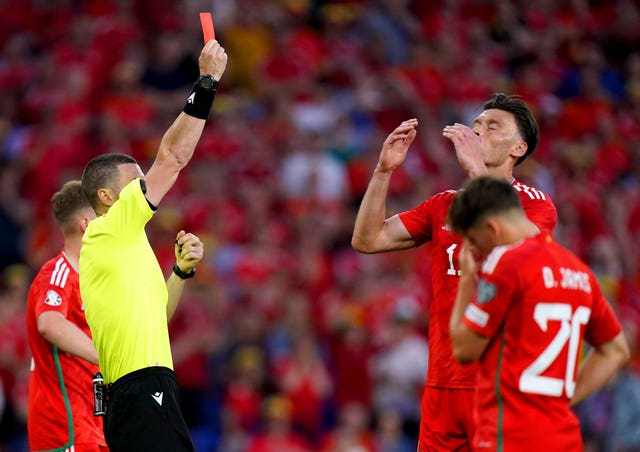 "Bigger teams than us have done that to us, and we've caused upset results. It happens near enough every week in the Premier League, and we all knew that going into the game. They took their chances well.
"I've spoken to Kieffer. I don't think he thinks he's done a lot. They were kind of making a meal out of everything.
"Kieffer is a big part of what we want to do, so he is going to be a big miss for Turkey."
Brooks' return to the international arena was a highlight of an often chaotic night at Cardiff City Stadium.
He was diagnosed with stage-two Hodgkin lymphoma while on international duty in October 2021, and Brooks received a standing ovation when he went on as a second-half substitute.
"It was special," he said. "It has been a long two years to finally put that Wales shirt back on.
"To get the reception that I did, especially when I came on – I could hear every single one of them (fans) – and I just want to say thank you."