Pep Guardiola emotional as Manchester City win Champions League to seal treble
Pep Guardiola admitted "this f****** trophy is so difficult to win" after watching Manchester City finally end their wait for Champions League glory.
Rodri's goal secured a hard-fought 1-0 victory over Inter Milan in Istanbul to complete the treble derby rivals Manchester United achieved in 1999.
Asked how he was feeling after the presentation, Guardiola told BT Sport: "Tired, calm, satisfied of course. This f****** trophy is so difficult to win. It could not be different, we knew it."
City were not at their fluent best as Inter frustrated them for long periods but they got there in the end, much to the Spaniard's delight.
He added: "Winning this competition, the treble, is so difficult, so that's why it's not important the way, it's enough to get it."
City dominated the first half but could not find a way through Inter, and they were dealt a blow when star man Kevin De Bruyne limped off before the break.
However, Rodri's sweet 68th-minute strike proved decisive and sparked wild celebrations on and off the pitch, though not before Federico Dimarco hit the bar and Ederson saved well from Romelu Lukaku and Robin Gosens.
Guardiola said: "At the end, Ederson, they could draw, maybe Phil [Foden] could have scored a second one. In this competition, it is [the toss of] a coin and that we were there, I think it was written in the stars. This season, it belongs to us and we did it."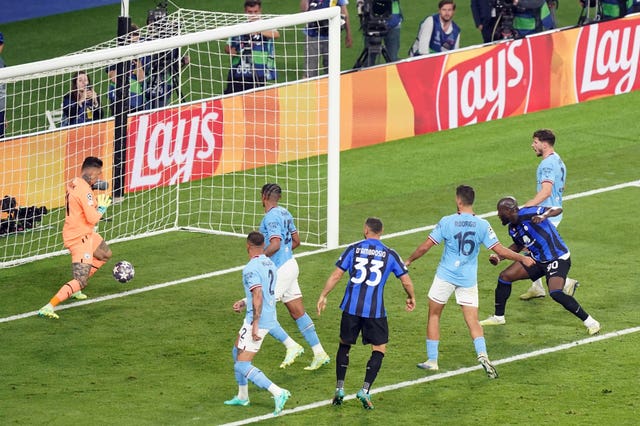 Asked what had changed about his side to finally get them over the line in Europe's biggest club competition, the City boss said: "I think we defend a little bit better in the box with our four central defenders, who are proper defenders. We made mistakes, but I had the feeing we were solid.
"We didn't make a bad, bad game, a little bit anxious at the start, but in general it was not bad and with the momentum we started winning the Premier League, the FA Cup and now finishing here."
City's momentum grew during the season after a testing start as Arsenal took the Premier League by the scruff of the neck, although they returned after the World Cup finals in determined fashion and timed their run to perfection.
Asked if it had been a frustrating start to the campaign, Guardiola said: "It was not frustrating. It was maybe not our best level, but Arsenal were beyond exceptional.
"But after the World Cup, the team made a step forward and we were there."
Guardiola admitted he could not even begin to think about next season and the task of defending the club's titles, but questioned the wisdom of his players heading off on international duty after their celebrations.
He said: "Right now, I don't have any energy to think about next season, it's impossible. We need to have a break, the season is too long.
"Most of these guys go to the national team to play again – honestly, UEFA, FIFA, think about it. We finished the Premier League what, two or three weeks ago? They're on holiday and they come back for two weeks?
"These guys will have two or three weeks off and after, start again next season. It's too much.
"Anyway, next season will be next season and of course we are going to start from zero. This is our job."