Manchester City one win away from sporting immortality after winning FA Cup
Manchester City are one win away from sporting immortality after underlining their greatness by completing a Premier League and FA Cup double.
Not even arch-rivals Manchester United, in the white-hot atmosphere of a Wembley derby, could throw a spanner in the works as their seemingly relentless charge towards the treble continued on Saturday.
As the only previous side to win the Premier League, FA Cup and Champions League in the same season – back in 1999 – United and their fans would have loved nothing more than to halt Pep Guardiola's juggernaut.
Yet, although they were not eviscerated in the manner Arsenal and Real Madrid were in two other high-profile City fixtures recently, they were ultimately no match for a side who have become far more than just their 'noisy neighbours'.
City will now head to Istanbul for next week's Champions League final against Inter Milan riding high on confidence and the prize they have coveted most, for so long, should finally be within their grasp.
One of the great features of this City side is how, despite the brilliance of headline names such as Erling Haaland and Kevin De Bruyne, other players are often ready to seize the moment when it matters.
In the semi-final against Sheffield United, it was Riyad Mahrez with a brilliant hat-trick, and on this occasion – and not for the first time – it was Ilkay Gundogan.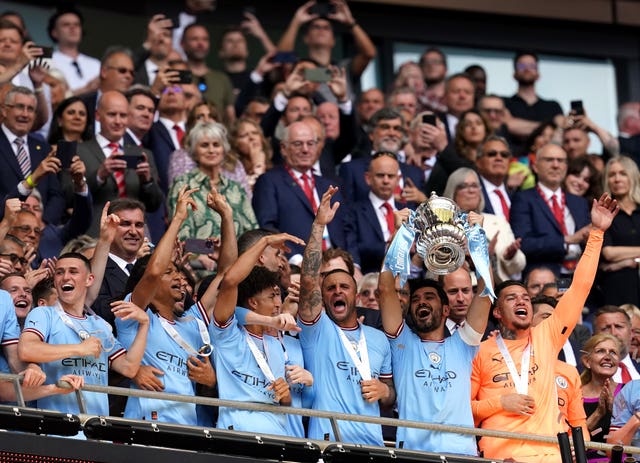 The German midfielder, who scored twice against Aston Villa as City clinched the Premier League title on the final day of last season, was magnificent all afternoon, scoring both goals in a deserved 2-1 win.
City arrived at Wembley in casualwear but there was nothing casual about their start.
Gundogan volleyed them ahead with a blistering strike after just 12 seconds, the fastest goal in FA Cup final history and yet another notable achievement in this remarkable season.
Further chances came in the opening five minutes and it seemed United could have quickly been overrun.
Their fearsome attack, so fluid during a brilliant spring run that saw them reel in Arsenal and claim the title, seemed in fine fettle, banishing doubts rustiness might have set in after a couple of dead-rubber fixtures.
Yet, while that was encouraging, so too was their resilience after United fought their way back into the game.
Jack Grealish could consider himself unfortunate to have been penalised for handball in the box, but such rulings often go against defenders when VAR gets involved.
City soon regained their composure after Bruno Fernandes levelled from the spot and retook the lead early in the second half, again through Gundogan.
The club captain is out of contract in the summer and will be sorely missed should he decide to move on.
That, however, is a matter that can be dealt with later. For now, the chief concern is for a side already one of the best England has ever produced to go on and cement their status by winning the Champions League.