Luton chief 'could not be prouder' of Rob Edwards with Premier League in sights
Luton chief executive Gary Sweet "could not be prouder" of manager Rob Edwards after leading the club into the Sky Bet Championship play-off final against Coventry in his first year in charge.
Edwards only joined Luton in November 2022 but has taken them within touching distance of the Premier League after the Hatters beat Sunderland 3-2 on aggregate in last week's play-off semi-final.
Sweet lauded the 40-year-old former Watford manager's conduct since replacing the hugely successful Nathan Jones, with Luton vying for a return to the top flight just nine years after playing in non league.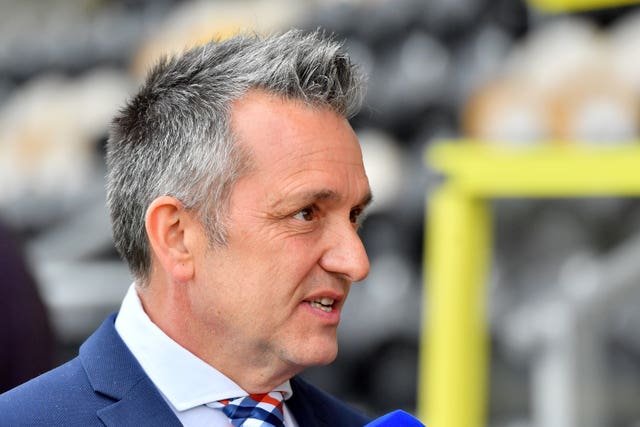 "I couldn't be prouder of Rob, we couldn't have had a better human being come in to carry on the great job Nathan did and the mantle he left," Sweet said.
"But to do that in a way which couldn't be more befitting than how we want our club to be represented and so Rob's image and persona is impeccable on that front and reflects us. We'd love to think he's a lot better than we are (the board).
"I don't think we can ever represent ourselves as well as he does so I am delighted he is doing that for us."
Sweet admitted he is not surprised by Luton's progress in recent years which would see a fourth promotion in 10 seasons if they beat Coventry at Wembley on Saturday.
The chief executive hailed the contributions of players and staff whose joint efforts are the leading factor behind Luton's upwards trajectory.
"Am I surprised? No, not really," Sweet said. "We are very patient people and when you're patient things happen more quickly than you think.
"We have a determination almost from the point of view that it will happen and we will make it happen, we just need to make sure the way it happens is right.
"I am not surprised, forget the players for one minute even though they're my heroes and I love them because they have been fantastic throughout.
"But the staff here, the board, my fellow managers, everyone you see here in the building are the very pit about the fabric of the culture and in the last week it has shown it.
"We've had people work through nights to get job to job done and not one of them has said can I have more money, not one of them has said what's the benefit for me? They just get on and do their job for the love of the club, for the love of Luton, that's why we've accelerated like we have."
Despite the high stakes on offer in Saturday's all-or-nothing showdown, Sweet is confident he will actually be able to enjoy the match.
He said: "Let's see what happens during the game but I think I will enjoy the game. I've got better at that recently, that's the reason why I let go occasionally. It's going to be a great game."