Mikel Arteta: Granit Xhaka's future at Arsenal to be decided at end of season
Arsenal manager Mikel Arteta has insisted discussions over the future of Granit Xhaka will wait until the end of the season.
Xhaka has been central to the Gunners' title bid this campaign but is approaching the final 12 months of his deal at the Emirates Stadium.
Bayer Leverkusen are interested in taking the Switzerland international back to Germany, where the midfielder played for four years with Borussia Monchengladbach before he moved to England in 2016.
It has been a rollercoaster journey for Xhaka at Arsenal but his manager is eager to finish strongly in the final two games before he switches his attention to a number of contract scenarios.
Arteta said: "The clarity is there. He is a player that has played I think every minute since I have been the manager.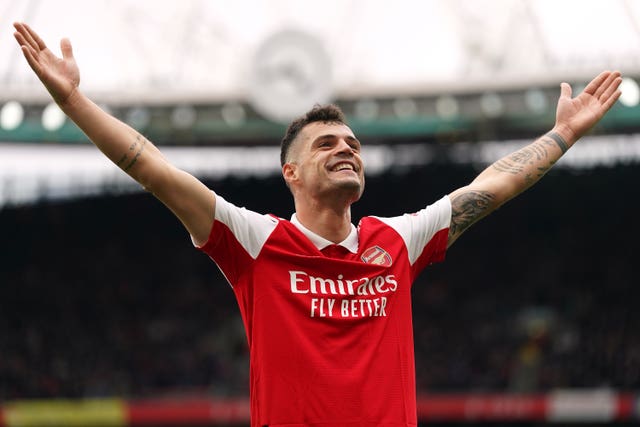 "He is an incredibly respected figure at the club. He has a great story around him with what he has achieved at the club in going through very tough moments and he is a key and very important part of us.
"Whatever happens is something we will discuss, certainly not now."
Second-placed Arsenal have faced some criticism this week after their 3-0 defeat at home to Brighton left Manchester City on the brink of a fifth Premier League victory in six years.
Pep Guardiola's side can defend their crown this weekend if the Gunners lose at Nottingham Forest on Saturday or if City can beat Chelsea at the Etihad Stadium a day later.
Arteta, in a thinly-veiled dig at their detractors, stated they have been up against one of the best teams ever.
"We have shown this season," Arteta replied when asked if Arsenal can be title contenders again next season.
"We're still there, with two games to go we can still be champions against probably the best team in Premier League history.
"For 10 months we're still there. There's two games still to go and we're not going to bottle that for sure.
"What happens next season will depend on what we do, how we evolve and how we start. That prediction is very difficult to do today."
Quizzed on the level of the squad, with Champions League football to come next term, Arteta conceded improvements will need to be made before Arsenal return to Europe's top competition.
"At the level that we want? No. We didn't have the capacity to do that as well with the Europa League so it's part of that evolution," he explained.
"We have made a lot of good steps and strong steps in that journey and we have to continue. That never ends.
"We want to be better and the rest will be better, then the margins will be higher and we have to start to live with those standards and improve and be smarter."
Arsenal received positive news on Thursday when Aaron Ramsdale agreed a new long-term deal with the club.
It will keep Ramsdale contracted to the Gunners until the summer of 2026, the PA news agency understands.
Arteta is confident the likes of Bukayo Saka, Martin Odegaard and William Saliba will follow.
He added: "Delighted with the news for Aaron. He fully deserves that new contract, that extension and we want to keep our talent at the club and we want to build on that.
"There are a few more who are very relevant for us to continue with that relationship. We're working on that.
"We are trying (with Saliba). We are having conversations and we are trying to maintain the talent we have at the club as I said before, but things take time.
"You have to agree it. There are different parties involved. I think everybody's intention is the same and hopefully we'll find the right solution."
Meanwhile, Oleksandr Zinchenko (calf) and Gabriel Martinelli (ankle) will not feature again this season.
"Gabi's is a pretty nasty injury, we need to assess in the next week how long he'll be out for," Arteta said.