Honduran president visits China after ending ties with Taiwan
Honduran president Xiomara Castro has arrived in Shanghai on her first visit since China established ties with Honduras, pulling it away from former diplomatic ally Taiwan.
Ms Castro, whose visit extends until June 14, will meet Chinese president Xi Jinping "to jointly plan for the future development" of ties, China's official Xinhua News Agency said.
Honduras established formal relations with China in March, becoming the latest in a string of former diplomatic allies to break ties with Taiwan.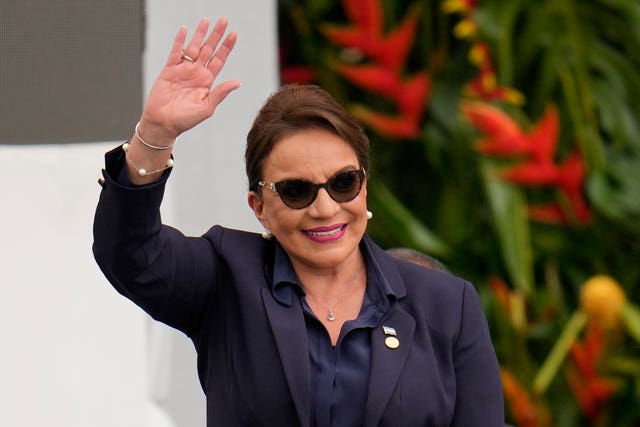 China sees self-ruled Taiwan as a breakaway province, to be retaken by force if necessary, and prohibits its diplomatic partners from having formal ties with Taipei.
Beijing has intensified its battle for diplomatic recognition against Taiwan since independence-leaning Taiwanese president Tsai Ing-wen took office in 2016.
Since then, China has managed to lure away nine of Taiwan's former allies with a campaign involving billions of dollars of investments.
Beijing's latest victory comes as tensions have risen with the United States in recent months, including over China's increasing assertiveness towards Taiwan and growing influence in Latin America.
Taiwan currently has only 13 diplomatic partners, including Belize, Paraguay and Guatemala in Latin America, Vatican City, and several other nations in the Caribbean and South Pacific, along with Eswatini in southern Africa.
"Taiwan is always at the core of US-China tensions," said Alfred Wu, an associate professor at the National University of Singapore. "(President) Xi Jinping and his team will … spare no efforts, particularly on Taiwan."
China sees pulling diplomatic allies away from Taiwan as worthwhile regardless of the cost, Mr Wu added.
Beijing also sees the efforts as a way to counteract increasingly frequent trips by European and US lawmakers to Taiwan. Such visits, including a visit last August by former US House speaker Nancy Pelosi, usually trigger angry responses from Beijing.
When Honduras considered the switch to China, its government said it wanted new investment and less debt.
The country's foreign minister, Eduardo Enrique Reina, told local media in March that Honduras had asked Taiwan to renegotiate debt worth 600 million dollars and for Taipei to double its annual aid to Honduras. Taiwan said it had continuously cooperated with Honduras to address the nation's needs.
Experts say Honduras is eyeing large investments from China in infrastructure projects including a new hydroelectric dam, part of a larger plan to construct three dams along the Patuca River. China invested almost 300 million dollars in the first dam, inaugurated in January 2021.
Ms Castro's first stop on her visit – the financial hub of Shanghai – is another indication the two countries will likely announce fresh economic deals.
She is to spend two days in Shanghai during which she will visit a Huawei research centre and the headquarters of the New Development Bank before going to Beijing, according to Phoenix TV.