US and allies clash with Russia and China over North Korea satellite failure
The United States and its allies have clashed with Russia and China over North Korea's failed launch of a military spy satellite this week, which took place in violation of multiple UN Security Council resolutions.
Moscow and Beijing refused to condemn the launch.
The confrontation was the latest over the North's escalating nuclear, ballistic missile and military programmes, which US deputy ambassador Robert Wood warned are threatening international peace and security.
The failed launch "not only disrupted maritime and air traffic in the region, but it also caused alarm for its neighbours in Japan and the Republic of Korea", he said.
Pyongyang is threatening another launch soon.
The Security Council imposed sanctions after North Korea's first nuclear test explosion in 2006 and tightened them over the years in a total of 10 resolutions seeking – so far unsuccessfully – to rein in its nuclear and ballistic missile programmes and cut off funding.
In the last sanctions resolution adopted by the council in December 2017, members committed to further restricting petroleum exports to North Korea if it conducted a ballistic missile launch capable of reaching intercontinental ranges.
China and Russia vetoed a US-sponsored resolution in May 2022 that would have imposed new sanctions, including on petroleum exports, over a spate of intercontinental ballistic missile launches. Since then, they have blocked any council action including press statements.
UN political chief Rosemary DiCarlo told the council the last time North Korea conducted a similar satellite launch to Wednesday's failed attempt was on February 7 2016 and it was condemned by the Security Council.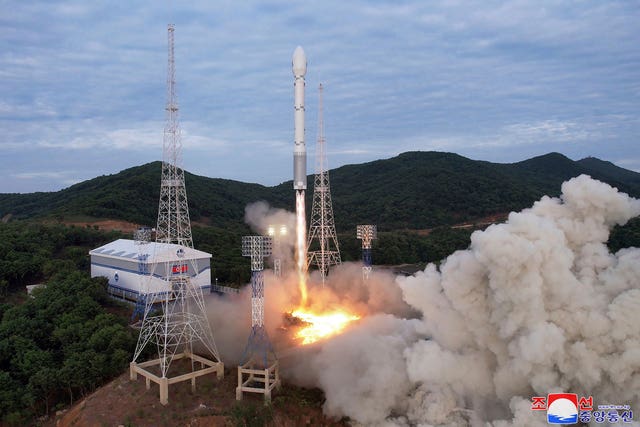 "The lack of unity and action in the Security Council does little to slow the negative trajectory on the Korean Peninsula," she said, and North Korea "is unconstrained, and other parties are compelled to focus on military deterrence".
But North Korea's neighbour and ally China, and Russia, which has drawn closer to Pyongyang since the war in Ukraine, blamed the West and especially the United States for the current tensions.
China's deputy UN ambassador Geng Shuang said the situation on the Korean Peninsula is a remnant of the Cold War.
He accused the United States of failing to respond to North Korea's attempts at dialogue over the years and instead resorting to sanctions and pressure on Pyongyang, missing an opportunity to resolve the nuclear issue.
Mr Geng said: "By incorporating the (Korean) Peninsula into its Indo-Pacific strategy, the US has continued its military activities and significantly increased its military presence both on the peninsula and in its surrounding areas, seriously undermining the strategic security interests of the peninsula and its neighbouring countries."
He also pointed to the recent US-South Korea Washington Declaration, including plans to send strategic nuclear submarines to the peninsula.
Mr Geng claimed US policies are "driven by geopolitical self-interest" and told the council that blaming one party "will only exacerbate conflicts, provocations and inject new uncertainties into the already tense situation on the peninsula".
He urged the council to adopt a resolution circulated by China and Russia in November 2021 that would end a host of sanctions on the North, saying this would be a starting point "to promote de-escalation, mutual trust and unity" among the 15 members.
Russia's deputy ambassador Anna Evstigneeva blamed increased pressure on North Korea by the US and its allies for "the spiral of tension we're witnessing now".
And she criticised growing military activity by the US, Japan and South Korea, especially recent large-scale US-South Korean military exercises, saying they are destabilising not only for north-east Asia but for the Asia-Pacific region as a whole.
Russia is against "the dead end and inhumane policy of increasing sanctions pressure", Ms Evstigneeva said, stressing that UN resolutions that imposed sanctions also back efforts to resolve the situation on the Korean Peninsula by political and diplomatic means.
Moscow is calling on the United States to take steps to lower tensions and resume dialogue, instead of trying to shift responsibility "to other countries", she said, also backing council action on the China-Russia resolution.
Mr Wood, the US envoy, countered that the Washington Declaration was a response to North Korea's destabilising nuclear and ballistic missile activities.
"It's hard to imagine we would ease sanctions" as called for in the China-Russia draft resolution and reward Pyongyang while it continues to violate Security Council resolutions, he said.
Mr Wood added that the United States on many occasions has stated it is prepared to have an unconditional dialogue, but North Korea "has rejected our interventions on many occasions".
He stressed that US-South Korean military exercises are lawful efforts to defend against Pyongyang's escalating activities that are allowing the country to advance its unlawful weapons of mass destruction and ballistic missile programmes – and to "continue to choose ammunition over nutrition" for its people.