New court date for jailed Russian opposition leader Navalny
A Moscow court has set a new date for a hearing paving the way for another trial of imprisoned Russian opposition leader Alexei Navalny that could keep him in prison for decades.
The Moscow City Court initially scheduled for Wednesday a preliminary hearing to discuss technical issues related to the trial of the Kremlin's arch foe but moved it to June 6 without giving a reason.
The court rejected a request by Mr Navalny's lawyers for more time to examine case materials.
Mr Navalny has said that the new extremism charges which he rejected as "absurd" could keep him in prison for another 30 years.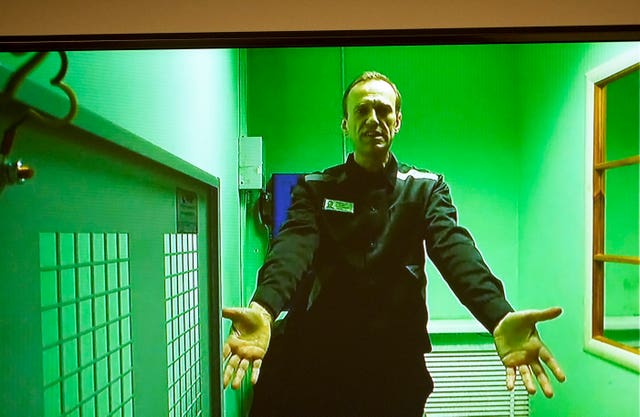 He said an investigator told him that he would also face a separate military court trial on terrorism charges that could potentially carry a life sentence.
The new charges come as Russian authorities are conducting an intensified crackdown on dissent amid the fighting in Ukraine, which Mr Navalny has harshly criticised.
Mr Navalny, 46, who exposed official corruption and organised massive anti-Kremlin protests, was arrested in January 2021 upon returning to Moscow after recuperating in Germany from nerve-agent poisoning that he blamed on the Kremlin.
He initially received a two-and-a-half-year prison sentence for a parole violation. Last year, he was sentenced to a nine-year term for fraud and contempt of court.
He is currently serving time at a maximum-security prison 250 kilometres (150 miles) east of Moscow.
The new charges against Mr Navalny relate to the activities of his anti-corruption foundation and statements by his top associates. His allies said the charges retroactively criminalise all the activities of Mr Navalny's foundation since its creation in 2011.
Mr Navalny's associate, Ivan Zhdanov, has said investigators were revising the charges to link them to a bombing that killed Russian military blogger Vladlen Tatarsky at a St Petersburg cafe last month.
The authorities described Darya Trepova, a 26-year-old St Petersburg resident who was seen on video presenting Mr Tatarsky with a statuette moments before the blast, as an active supporter of Mr Navalny.
They also accused Mr Navalny's allies of making repeated calls for subversive activities in Russia.
While imprisoned, Mr Navalny has spent months in a tiny one-person cell, also called a "punishment cell", for purported disciplinary violations such as an alleged failure to properly button his prison robe, properly introduce himself to a guard or to wash his face at a specified time.
Mr Navalny's associates and supporters have accused prison authorities of failing to provide him with proper medical assistance and voiced concern about his failing health. They said last month that Mr Navalny had fallen ill with acute stomach pains and suspected that he was being slowly poisoned.
Mr Navalny's team has urged his supporters to rally in Russia and elsewhere on Sunday, his birthday.