DeSantis hits back at Trump in campaign blitz in US
Ron DeSantis was making a four-stop blitz through Iowa during his first full day of presidential campaigning on Wednesday, aiming for a personal connection with voters while intensifying his criticism of former president Donald Trump.
The Florida governor's first stop was the floor of Port Neal Welding in Salix, a rural town near Sioux City, in the heart of the most Republican-heavy part of the state.
Mr DeSantis talked up his efforts to push his state further to the right.
Trying to position himself as the most formidable alternative to Donald Trump in the crowded Republican White House primary field, Mr DeSantis did not mention the former president by name in Salix. But he said the Bible emphasised the importance of being humble, adding that the country needed leaders who knew how to show humility.
"The tired dogmas of the past are inadequate for a vibrant future. We have to look forward," Mr DeSantis said. "We can't look backwards. We must have the courage to lead and we must have the strength to win."
He later sat with his wife, Casey, among hydraulic lifts and long welding tables.
"They just seem very down to earth," said Bev Lessman, 70, a retired teacher from Sioux City. After speaking, Mr DeSantis walked through the audience and Ms Lessman wrapped her arms around his neck and told the governor she could feel what seemed to her to be the governor's Christian devotion.
"I told him we can't make others live it, but I appreciated how he expressed his faith," she said later. He replied, "But we can model it", she said.
"There was a connection," she added.
Mr DeSantis has subsequent appearances on Wednesday in Council Bluffs, Pella and Cedar Rapids as he holds a string of early events in the state where caucuses kick off the Republican presidential primary voting.
From there, he will head to New Hampshire on Thursday and South Carolina on Friday — two other states that vote early on the GOP primary calendar.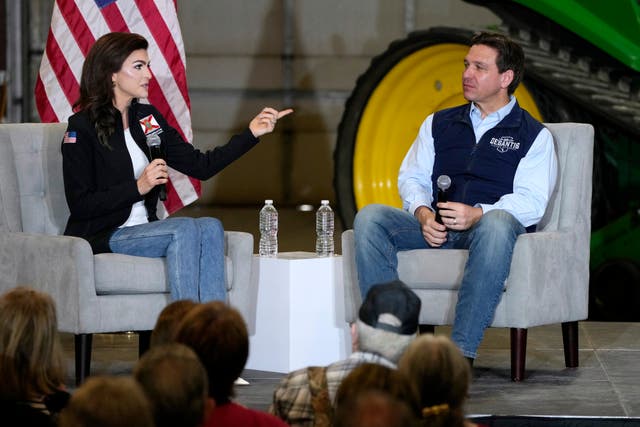 After months of speculation, Mr DeSantis launched his campaign with a glitch-filled online kickoff last week and held his first official Iowa event on Tuesday night before an energetic crowd of roughly 500 in a suburban Des Moines church.
He did not mention Mr Trump during his remarks, but speaking to reporters afterwards, he pushed back against the former president.
Mr DeSantis accused Mr Trump of essentially abandoning "America First" principles on immigration, supporting coronavirus pandemic-related lockdowns and generally having "moved left" on key issues.
The governor is opening his campaign behind Mr Trump in the polls.
Kate Romano, 60, of Indianola, Iowa, said she was more impressed by DeSantis than she expected during his Tuesday night appearance, calling him energetic and fun to hear. She said she voted reluctantly for Mr Trump in 2016 and 2020, and is interested in hearing from other candidates.
"I liked to hear that he'll stand up to Trump," she said.
Kim Riesberg, 59, said she, too, voted twice for Mr Trump but is not necessarily committed to him this time.
Mr Trump and his allies have unleashed a fresh round of anti-DeSantis attacks, sharing new polls finding the former president is the heavy favourite in the GOP race and taking aim at Mr DeSantis's leadership during the pandemic.
Mr Trump, who was already scheduled to be in Iowa on Thursday, added stops in the state to his schedule for Wednesday, ensuring he would overlap with Mr DeSantis for a time. Mr Trump will tape a radio appearance in Des Moines before attending a GOP legislative dinner.