Rail passengers face a week of travel misery because of strikes
Rail passengers face a week of travel chaos because of strikes and other forms of industrial action in bitter, long-running disputes over pay, jobs and conditions.
Members of the drivers union Aslef at 16 train operators in England will strike on Saturday and Wednesday, coinciding with the annual conference of the Conservative Party in Manchester.
Many parts of the country will have no services on strike days, and those that do run will start later and finish earlier than usual.
Operators warning of no services include Avanti West Coast, CrossCountry, Northern, Southeastern and Transpennine Express.
Drivers banned overtime on Friday and will refuse to work rest days again next week, from October 2 to 6, which is expected to cause disruption.
The union said train companies have always failed to employ enough drivers to provide a proper service.
Mick Whelan, Aslef's general secretary, told the PA news agency that the Government was preventing a settlement to the year-long dispute.
He said: "Our members have not had a pay rise for four years – since 2019 – and that's not right when prices have soared in that time.
"Train drivers, perfectly reasonably, want to be able to buy now what they could buy four years ago."
He accused Transport Secretary Mark Harper of "hiding", saying the two had not met since last December despite a series of strikes this year which have caused huge disruption.
"He holds the purse strings. The train operating companies have told us they cannot act without his say-so. He's the puppet master, but he's in hiding."
A spokesperson for Rail Delivery Group said: "Our offer to Aslef would take average driver salaries to £65,000 for a four-day week – that's more than double the average UK salary and many drivers top up their income further by working overtime.
"We are ready and willing to talk to Aslef's leaders so we can end this damaging dispute but any talks about pay also need to address working practices that date back decades.
"The industry depends on a monthly injection of up to £175 million from the taxpayer because revenues are still 30% below pre-pandemic levels – while simultaneously facing unprecedented changes in customer travel patterns.
"It is obvious that the sector can only fund a pay rise by changing how it delivers services so it can respond to that transformation in how the public use the railway.
"That means putting managers – rather than unions – in charge of planning shifts.
"It means allowing managers to respond to unexpected staff absences so they can reduce the last-minute cancellations that so frustrate our customers.
"It means giving our customers more reliable train services when they actually want to use them – particularly on Sundays. That is how any industry survives and thrives."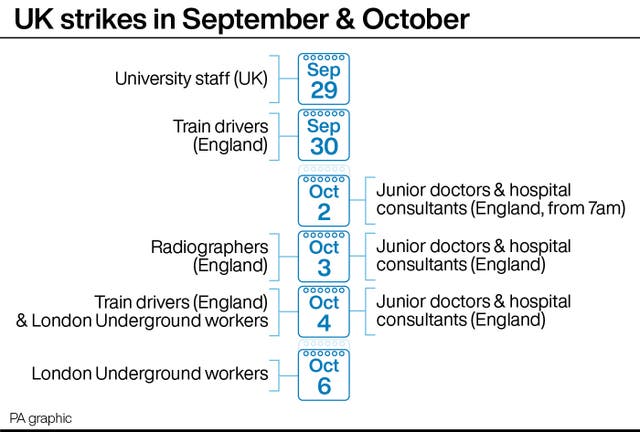 A Department for Transport spokesperson said: "The Government spent £31 billion of taxpayers' money – £1,000 per household – to protect rail workers' jobs during the pandemic.
"There is a fair and reasonable offer on the table that would take train drivers salaries from £60,000 to £65,000 for a 35-hour, four-day week.
"Aslef's leaders won't put this offer to their members and instead continue to strike – damaging their own industry in the process."
Members of the Rail, Maritime and Transport union (RMT) on London Underground will strike on October 4 and 6 in a separate row over jobs and conditions which will cause disruption across the Tube network.
London Underground said most services will be severely affected or will not run on strike days, with disruption the morning after the walkouts.
Director of customer operations Nick Dent said: "We have been in ongoing discussions with our unions for some time to reach a resolution in the dispute over changes we are proposing to how our stations operate.
"We have made positive steps and made agreements on many points, but this planned strike action will cause disruption for Londoners and the city if it goes ahead and we apologise for this."
An RMT spokesperson said: "It is positive that Transport for London have agreed with RMT that their cuts have had a detrimental impact on our members and the service we provide.
"However, we still have a long way to go to agree on solutions to these problems. We remain in talks with management to try and make further progress."