An 83-year-old in tin boat and woodworker, 13, among JustGiving winners
An 83-year-old renowned for rowing his homemade tin boat and a 13-year-old woodworker have been crowned winners at the GoCardless JustGiving Awards.
The ceremony at London's Roundhouse on Monday – hosted by television presenter and podcaster Jamie Laing and radio host Matt Edmondson – saw seven winners, as well as the announcement of JustGiving's Charity of the Year.
Among the victors was Michael Stanley, or Major Mick as he is known, who was named creative fundraiser of the year.
The 83-year-old from Chichester, West Sussex, has collected more than £11,000 for the Children on the Edge charity, which supports families in Ukraine.
He has rowed 125 miles across lakes and rivers in Britain in the past year in his homemade Tintanic boat, which is largely made out of two sheets of corrugated iron.
Since 2020, Mr Stanley, who served 35 years in the Royal Scots Dragoon Guards, has rowed more than 350 miles in the two iterations of his boat, meeting King Charles and former Prime Minister Boris Johnson along the way.
Dressed in a union jack blazer – which he regularly dons for his rows, usually alongside a pair of matching trousers – he told award attendees: "It has been a wonderful [few] years of rowing my boat, it's been a real privilege."
Speaking about the origins of the union jack suit, he told the PA news agency he purchased it at the beginning of last year.
"I wore it last year because it was a jubilee year and then again this year because it was a coronation year and I did a coronation row in London just before the actual day," he said.
"I've been wearing it on and off for two years."
Reflecting on his rows over the years, he said: "When I built the boat, I didn't really think about doing anything for charity, but then felt it was a medium to do a bit of charity work and it really grew from there and I had no expectations of anything.
"I started it as a bit of fun and I continue to do it for fun."
He told budding creative fundraisers to "go for whatever comes into your mind which you think would be fun to do".
One of the youngest award winners was 13-year-old Gabriel Clark, who secured victory in the teen fundraiser of the year category.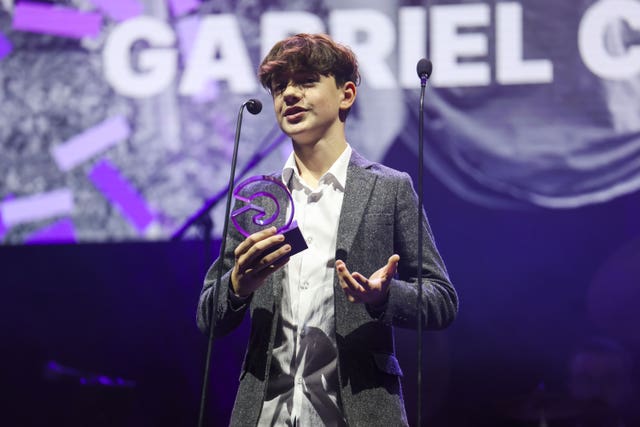 In 2022, the youngster became a viral sensation when a prize draw he had for his Bowl for Ukraine – a wooden bowl he carved, which was etched with a blue-and-yellow ring in the colours of the Ukrainian flag – caught the attention of celebrities including Stephen Fry.
Earlier this year, he created the Hope Bowl, which he made from three types of wood to represent three of the main areas of Save the Children's work – education, food and medicine – with both efforts helping to raise over £278,000 for the charity.
Taking to the stage to collect his trophy, he congratulated his fellow nominees and said he felt "absolutely amazing" about the win.
"It's such an honour to have won the award, especially when everyone else has done such amazing things," he told PA.
The youngster, who lives in Cumbria, added: "I never thought I'd raise the money I have raised.
"It's an absolutely astonishing amount and the work Save the Children does is just incredible – setting up schools, helping children, it's amazing."
His father Richard has played a large supporting role in Gabriel's fundraising efforts, often through sharing his son's work on social media, and was in attendance at the ceremony alongside Gabriel's mother and sister.
Gabriel added: "I'm so grateful for the support of my whole family."
As for advice for aspiring young fundraisers, he said: "Go for it."
Other categories included community hero of the year, endurance fundraiser of the year and celebrity fundraiser of the year, with Bill Bailey winning the latter for his 100-mile walk from Cornwall to Devon in memory of his friend and comedian Sean Lock, who died in 2021.
TV personality Josh Patterson won a special recognition award for his various physical pursuits, including completing a marathon in every city in the UK, for various charities.
Pascale Harvie, president and general manager at JustGiving, said: "Last night's ceremony was amazing, I felt so privileged to be in the company of some of our incredible fundraisers and charities.
"They don't do what they do for praise, but they wholeheartedly deserve it."