Asylum seekers have 'right' to challenge move to Bibby barge – charity
Campaigners have accused the Government of "threatening" to make asylum seekers without legal representation "homeless" if they do not move onto the Bibby Stockholm barge.
Care4Calais said it had "serious concerns" about the wording of notices issued by the Home Office to migrants telling them they will be sent to live on the vessel.
The charity said the language used suggests the move is mandatory, when "they are entitled to say no" and have a right to challenge the decision and seek legal representation.
It comes after asylum seekers who refused to move onto the barge on Monday were reportedly given 24 hours to change their mind and board or face having their government support cancelled.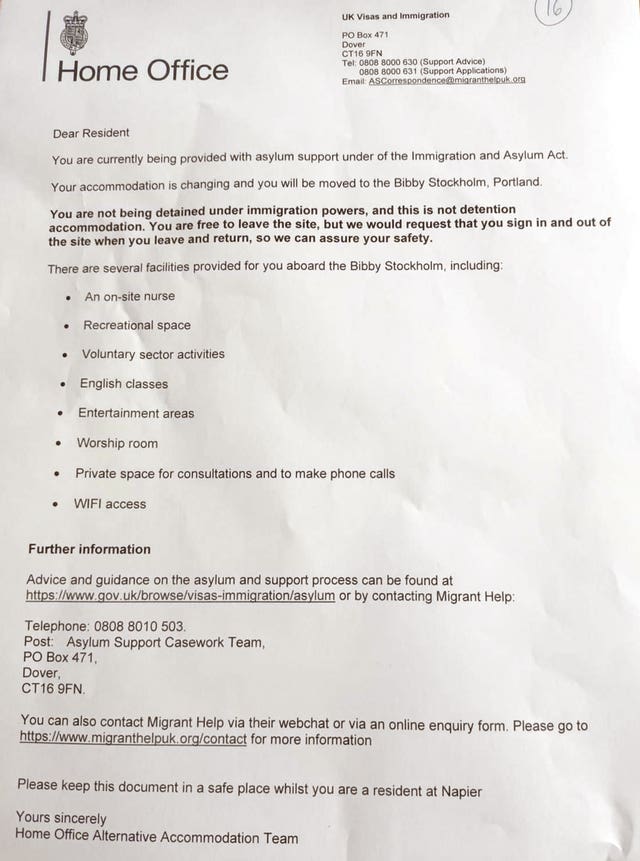 Steve Smith, chief executive of the refugee charity, said: "Everyone has a right to access justice in the UK, and that includes the right to access legal advice. It is really clear that there are issues with Bibby Stockholm letters, which are being issued by the Government, and this fundamental right.
"Every asylum seeker who receives a Bibby Stockholm letter has the right to challenge it, and there are multiple reasons for them to do so – from people's mental and physical health, to some of clients being disabled.
"We have serious concerns that the letters, as they have been issued, portray a strong element of compulsion when in fact asylum seekers are entitled to say no."
It was "becoming clear that the Government is now trying to target those asylum seekers who have been unable to secure legal representation, by threatening to make them homeless if they don't move", Mr Smith said.
"As a refugee charity we take our own responsibilities seriously, and that's why we have been referring clients to solicitors in order to challenge their notices. None of those clients have received this latest Home Office threat, and we would encourage all asylum seekers who receive a Bibby Stockholm notice to seek legal advice.
"But our responsibility to protect the rights of all asylum seekers means that we will be seeking our own legal advice on the Government's process, and the targeting of those asylum seekers who do not currently have legal representation," he added.
Letters seen by the PA news agency, which the charity said were sent earlier this month by the Home Office to asylum seekers, said: "Your accommodation is changing and you will be moved to the Bibby Stockholm, Portland."
While it provides contact details to seek further "advice and guidance on the asylum and support process", it does not mention legal rights or access to representation.
Sky News reported a letter sent by the Home Office to an asylum seeker, who is in receipt of government support but refused to board the barge on Monday, said: "Accommodation is offered on a no-choice basis.
"Where asylum seekers fail to take up an offer of suitable accommodation without a reasonable explanation, there should be no expectation that alternative accommodation will be offered.
"If you do not travel tomorrow, on August 8 2023, arrangements for ceasing the support that you are receiving from the Home Office may commence."
Officials confirmed asylum seekers are not given a choice on where they are housed and, if the accommodation is refused, Government support could be withdrawn.
But it is understood decisions are made on an individual basis and changes could be made if valid reasons are provided as to why the accommodation may be unsuitable, for example, if it lacks facilities for disabled people.