UK 'can adapt buildings to warming with shutters, insulation and green roofs'
The UK can adapt its buildings to global warming by rolling out low technology measures like green roofs, external blinds and insulation as the country responds to rising temperatures, experts have said.
Record temperatures and heatwaves this summer have prompted warnings that Britain must proactively respond to the changing climate when it comes to its built environment.
Researchers from the University of Oxford published a study this week which found that the UK is one of the countries that will have to adapt the most radically to cool down buildings as climate change drives up the global average temperature.
The scientists warned of a "vicious cycle" developing whereby people burn more fossil fuels to provide energy for cooling which then heats the climate still further, requiring more energy.
But Oliver Neve, a structural engineer with a sustainability background at Ramboll, said low tech solutions, like external shutters or blinds, green roofs, lighter coloured exteriors, insulation and less paving over the surrounding area, can help to keep existing or older buildings cool and improve their climate resilience.
Mr Neve told the PA news agency: "There's an awful lot of work that has to be done within the existing (UK building) stock to prepare us for these climate changes.
"So we absolutely have to be proactive in our approach rather than reactive because the cost is just going to be far too great in terms of the impacts to society and unfortunately to those with fragile health."
Mr Neve said UK buildings do not traditionally include features like external blinds or shutters, which are rife across Europe even in cooler areas.
"It is really rare to see any kind of external shading on typical housing stock in London, like an external blind or shutter, yet in Lille which has an identical climate, they're widespread," Mr Neve said.
Meanwhile, new buildings need to incorporate good design for climate resilience, including factors like orientating the main faces away from direct sunlight, minimising solar gain with less glazing and including green roofs, he said.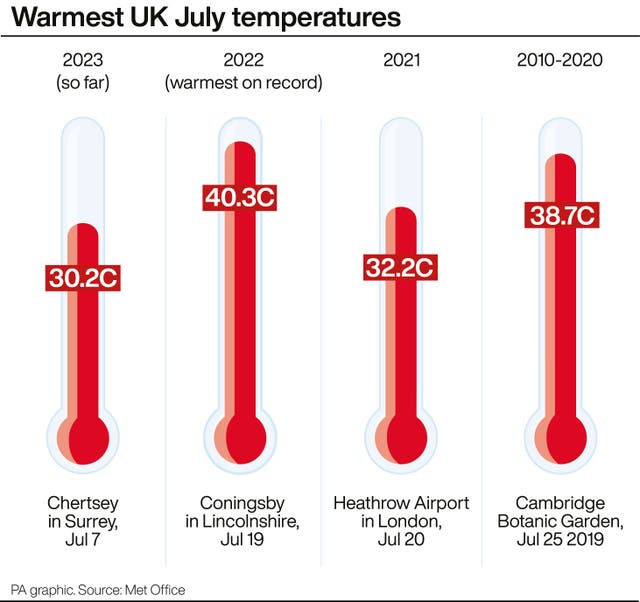 Mr Neve added that vegetation is "very helpful especially against the heat island effect" in cities while "considering those low tech options that improve biodiversity becomes a win-win".
Elsewhere, removing paved-over soil can help with other climate change effects like higher precipitation and storm events, he said.
"It's frustrating to see (that) we are just paving over huge areas and we know that urban heat island effect, biodiversity loss and surface water run-off, all these things can just be mitigated by a bit more vegetation in our lives and that's very much in the power of individuals to make those changes to their homes," he added.
The Trees for Cities charity, which plants urban vegetation, also says greenery can play a vital role in helping to mitigate the effects of climate change in the built environment.
Kate Sheldon, chief executive of the charity, said: "With 80% of the population living in towns or cities, our impact is not only through planting urban trees, but also the social value of inspiring curiosity in nature, engaging people to care for trees, and empowering them to take climate action."
Meanwhile, Kate Charrington, a Surrey-based property surveyor and consultant, warned that the issues are "complex" with no "one-size-fits-all approach" as different buildings will need different solutions.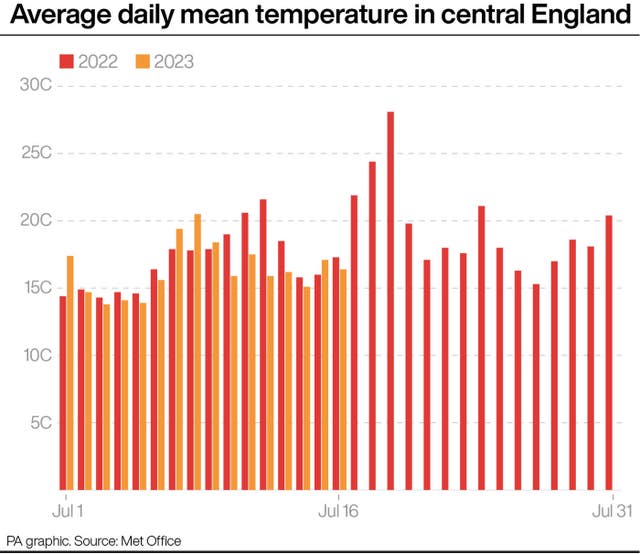 Ms Charrington said: "A property is specific, the changes for one may not be the changes or adaptations that we would make for another."
She added that surveyors need to play a role as they are not doing enough to include the concept of retrofitting properties in their reports and they can help to establish what measures could work for different buildings.
"They are focused on defects and repairs but there is an opportunity to talk to consumers about what they might be able to do to retrofit their homes," she added.
"If you do not have that expert then how can you actually know what the best process is going to be for that property going forward?"
It comes after the National Grid turned on standby coal-powered plants last month to cater for the rise in energy demand due to air conditioning and fans as heatwaves hit the UK.
Scientists predict that the amount of energy needed just for cooling by 2050 will be equivalent to the combined 2016 electricity use of Japan, the United States and the European Union.