Sunak to face crunch by-elections as Tories battle to keep seats
By-elections this week threaten to cause misery for Prime Minister Rishi Sunak, as the Conservatives battle to save seats in three crunch local polls.
All eyes in Westminster will be on the by-elections in Uxbridge and South Ruislip, Selby and Ainsty as well as Somerton and Frome on Thursday, with Labour and the Liberal Democrats both hoping to inflict blows on the Tories.
It could be a drama-filled end to a parliamentary term not short on political theatrics, with the Uxbridge and Selby polls triggered amid the fall-out of Boris Johnson's furious reaction to the Privileges Committee investigation and the row over his resignation honours list.
The economic outlook is difficult too, with households still struggling with stubbornly high inflation and mortgage holders pitched into misery by rising interest rates.
Combined with NHS pressures and the impact of months of industrial unrest, it could be a difficult start to summer recess for Mr Sunak.
Pollster and political analyst Lord Hayward believes the UK has now "returned to normal mid-term politics".
"What we're looking at is a series of by-elections where people will naturally express their anger about the current government.
"Boris Johnson, in a curious way, managed to defy mid-term in some cases, although not necessarily in by-elections."
The Tory peer added: "People will express their view about government but – and this is where it becomes different – all the seats… there is the burden of the events of the last 12 months."
The Conservatives, he said, could pay the "penalty" for the controversies and turmoil that plagued Mr Johnson's government, only brought to an end somewhat by the findings of the Privileges Committee last month.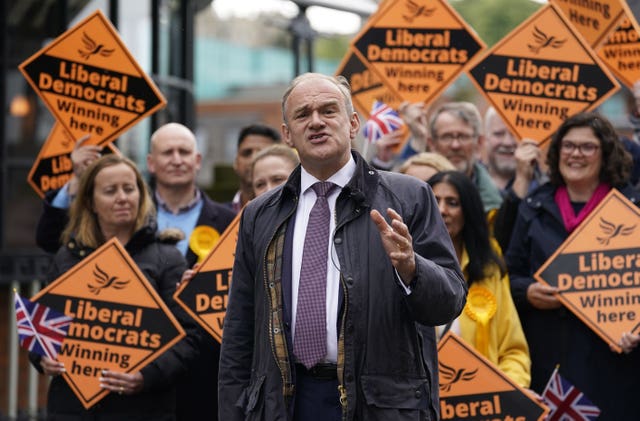 In Uxbridge, the former prime minister held the west London constituency since 2015, securing it with a 7,000 majority at the last general election in 2019.
His sudden exit came as a shock in both the constituency and in the Commons – but it has offered Labour a chance to snatch the seat from Mr Sunak's party.
Labour candidate and local councillor Danny Beales will be hoping to become the area's next MP.
But Conservative councillor Steve Tuckwell and the Tories are hoping that the Sadiq Khan-backed Ultra Low Emission Zone (Ulez) scheme is enough to sway voters away from the opposition.
Lord Hayward said it will be the first time a local issue has dominated a campaign since the 1983 Bermondsey by-election, when Labour suffered huge losses to the Liberal Party.
Bitter campaigning in the constituency saw Labour candidate Peter Tatchell attacked in some quarters for being gay.
In the same way, the Uxbridge poll could turn out to be a de facto referendum not on the Government itself but on the Ulez scheme.
Sir Keir Starmer's party has been campaigning hard in the Uxbridge seat, with the suburban town potentially a key marker of the extent of Labour gains ahead of the next general election.
The Selby and Ainsty contest, in the North Yorkshire Conservative heartland, may prove even more of a bellwether for Labour.
Outgoing MP Nigel Adams resigned after being denied a peerage in Mr Johnson's resignation honours list.
An MP for 13 years, Mr Adams had been due to leave politics at the next election after securing a 20,000 majority in 2019.
Barrister and district councillor Claire Holmes is fighting to keep the seat blue, but Labour strongly believes that Keir Mather, a 25-year-old Oxford graduate, is in with a chance.
"It is a tough ask for Labour, but they seem to be incredibly bullish," says Lord Hayward.
Labour has said that victory there would be the largest majority it has overturned since the Second World War.
It does have some history in the area, with Lord Hayward pointing out that the old Selby constituency – with different boundaries – did have a Labour MP between 1997 and 2010.
Nonetheless, the loss of such a majority would be a significant blow for the Conservatives 18 months out from a general election, with defeat there likely to spark more soul-searching among MPs about the party's prospects.
The final by-election in Somerton and Frome is seen as offering a perfect opportunity for the Liberal Democrats to gain a seat, with some seeing victory there as a near certainty.
The poll was prompted by the resignation of David Warburton amid allegations of sexual harassment and cocaine use. He had held the seat since 2015 when the Tories took it from the Lib Dems.
Faye Purbrick, who sits on Yeovil Town Council and Somerset County Council, will be hoping voters look past the circumstances of the contest when ballot boxes open on Thursday.
But it could prove an uphill struggle, says Lord Hayward.
Another seat with a 20,000 majority, the constituency could well be turned yellow come Friday morning with Sir Ed Davey's Lib Dems hopeful of success for candidate Sarah Dyke.
Held by former Lib Dem minister David Heath for more than a decade, the Somerset constituency contains a strong party base able to take advantage of the Government's troubles.
"Until eight years ago, Lib Dems had every seat in Somerset," said Lord Hayward.
"They lost them all in the great sweep of 2015. But they had all those all those seats in Somerset.
"So they're building and they did very well in the local elections in 2022.
"So they are building on a very strong base of Lib Dem support. And this is the one that the Government was always going to have most difficulty with."