Mordaunt urges end to 'sorry affair' as MPs consider partygate committee report
Penny Mordaunt has urged an end to the "sorry affair" as MPs debated a report that rebuked the conduct of Boris Johnson's allies.
The Privileges Committee, which investigated the former prime minister's partygate lies, highlighted comments by eight Conservative politicians and claimed it was part of a coordinated attempt to undermine the panel's work.
Those named included former cabinet ministers Sir Jacob Rees-Mogg, Dame Priti Patel and Nadine Dorries.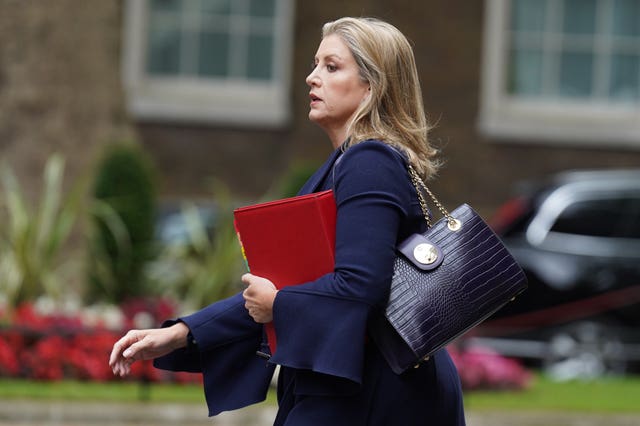 Commons Leader Ms Mordaunt said the report was an "exceptional situation" and not part of the usual "cut and thrust of politics".
Introducing the motion to approve the report, Ms Mordaunt told the Commons: "I hope colleagues who have been named will reflect on their actions.
"One of the most painful aspects of this whole affair is that it has involved animosities between colleagues, and colleagues of the same political hue.
"But I know of at least one member named in the report who has taken the time to speak with regret to some other members of that committee and I applaud them for doing so.
"I hope that some speeches we might hear this afternoon will acknowledge that obligation we have to one another as colleagues.
"If Castlereagh and Canning could adopt polite civility after fighting a duel, I live in hope that today will be the end of this sorry affair."
Ms Mordaunt's final remark referred to former prime minister George Canning, who as foreign secretary quarrelled with the war minister over the deployment of troops.
Lord Castlereagh challenged Mr Canning to a duel which was fought on September 21 1809.
The Privileges Committee ultimately triggered Mr Johnson's resignation from Parliament in protest at its recommendation that he should face a lengthy suspension for misleading the Commons with his denials of lockdown-busting parties in Downing Street.
Mr Johnson's supporters frequently attacked the Labour-led but Tory-majority committee as a "witch hunt" and "kangaroo court" – with the former PM found to be complicit in the campaign against the panel investigating him.
Other MPs quoted in the report included Conservatives Mark Jenkinson, Sir Michael Fabricant, Brendan Clarke-Smith and Dame Andrea Jenkyns while Conservative peer Lord Goldsmith was also named.
Sir Jacob was among those named to use the debate to push back on the report.
The former business secretary said: "There are some issues with this report, I think beginning, as it happens, with its title, 'co-ordinated campaign of interference'… there is no evidence that it was co-ordinated."
He added: "I'm not very often co-ordinated with the official line to take. Indeed, I have always thought that it is politically rather important that members should be independent in what they say and in how they vote, and therefore to make an assertion of co-ordination without evidence is a problem with this report."
Asked by Labour MP Dame Angela Eagle if he would like to apologise to the committee members for calling them "marsupials", Sir Jacob said: "I have absolutely no desire to impugn the integrity of individual members of the committee, some of whom I hold in very high regard."
He also told MPs: "I've always thought it is important to get on well with people and to be courteous to them… across the House. But that doesn't mean that one can't criticise them.
"And it was legitimate, and it is legitimate, to question the position of the chairman of the committee."
Labour's Harriet Harman, who chaired the Privileges Committee, said: "Our special report makes it clear that it's not acceptable for members fearing an outcome which they don't want to level criticisms at the committee, so that in the event the conclusion is one they don't want they will have undermined the inquiry's outcome by undermining confidence in the committee."
Mr Jenkinson (Workington) was among those Conservative MPs to clash with Ms Harman in the chamber, saying his tweet did not refer to the committee and the "context of the Twitter thread was clear".
Ms Harman said Mr Jenkinson had called the committee a "witch hunt", with the Tory MP suggesting Ms Harman might have "inadvertently misled the House".
Ms Harman replied: "If he's saying, which he has, that he doesn't believe the Privileges Committee inquiry into Boris Johnson was a witch hunt then I very warmly welcome the fact he's said that and appreciate it."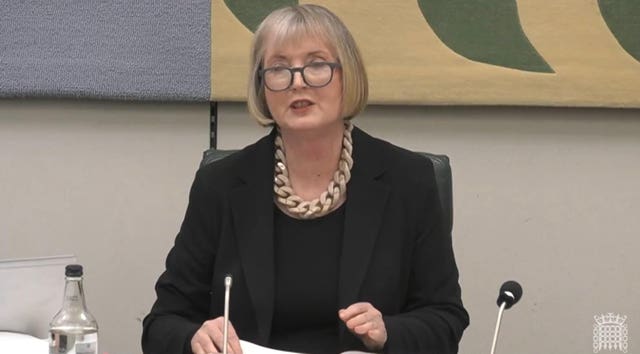 Conservative former minister Dame Andrea Leadsom said she could not support the motion, noting the committee should not be "absolutely immune from any form of free speech".
Ms Harman replied by noting "we're not saying that it's immune" and that MPs have several routes to challenge the process.
Conservative MP Sir Charles Walker, a member of the Privileges Committee, spoke of his "great friend" Theresa May and reflected on her "character, courage, humility and dignity" after she was ousted as prime minister.
He said he hopes the motion is approved, adding: "There is a lot of upset and grievance on my side of the House, but eventually we have to cast that to one side and move forward."
The committee said MPs should consider whether the actions of the named colleagues could be considered a contempt of Parliament and what further action to take.
Commons Speaker Sir Lindsay Hoyle did not select a Liberal Democrat amendment which sought to refer Johnson loyalists back to the Privileges Committee to decide if their conduct amounted to contempt.
The unamended motion before MPs seeks approval of the report and makes clear about how they should behave when a Privileges Committee inquiry is taking place.