No 10 declines to say if PM will attend debate on report rebuking Johnson allies
Downing Street has declined to say whether Rishi Sunak will attend the Commons debate on a report that rebuked the conduct of Boris Johnson's allies.
Opposition MPs have called for a follow-up investigation into those accused by the Privileges Committee of having waged a "co-ordinated" attack on its initial probe into the former prime minister's partygate denials to Parliament.
But No 10 has so far refused to be drawn on the findings of the cross-party panel, which named eight Johnson loyalists in a report which found they had interfered with its work.
MPs are expected to be granted a free vote when they debate the findings on Monday, with the Liberal Democrats tabling an amendment for those named to be referred back to the committee for further investigation.
The Lib Dems said it is "right that our elected representatives get to decide on the appropriate sanction" and for the panel to determine whether they had committed contempt of Parliament.
Asked whether Mr Sunak would be attending Monday's debate, his official spokesman said on Friday: "We will set out his movements on Monday."
The Prime Minister came under pressure earlier this week over his attendance in the Commons chamber, with Standards Committee chairman Chris Bryant questioning him on his absence from votes on the conduct of Owen Paterson and Mr Johnson.
But he defended his decision not to attend the crunch debate on the committee's initial inquiry, which found his predecessor-but-one had lied to MPs about pandemic-era events in Downing Street, saying he had instead been at a charity dinner.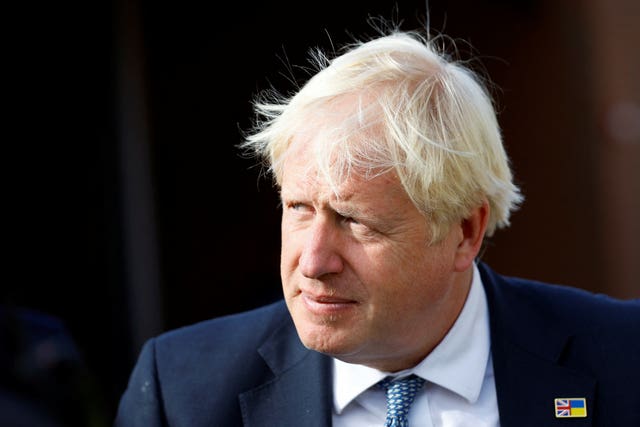 It remains unclear whether Mr Sunak has read the follow-up report on the conduct of Johnson allies during the investigation after he claimed on Tuesday he had not examined it "cover to cover".
Tory peer Lord Goldsmith quit as a minister after Mr Sunak asked him to apologise after being named in the document.
Lib Dem chief whip Wendy Chamberlain said: "These Conservative MPs actively undermined the independent investigation into Boris Johnson's partygate lies at every turn, while several were being rewarded with gongs and knighthoods.
"It is right that our elected representatives get to decide on the appropriate sanction, to protect our democratic institutions from being dragged through the mud like this.
"Nadine Dorries has spent weeks defending Boris Johnson's lies and law-breaking instead of standing up for her constituents in Mid Bedfordshire. People across the country are fed up with this endless Conservative sleaze and scandal, while they struggle to pay their mortgage and rent or see a GP."