Thousands gather to mourn deaths of teenagers that sparked Ely riot
Thousands of mourners have lined the streets to pay their respects to two teenagers whose deaths sparked a riot in Cardiff.
A joint service was held for best friends Kyrees Sullivan, 16, and Harvey Evans, 15 at the Church of the Resurrection in Ely.
Nine Rolls Royce cars, four hearses and two stretch limousines took part in a procession led by around a dozen motorcycles prior to the service beginning.
The pair, who had been "inseparable" since meeting in nursery school, were later buried together in the same grave.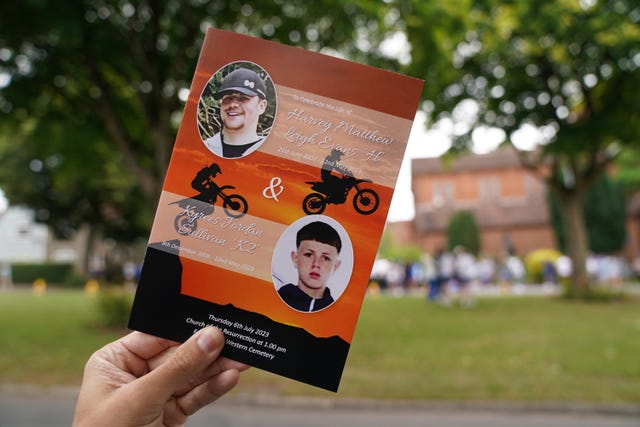 Floral tributes on Kyrees and Harvey's coffins read "best friends" and "forever young".
Meanwhile a light aircraft flew overhead towing a banner that read "RIP Kyrees And Harvey Young Kings".
Most of the crowd wore blue, the teens' favourite colour, and many became tearful as their coffins were carried into the church by family members to All My Life by American rappers Lil Durk ft J Cole was played.
Kyrees and Harvey died on the evening of May 22 when they came off a Sur-Ron bike minutes after CCTV captured them being followed by a police van.
The tragedy sparked hours of disorder in the city suburb which included violent clashes with police and damage to property.
Due to an ongoing investigation by the Independent Office of Police Conduct (IOPC) into the actions of South Wales Police, the funeral was being managed by Cardiff Council.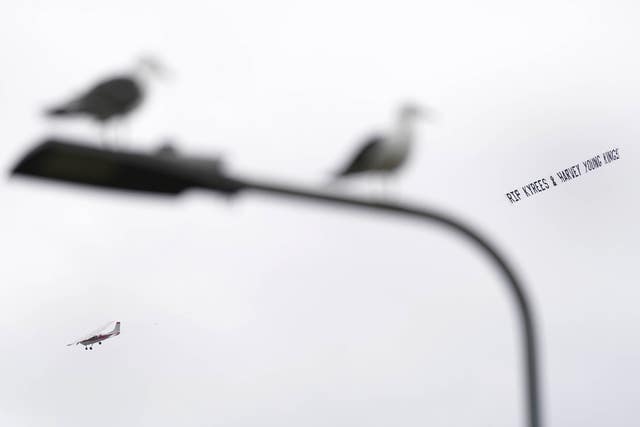 Road closures in the area were put in place and local schools were closed for the day due to the numbers expected to attend.
The 1,200 capacity church was filled, while around 1,000 more stood outside on Grand Avenue where they watched the service on a TV screen.
The hymn All Things Bright And Beautiful was sung by the congregation before The Reverend Canon Jan Gould led a reading from the Gospel of Mark.
In an eulogy read on behalf of Harvey's parents by his aunt Mandy, the teenager was described as both a "protector" and a "class clown".
Harvey, who was one of six, is said to have loved his younger brothers and enjoyed being active – including playing football, rugby and earning belts in kick-boxing.
However, his "biggest love" was said to be motocross and riding bikes, a passion he shared with his friend since nursery school Kyrees.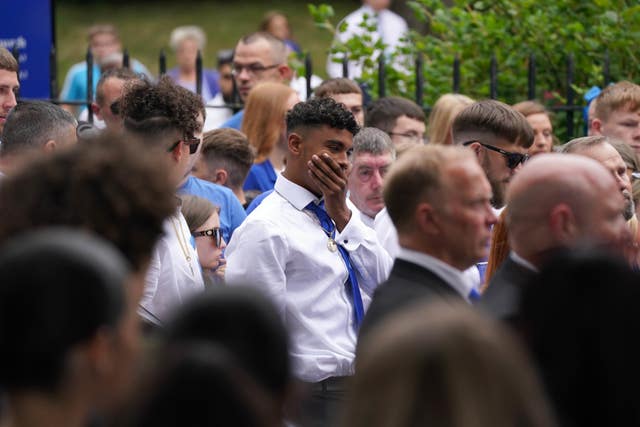 "His life was over too soon. He had so much more to give and learn. I'm glad to say that in the 15 years he was with us he did it his way," Mandy said.
"Our hearts are shattered," she added. "You and Kyrees did not deserve this. We love you forever and always."
His girlfriend Ellie said: "Harvey was not only my best friend, but my soulmate. I love you forever."
Speaking on behalf of Kyrees' family, Mandy described him as a "lovable" young man who "had so much more to give".
"Kyrees and Harvey we inseparable from the minute they met in nursery. They should still be with us today," she said.
"The only thing we can take from this is that Harvey and Kyrees are together. This isn't goodbye, this is farewell for now."
Pictures of the two boys were then shown on a presentation to Dancing In The Sky by Dani and Lizzy.
Ms Gould held a moment of silence after which she told those present to "cherish" whatever memories they have of the Kyrees and Harvey.
Following prayers, the service ended with I'll Be Missing You by Puff Daddy and Faith Evans ft 112.
Blue flares were let off as the coffins of the two boys were driven from the church to nearby Western Cemetery, where they were laid to rest in the same grave.
A wake is to be held until 11pm at Cardiff City Stadium.
Ms Gould, of the Llandaff Diocese, said: "It's important for the family especially, but actually for the whole community to have some closure now and to begin to move on.
"My hope is that moving on from this now the community can begin to rebuild."