Energy bills to stay high but worst of crisis has passed, says British Gas owner
Energy bills are set to remain high for the foreseeable future but the worst of the recent energy crisis has passed, according to the boss of British Gas owner Centrica.
It comes as households are set to pay less for gas and electricity from Saturday.
The average household energy bill will fall by £426 a year from July 1 after Ofgem dropped its price cap following tumbling wholesale prices, but will remain almost double the levels seen before the invasion of Ukraine sparked the energy crisis.
Chris O'Shea, chief executive of energy giant Centrica, said prices will drop but remain significantly above the longer-term average.
"I think the first act of the crisis is over," he told BBC Radio 4's Today programme.
"I think what we've got to remember is the energy prices had more than doubled before Russia invaded Ukraine.
"Prices are back down to pre-invasion levels but they are 2.5 times the long-run average, and that's really driven by supply and demand."
"I think there is a danger that we get complacent because last winter was OK and because prices are stable now."
Energy regulator Ofgem is cutting its price cap on Saturday from £3,280 to £2,074 in a relief for consumers who have seen typical bills soar from £1,271 a year in October 2021 due to the global gas crisis.
Households have been partly shielded from the most recent rise in prices by the Government's Energy Price Guarantee (EPG), which limited annual energy costs to £2,500 for the average household – subsidising Ofgem's price cap.
Ofgem's latest cut means its cap will again govern household bills, resulting in a reduction of £426 from £2,500 to £2,074 – a fall of about 17%.
The energy price cap sets a limit on the maximum amount suppliers can charge for each unit of gas and electricity.
The headline price cap figure is an average across households rather than an absolute cap on bills, so those that use more will pay more.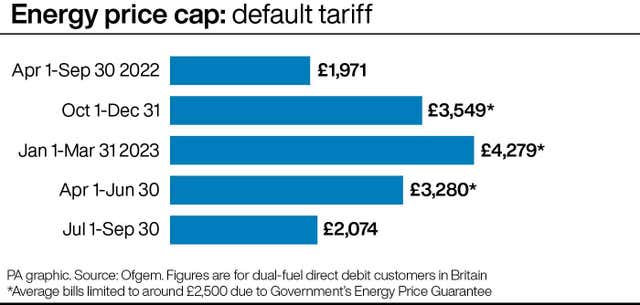 Adam Scorer, chief executive of the charity National Energy Action, said: "Despite falls in retail prices from July, many of the people we help are still struggling.
"As of tomorrow, two-thirds of households across the UK will no longer benefit from any assistance to offset the impacts of the energy crisis and Ofgem's price cap will offer limited protection to these households."
Which? Energy editor Emily Seymour said: "While the new price cap will see typical bills drop by around £500, energy bills will still be almost double the amount they were before the energy crisis began – which will be unaffordable for some households.
"If you are concerned about struggling to pay higher bills, there is help available. Speak to your energy provider about a payment plan you can afford and check to see if you qualify for any government schemes."
Ms Seymour added: "Fixed deals are starting to return to the market for existing customers of some suppliers. We wouldn't recommend fixing anything higher than the unit rates in your current deal or for longer than a year.
"If you are offered a deal, then it's really important to check the tariff's exit fees in case you want to leave that deal early if the price cap comes down."
A spokeswoman for Energy UK, which represents suppliers, said: "The fall in the price cap from July will be welcome news for customers who have had to face record energy bills over the last year amidst a steep rise in the cost of living and for whom the Government's bill support has been crucial in preventing even bigger difficulties.
"However, bills remain much higher than they were 18 months ago and many customers will continue to struggle, especially following the removal of some of that support.
"If – as the current projections indicate – annual bills of £2,000 plus become the new normal, it underlines the importance and urgency of the energy industry, Ofgem, Government and consumer groups working together to put in place targeted support for those most in need next winter."
Households should submit meter readings before midnight on June 30 to ensure they are paying the lower prices as soon as they come into effect.
Accurate readings will stop the household's supplier from estimating usage and potentially applying the old higher prices to energy that is used after June 30.
Those who, for whatever reason, cannot submit readings ahead of June 30 should do so as close to the date as possible, keeping a date-stamped photo as proof.
Household energy bills are expected to fall again, to below £2,000 a year from October, according to latest forecasts.
Energy industry consultancy Cornwall Insight said it thinks the price cap on energy bills will fall to £1,978.33 from October from July's £2,074, but rise again from January to £2,004.40, based on Ofgem's current measures.
However, the regulator is adjusting its definition of the average household's consumption from October, down from the current 2,900 kWh a year for electricity to 2,700 kWh, and from 12,000 kWh for gas to 11,500 kWh, to reflect consumers using less energy to cut costs in the face of high prices.
Based on Ofgem's adjusted definitions of average usage, Cornwall Insight has forecast that the regulator will announce price caps of £1,871 a year from October and £1,900 from January.