Windrush choir opens Glastonbury main stage in 'hugely important' performance
A musical group celebrating the descendants of the Windrush generation opened the main stage at Glastonbury on Sunday with a "hugely important" and "fantastic" performance.
The Bristol Reggae Orchestra and Windrush Choir, a musical group from Bristol which celebrates the Windrush generation and its descendants, kicked off proceedings on the Pyramid Stage at 11am with a full orchestra accompanied by singers dressed in vibrant red, green and yellow.
The festival appearance came 75 years after the Empire Windrush docked in the UK.
The ship carried workers from the Caribbean who had answered Britain's call for help to fill post-war labour shortages, arriving at the Port of Tilbury, Essex, on June 22 1948.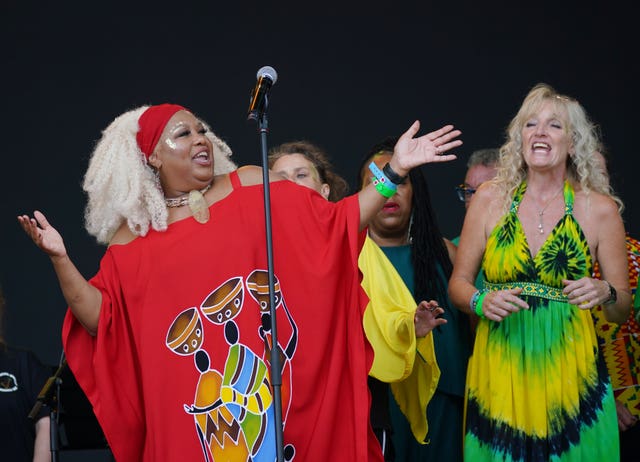 Opening the set, one of the lead singers said to the crowd of several hundred: "Glastonbury how you doing? We're going to give you a Windrush style of reggae today."
The group performed songs including Home and Windrush Child, as well as a medley of classics from reggae legend Bob Marley.
A member of the band thanked the Eavis family, who organise the festival, for featuring them and helping to share the story of the Windrush generation.
"I just wanted to say thank-you very much to Michael, Emily, the family and the whole organisation… they've treated us so well today," he said.
"The fact that they've recognised the Windrush arrival… people here understand the story so I want to thank you all for coming."
Jeff Peabody, 54, from Street in Somerset near the festival site at Worthy Farm, described the performance as "hugely important".
He told the PA news agency: "It was fantastic… just people just really enjoying themselves and just spreading the music, spreading love, and that's what Glastonbury is all about.
"I'm 54, when I grew up I didn't know the story, but everybody knows the story now and it's really important that story comes out and generations coming through need to hear the story.
"We've got to remember the tragedy the Windrush generation have had to suffer.
"This is what makes Glastonbury so special because it gives a platform for huge stars, but also gives a platform for a choir from Bristol and a chance to remember Windrush and pass on that story."