One-year-old baby takes toys from Kate at child support hub
A one-year-old baby had an unexpected play date after being given a basket of toys by the Princess of Wales.
Kate met Emilia Bowman, who proceeded to play with the items, alongside her mother Kristina Igazova on a visit to the Windsor Family Hub on Tuesday.
After inquisitively walking up to the coffee table, Emilia caught the eye of the princess who smiled and handed her the nearby basket.
The youngster initially ignored the offer before dipping her hand into the basket and taking out several toys, which soon had her undivided attention.
Kate met two groups of parents with their young children during her visit to the centre, including some taking part in a baby massage session.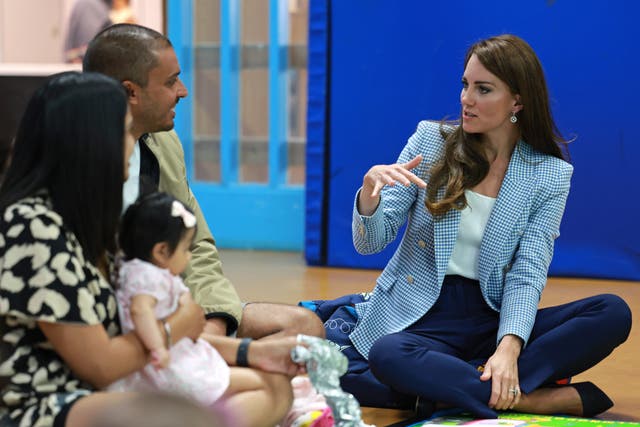 Kiran and Karl Rudolph, both 31, from Datchet, Berkshire, attended the session with their four-month-old daughter Raya.
Ms Rudolph said: "Obviously it was very special – we put her in her best dress for it!"
Parents were not told Kate was visiting the centre until half an hour before her arrival, but Mr Rudolph, who shared a joke with the princess, had a hunch that royalty would be appearing.
He said: "We were guessing up until the time, 'Who's it going to be?'
"We had an inkling it was going to be one of the royal family, but to find out was quite nice."
The Windsor Family Hub, run by not-for-profit organisation Achieving for Children, has provided children's services across Windsor, Maidenhead and the surrounding areas since 2021.
The princess has a keen interest in the early childhood sector and previously launched the Shaping Us campaign with the Royal Foundation Centre for Early Childhood in January 2023 to highlight the importance of supporting young children and those caring for them.