Harry quips about 'workout' from lifting court papers as he gives evidence
The Duke of Sussex grappled with paperwork when he stepped into the witness box and was cross-examined over his claims tabloid newspapers used unlawful information-gathering for royal stories about him.
Harry was a measured, quiet and suited figure when he began giving evidence, with nearby barristers surrounded by boxes of folders.
He was afforded the courtesy of being called "Your Royal Highness" when first mentioned, after his barrister David Sherborne said protocol was something that "concerned" the High Court but was not an issue for Harry, whose "personal preference" was to be called "Prince Harry".
The court looked more like a busy office, with computer screens on many of the tables, including Harry's, and he spoke quietly at first, which left some on the press benches struggling to hear every word.
The duke is suing Mirror Group Newspapers (MGN) for damages, claiming journalists at its titles – which also include the Sunday Mirror and Sunday People – were linked to methods including phone hacking, so-called "blagging" or gaining information by deception and use of private investigators for unlawful activities.
In his witness statement, Harry highlighted a story from November 2007, which appeared in the Irish edition of the Sunday Mirror and reported about a "secret meeting" where he "begged" for then-girlfriend Chelsy Davy to give him a "second chance".
He went on to say: "These kinds of articles made me feel as though my relationship with Chelsy was always set to be doomed."
Harry shuffled in his seat, rolled his shoulders back and took a sip of water when Andrew Green KC, representing MGN, began by saying he appreciated he had lived a "lifetime of tabloid press intrusion" and being asked questions about the topic "can only be unpleasant".
The duke was offered the opportunity to take a "break" for whatever reason and if a question was "unduly intrusive", he could say so.
With newspaper articles examined line by line, page references for the bundles – the name for court documents – were given, but at times the royal struggled to find his place on the page.
Mr Green often asked "do you see that?" and the reply from the duke came back "no".
After Harry appeared to quip about the bundles he was continually holding, saying "got me doing a workout", it was suggested High Court staff could help him find references and he was later joined in the witness box by a helper.
In the sober setting of court 15 of the Rolls Building, variations of the comment "My Lord, as a witness, I don't believe it's my role to deconstruct these articles" were heard throughout the cross-examination, when Mr Green asked the duke about the newspaper articles he was complaining about.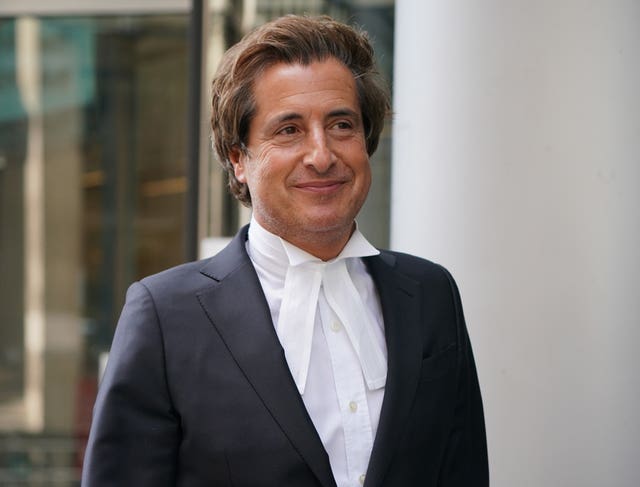 When the barrister inquired about the source of the information in the stories, Harry frequently replied he should ask the journalist that wrote the article.
Moments to lighten the mood were few and far between, but at one point Mr Green put a suggestion to Harry.
When the royal replied without responding directly to the remark, Mr Justice Fancourt, the judge hearing the case, helpfully said Mr Green was simply putting his "client's case" to allow Harry to "comment" or "even agree".
Harry laughed when the Mr Green quipped "agree would be good".