Sunak quiet on whether Wallace's Nato job bid is on the agenda during US trip
Rishi Sunak declined to say if a Ben Wallace bid for Nato's top job will be on the agenda when he travels to Washington this week.
The Prime Minister, who is set to visit the White House for talks with US President Joe Biden, dodged a question about whether he will use the trip to lobby for the Defence Secretary to takeover as Nato secretary general.
Mr Wallace is seen as a potential contender for the soon-to-be vacant role, replacing Jens Stoltenberg.
Mr Sunak hopes to encourage Mr Biden to back Mr Wallace for the role, The Telegraph reported on Monday.
But, taking questions at a press conference in Dover, Mr Sunak refused to be drawn on the report.
He praised Mr Wallace and the UK's contribution to Nato but did not comment directly.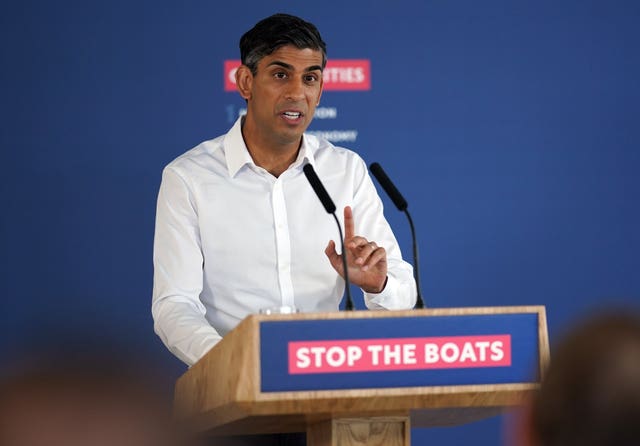 "Ben does a fantastic job. He is a great Defence Secretary," Mr Sunak said.
"This is a conversation that is happening amongst leaders around the world more generally and I'm sure it will continue to happen.
"Ben is widely respected among his colleagues around the world.
"We're one of the only countries that participates in every single Nato operation. We are widely perceived as a thought leader in Nato.
"And I think if you asked the Nato secretary general, he would agree with everything I've just said and we will always continue to be a strong contributor and participant in Nato."
Mr Sunak's official working visit to the White House will take place on Thursday.
He and Mr Biden have already met in San Diego, Belfast and the G7 summit in Hiroshima.