'Plain wrong' to say WhatsApp was used for big Covid decisions, Bethell insists
Former health minister Lord Bethell has downplayed the role of WhatsApp messages in policymaking during the pandemic after it was reported three groups were used to make key decisions.
He defended the Government's decision to seek a judicial review in its bid to limit disclosure of material to the Covid Inquiry, insisting "personal" information could end up being unnecessarily surrendered.
Lord Bethell insisted it was "plain wrong" to suggest WhatsApp had been used for major decision-making during the pandemic, claiming most of his own messages on the platform over that period had related to coffee orders.
He told BBC Radio 4's Today programme: "We need these tramlines, that's why the court case is a good idea.
"The reality is that when you have several hundred thousand WhatsApps and you're going through them one by one and trying to decide on the edge cases, whether or not they should be included, you end up having to surrender an enormous amount that I would typically term personal, but on a wide interpretation of the scope might be included, and therefore in order to achieve the greatest amount of candour you put in stuff that you wouldn't reasonably be happy with."
It comes after the Times reported that three WhatsApp groups with members including then-prime minister Boris Johnson, former health secretary Matt Hancock and Cabinet Secretary Simon Case were used for decision-making during the pandemic.
Chief medical officer Sir Chris Whitty, former chief scientific adviser Sir Patrick Vallance, Mr Johnson's chief adviser Dominic Cummings and communications director Lee Cain were also reportedly in the groups, one of which had a membership of around 30.
A Whitehall source told the paper: "Senior officials including the Cabinet Secretary were in the critical WhatsApp groups and their phones aren't compromised. They can easily send the inquiry some of the most important messages."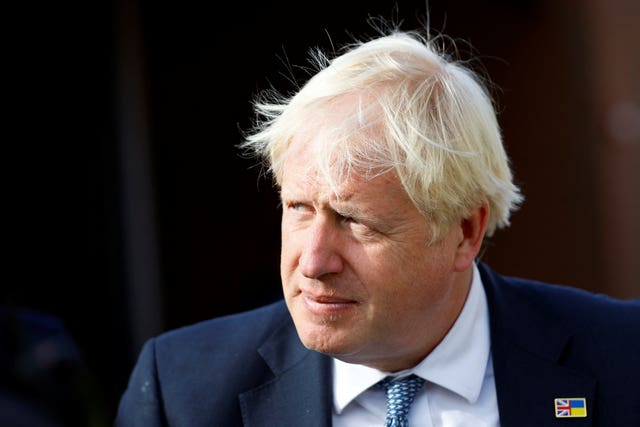 Mr Johnson has been at the centre of a row as ministers launched a High Court challenge to the inquiry's demand for his unredacted WhatsApp messages and notebooks.
He has vowed to send all his messages to the official investigation directly, circumventing the Cabinet Office.
Cabinet Office lawyers have written to the former prime minister to warn he could lose public funding for legal advice if he breaks conditions such as releasing evidence without permission.
He has had legal advice paid for by the taxpayer, but the Sunday Times detailed the letter which stated the money could "cease to be available" if he seeks to "undermine" the Government's position.
It comes ahead of inquiry chairwoman Baroness Heather Hallett on Tuesday making her first public remarks since the Government sought legal action.
The Cabinet Office missed Lady Hallett's deadline set on Thursday to hand over the requested material, with the department insisting that messages it deems "unambiguously irrelevant" to the inquiry need not be published.
Home Office minister Robert Jenrick defended the position over the weekend, telling Sky's Sophy Ridge on Sunday programme the Government is not asking for "special treatment" but that "the normal way to do this is to set reasonable parameters".