Manuscript gives 'rarest glimpse' of medieval live comedy performance
A record of medieval live comedy performance has been identified in a 15th-century manuscript, giving the "rarest glimpse of a medieval world rich in oral storytelling and popular entertainments".
Dr James Wade, of Cambridge University, noticed the texts while researching in the National Library of Scotland and said they "poke fun at everyone, high and low".
They mock kings, priests and peasants, encourage audiences to get drunk and contain a scene reminiscent of Monty Python's Killer Rabbit of Caerbannog.
The latter scene features fictional peasant Jack Wade, who could be from any medieval village, and reads: "Jack Wade was never so sad / As when the hare trod on his head / In case she would have ripped out his throat."
Dr Wade believes that household cleric Richard Heege, who wrote the manuscript, copied out the text from a now-lost memory aid by an unknown minstrel.
Heege was a tutor to the Sherbrooke family, part of the Derbyshire gentry, to whom his booklets first belonged.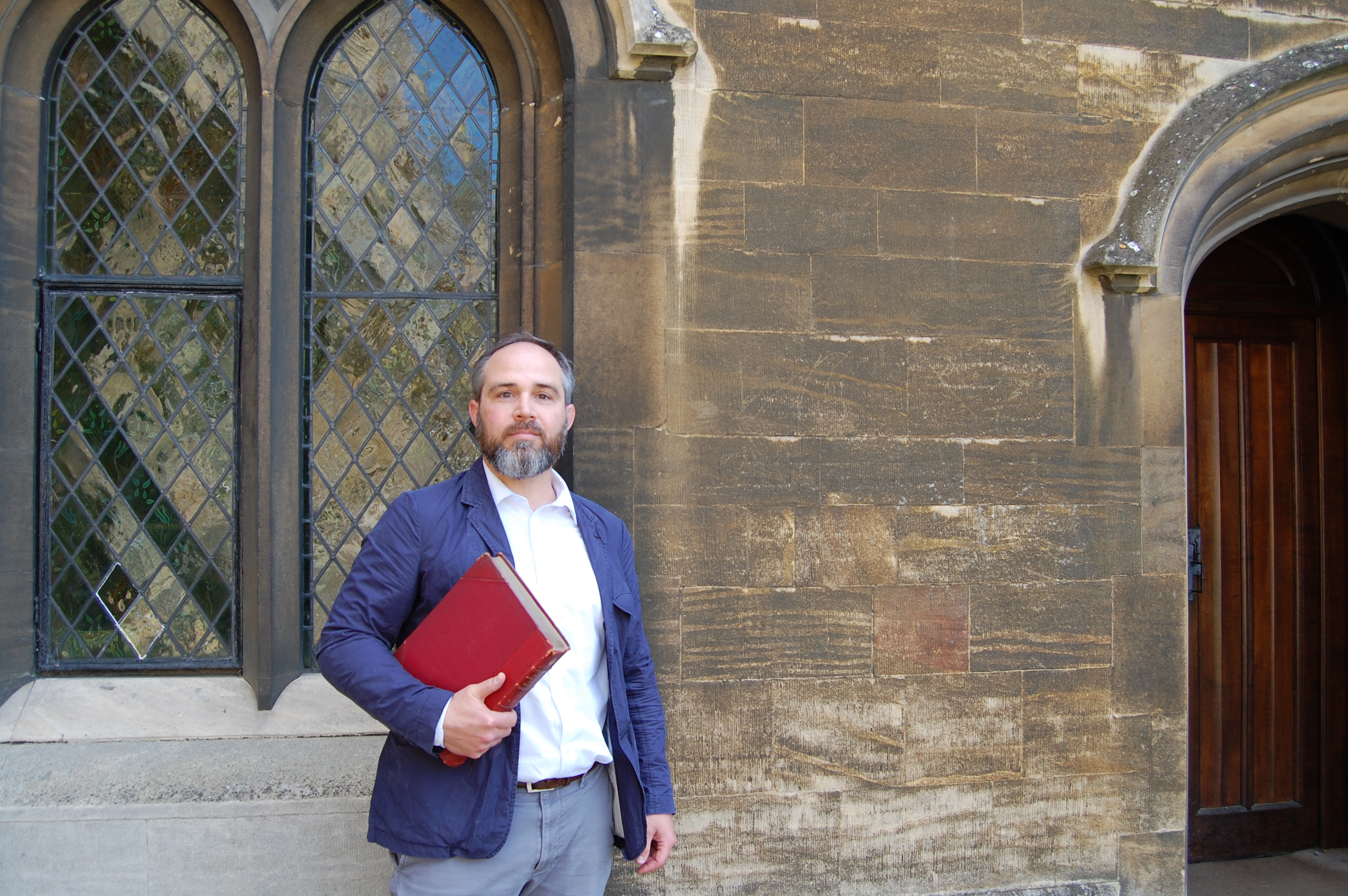 Dr Wade concludes that Heege copied the text of the unknown minstrel, who performed near the Derbyshire-Nottinghamshire border, in about 1480.
The texts are said to contain the earliest recorded use of "red herring" in English.
"Heege gives us the rarest glimpse of a medieval world rich in oral storytelling and popular entertainments," said Dr Wade, of Cambridge's English faculty.
When the unknown minstrel was performing, the Wars of the Roses were still being fought and life was hard for most people in England.
But, Dr Wade said: "These texts remind us that festive entertainment was flourishing at a time of growing social mobility.
"People back then partied a lot more than we do today, so minstrels had plenty of opportunities to perform.
"They were really important figures in people's lives right across the social hierarchy.
"These texts give us a snapshot of medieval life being lived well."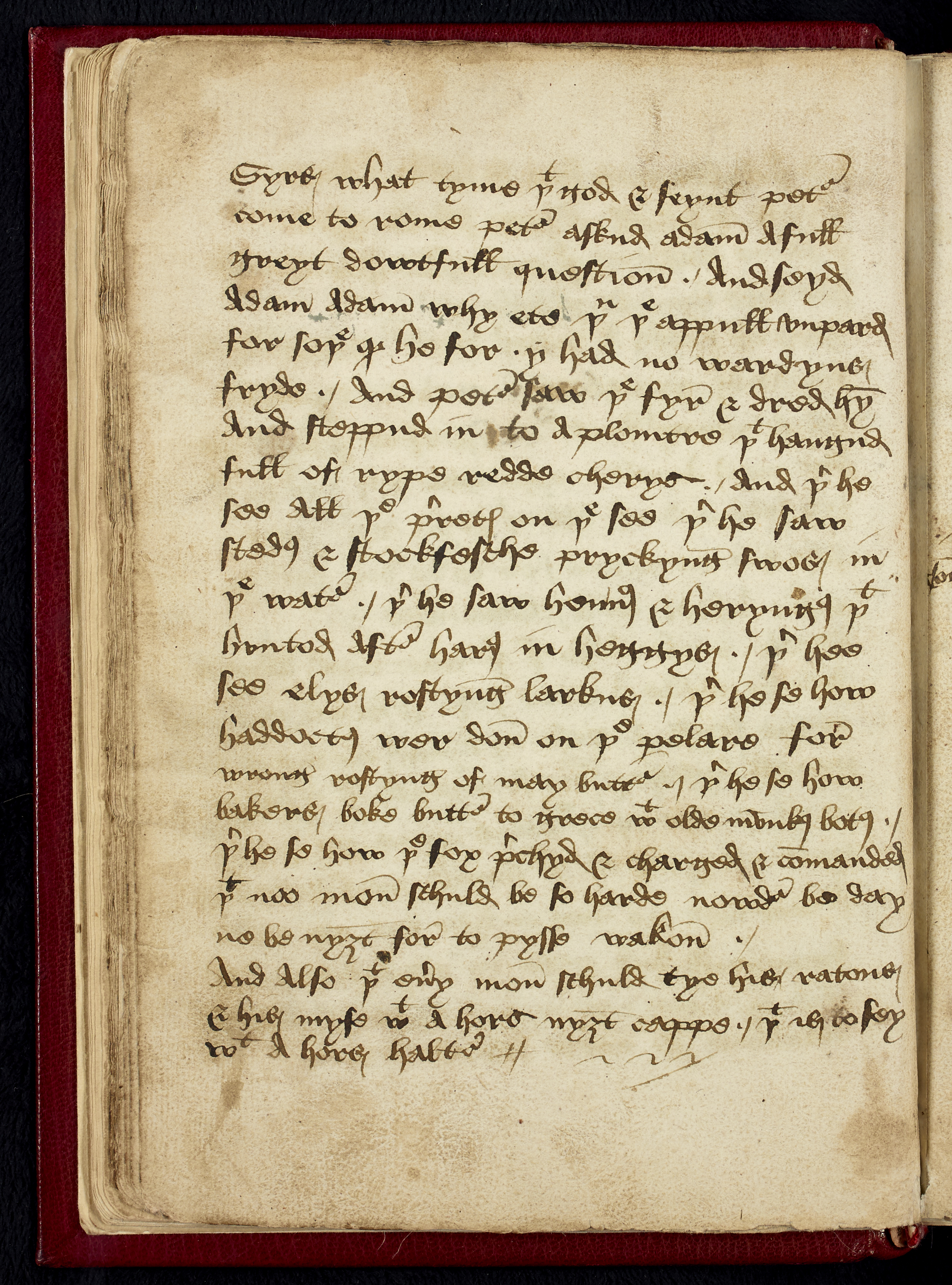 Dr Wade said he had a "moment of epiphany" when he noticed the scribe had written: "By me, Richard Heege, because I was at that feast and did not have a drink."
"It was an intriguing display of humour and it's rare for medieval scribes to share that much of their character," said Dr Wade.
That made him investigate how, where and why Heege had copied out the texts, and Dr Wade's study is published on Wednesday in the journal The Review of English Studies.
It focuses on the first of nine miscellaneous booklets in the Heege Manuscript.
This booklet contains three texts, a tail-rhyme burlesque romance entitled The Hunting Of The Hare, a mock sermon in prose, and The Battle Of Brackonwet, an alliterative nonsense verse.
"Most medieval poetry, song and storytelling has been lost," said Dr Wade.
"Manuscripts often preserve relics of high art.
"This is something else. It's mad and offensive, but just as valuable.
"Stand-up comedy has always involved taking risks and these texts are risky, they poke fun at everyone, high and low."
Dr Wade believes the booklet's secrets have been hiding in plain sight because previous study has focused on how the manuscript was made and overlooked its comedic significance.
He connected multiple clues pointing to a minstrel's repertoire.
All three texts are humorous and designed for live performance – the narrator tells his audience to pay attention and pass him a drink.
The texts all feature in-jokes to appeal to local audiences and show a playful awareness of the kind of diverse, celebrating audiences that we know minstrels performed to.
Dr Wade thinks the minstrel wrote part of his act down because its many nonsense sequences would have been extremely difficult to recall.
"He didn't give himself the kind of repetition or story trajectory which would have made things simpler to remember," said Dr Wade.
"Here we have a self-made entertainer with very little education creating really original, ironic material.
"To get an insight into someone like that from this period is incredibly rare and exciting."
Many minstrels are thought to have had day jobs, including as ploughmen, but went gigging at night and weekends.
Some may have travelled across the country, while others stuck to a circuit of local venues as Dr Wade thinks this one did.
He described the texts as "a comedy feast".