Government 'stands ready' to update pricing rules after CMA review, says Hunt
The Government "stands ready" to update pricing rules following an independent review, Jeremy Hunt said as he met with supermarkets amid soaring food inflation.
The Chancellor spoke to representatives from the industry on Tuesday to raise concerns over the sky-rocketing cost of groceries.
He also met with the UK's competition watchdog about its investigations into road fuel and its "stepping up" of work on food prices, the Treasury said.
In a readout following Mr Hunt's meetings, the department said: "The Chancellor… met with the independent Competition and Markets Authority (CMA) and heard more about the scope of their investigations into road fuel and their stepping up of work on groceries prices, including the possible action that could be taken by the CMA.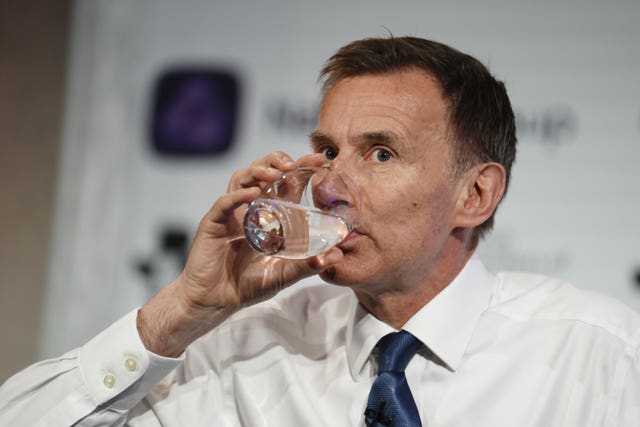 "The Chancellor confirmed that the Government stands ready to update pricing rules and guidance on the back of the CMA's review of unit pricing."
It comes amid warnings that food prices are set to overtake energy bills as the "epicentre" of the cost-of-living crisis, with inflation currently standing at 19.2%.
The Resolution Foundation said on Friday that rising costs would force low-income households to eat less as own-brand essentials are becoming unaffordable for some.
Meanwhile, analysis by Which? of April prices found that some meat, yoghurt and vegetables were among items that have doubled in price compared with a year ago.
The CMA said last week it had not seen evidence pointing to specific competition concerns in the grocery sector "at this stage", but it was "important to be sure that weak competition is not adding to the problems".
It will provide an update on its work over the coming months.
The watchdog also announced an update on the road fuel market study it began last year, saying that indications were that higher pump prices could not be attributed solely to factors outside the control of the retailers and "appear in part to reflect some weakening of competition in the road fuel retail market".
The CMA is also scrutinising supermarket unit pricing to ensure retailers are sticking to rules that help consumers accurately compare products and choose the best value for money.
The Government will consider updating pricing rules, including by strengthening the Price Marking Order 2004, once the CMA review has concluded, the Treasury said.
The legislation governing the display of prices of goods specifies a range of different units that can be used depending on the product type, which can result in confusion for shoppers.
Food manufacturers have agreed to "continue to engage with senior Government ministers" about potential measures to impose to ease the pressure on households, according to the Treasury.
Its readout said: "The Chancellor highlighted the widespread concern among the British public about the current level of food prices and their impact on household budgets, particularly for the most vulnerable.
"He listened to the views of manufacturers about the causes of food inflation, reiterated the support announced by the Prime Minister last week for the UK food sector, and agreed that food manufacturers would continue to engage with senior Government ministers about potential measures that Government and industry can take to ease the pressure on consumers."